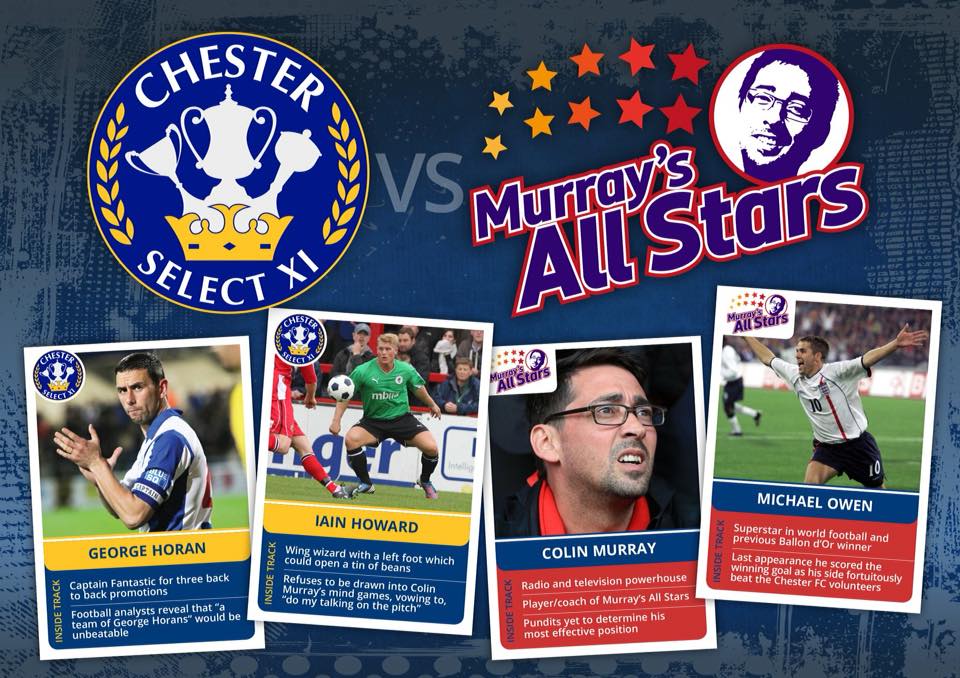 ALL STAR GAME | Fans invited to take part in chance to feature in All Stars match
Chester FC fans have been given the chance to appear in the upcoming Chester FC Select XI v Colin Murray's All Stars fundraiser next Thursday night (ko 7.45pm) which takes place at the Swansway Chester Stadium.
Blues supporters have been given the chance to put bids in to appear in the game, with two winning bids securing a place on either side, and may find themselves lining up alongside or against former Liverpool, Manchester United and England striker Michael Owen, amongst other ex professionals from the world of football.
Chester-born Owen, is one of many ex professionals taking part in the game, which has been set up to help raise funds for Chester FC – and now two Blues fans have the very chance to take part.
The organisers of the event are inviting 'sealed' bids from supporters over the weekend, to take part in the game – with the two highest bidders being signed up for a place on each side. Broadcaster, Colin Murray who is currently building his side for the event said, "What a chance this is for a Chester fan to be involved in a night of history. They will be forever be able to boast that they played alongside greats like Michael Owen, Keith Gillespie…oh and Perry Groves! This is an ideal way to make a dream come true and help the club at the same time, so we're looking forward to seeing the winners on the night!"
The winners will also get to keep the exclusive kits designed for the event, as well as having an amazing memory from the night itself!
Fans can email sealed bids to allstarsmatch@gmail.com by 9pm on Sunday 11th February. Winners will be notified following the deadline.
Entrants must be in a physically fit condition!
Tickets for the match on Thursday 15th February are available from the Chester FC Ticket Office at the Swansway Chester Stadium (Mon-Fri 10am-4pm), or by calling 01244 371376.
Please note tickets booked over the phone will need to be collected on or before Thursday 15th February. Ticket sales are also available online up until midnight on Friday 9th February only, CLICK HERE TO BUY