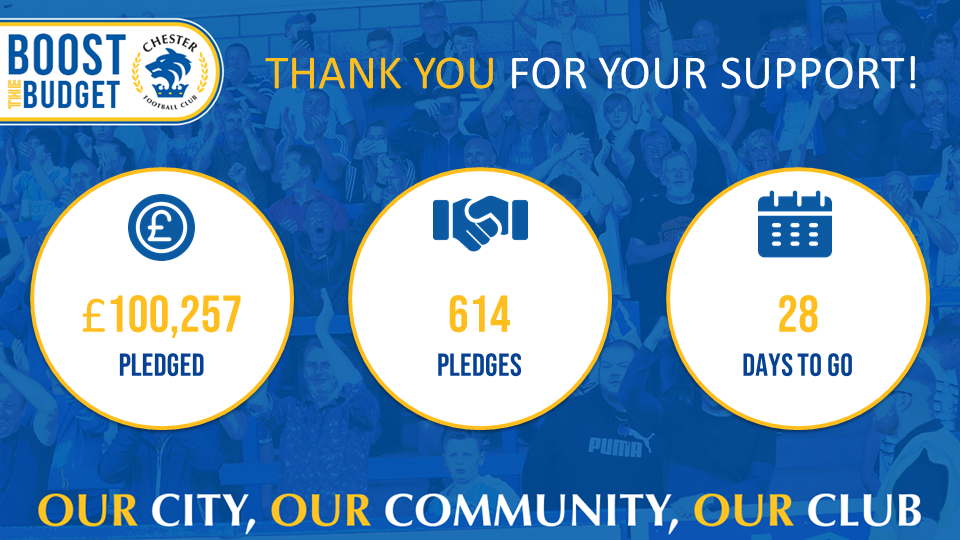 BOOST THE BUDGET | We did it!
Just three weeks ago, Chester Football Club launched Boost the Budget, the most ambitious fundraiser in the club's history which aimed to raise £100,000 for next season's first team budget over a seven-week period.
Boost the Budget sought to give our management team the certainty they need about their playing budget in 2020/21, giving Chester FC the best chance of hitting the ground running next season.
Over the past few weeks, our amazing fans have backed the fundraiser in their hundreds, pledging over £25,000 in the first three days, and £57,455 in week one.
In week two the players pitched in – showing that we really are all #InItTogether – and we received a generous donation from Galactico Sports. At the end of the second week we reached over £80,000.
Now, Chester Football Club is delighted to announce…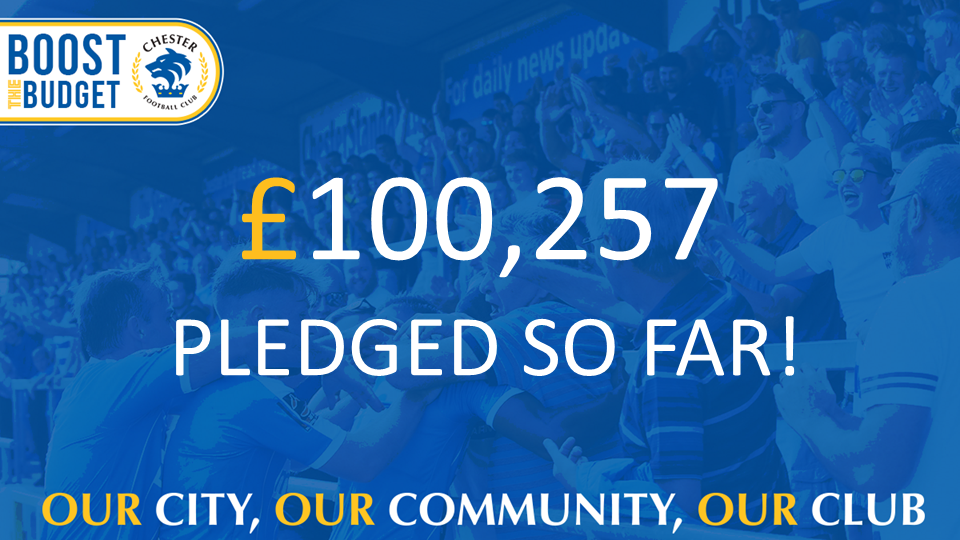 We did it! We raised £100,000 for the first team budget!
Joint Bosses Anthony Johnson and Bernard Morley: "This is a quite superb achievement by the Chester supporters.
"To set an ambitious target in seven weeks, for it to be smashed in just three, is simply magnificent.
"We have always talked about why we are at Chester, and it is because of you – the supporters – we know this kind of thing is exactly what you are capable of.
"There's four weeks still to go in this fundraising drive, so we would say that the sky is the limit. Yes, £100,000 was the target and we have met it, but the further we can push that figure up makes a massive difference.
"Every penny counts. That doesn't mean every penny up to £100,000, it also means we can stretch this sum of money even further.
"We have to thank our incredible pledgers, but we are also speaking to our home crowds here.
"We average 2,000 fans per game at the Deva, so can we get even more of our loyal supporters involved in Boost the Budget?
"Forgive our Delia Smith impression but… 'where are you? Let's be havin' you!'
"We have still got a long way to go until the deadline, and there's still a lot who may not have contributed – so spread the word and help us drive that amount up even further!"
City Fans United Chair Andy Morris: "When we set the Boost the Budget goal of £100,000 many supporters of the Club, and those outside the Club, may have thought we were being overly ambitious.
"They didn't factor in the incredible generosity and feeling of togetherness that our Club has with our local community.
"Reaching this target, alongside all the other fantastic work to raise funds, has shown the entire football community that fan ownership can be a viable model at this level even during the most difficult of times and everyone associated with the Club and City should be proud of this achievement.
"The key factor of the Boost the Budget campaign is that the funds raised are ring fenced to support the first team squad and wider player development in the first team environment for the 2020/21 season.
"Given we have smashed this target so soon, and that supporters are still wishing to support this specific cause, we hope this figure can continue to rise ahead of the deadline at the end of July to support the excellent work that the management team have done over the last two years on and off the pitch."
There are still loads of reasons to contribute, either via one-off donation or direct debit.
Our tiered reward scheme has been incredibly popular, giving fans special rewards for their contributions.
There are five tiers of Boost the Budget rewards available for those committing to contribute above £5 per month (or equivalent one-off payment) to our playing budget.
The tiers are: Our City, Our Community, Our Club, Club Hero, and Club Legend – and each tier brings additional rewards as you raise your contribution.
We have lots of entries into our Fan Experience draw for those pledging £5 per month and above, whilst those pledging £10 and above get a limited edition '10 Years' pin badge. Our Community subscribers have also helped to buy over 400 tickets for the Community Trust to distribute to local children.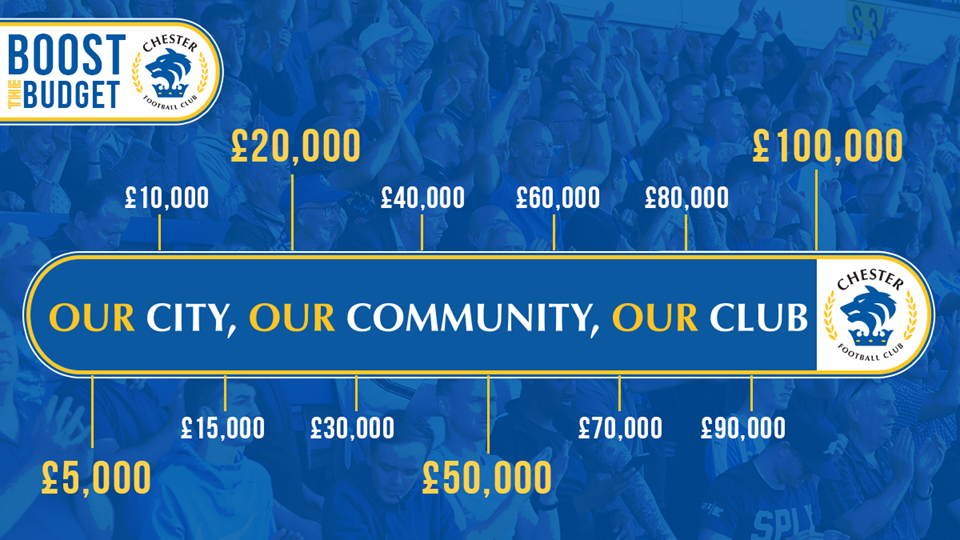 At £20 and above, fans get to choose from the special fan reward menu, and as a result we will be hearing ten fan-chosen playlists before Blues games next season, with all ten spaces for that reward snapped up already. There will also be a new look to the squad photo, with fans taking their place alongside the players, as well as a new '10 Years of Chester FC' wall at the stadium, made up of bricks bought by the fans.
Above that, Club Hero – £50 per month and above – gives you two tickets to the End of Season Awards. Finally, Club Legend gives you two tickets to a special meal with the management team – location to be confirmed despite the gaffers being very keen on TGI Fridays!
Chester Football Club would like to thank everyone who contributed to Boost the Budget. We could not have done it without you!
Our City, Our Community, Our Club.