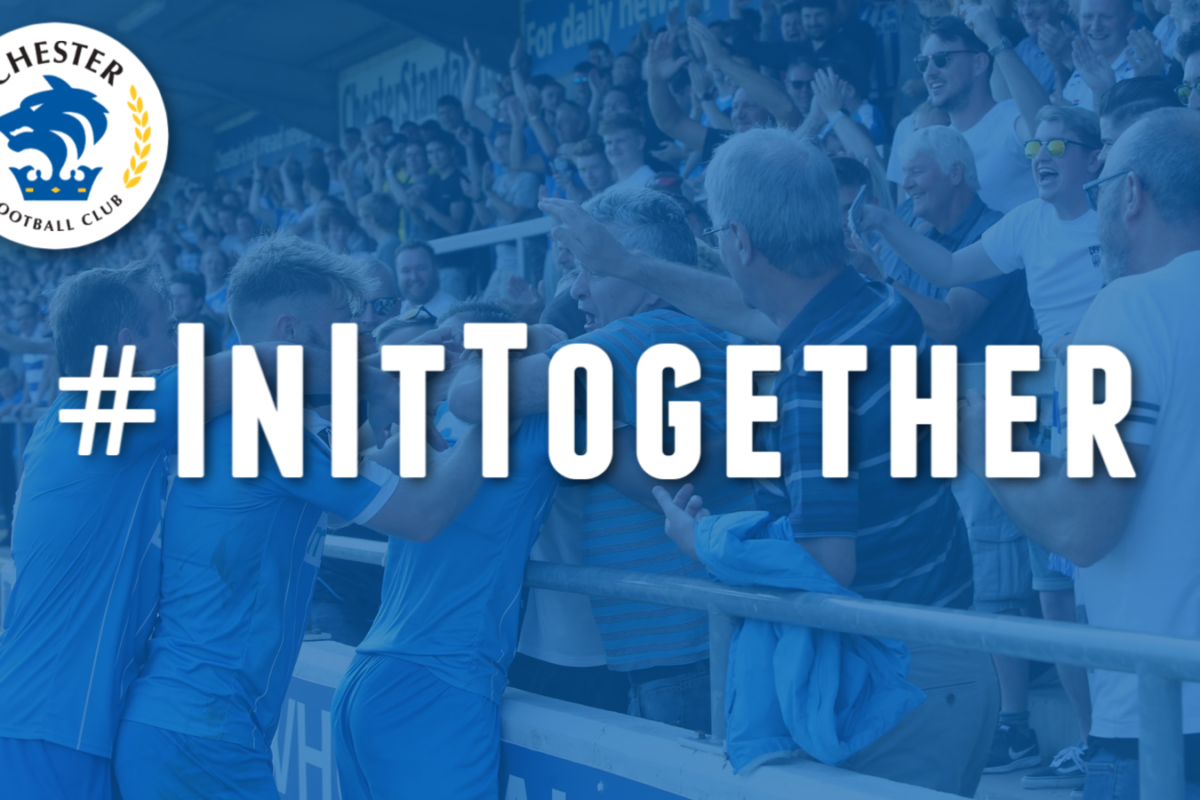 BREAKING | Blues launch #InItTogether campaign
Chester Football Club has today launched our #InItTogether campaign to raise funds for the National League North play-offs.
Our ultimate ambition when the 2019/20 season kicked off was promotion and the unprecedented times in which we now find ourselves seemed to have thwarted these hopes.
But we now have the chance to finish what we started thanks to our players, who have donated their contractual entitlements back to the Club.
We could incur costs in the region of £30,000 across the three games and with minimal income for the past three months, we would not have been able to take up our place in the play-offs without this incredible gesture from the players.
Now we are asking fans to follow the team's lead and contribute to the play-off push through #InItTogether.
We are saddened you will be unable to support the players in person with the games being played behind closed doors, but you can still make a vital contribution to our play-off campaign.
How can you help?
Pledge £25 to be a Face in the Crowd and have your own cut-out placed in the Gary Talbot Stand throughout the play-offs. You will have access to a play-off special digital match programme, a personal message of thanks from Bern and Jonno, and the managers will sign your cut-out before it's returned to you.
Pledge £10 or £15 in place of your usual match ticket and take your 'virtual' seat in the stand or spot on the terrace. You will have access to a play-off special digital match programme and a personal message of thanks from Bern and Jonno.
Pledge £5 in place of your usual pre-game pint in the Blues Bar and half-time pie. Everyone who pledges will have their name printed in the special digital match programme.
You can make multiple pledges either for yourself or on behalf of family and friends, or if you prefer you can also make a simple donation of any amount.
We appreciate many of you will have already contributed to Boost the Budget and moved us within touching distance of our £100,000 target. Your generosity and loyalty is phenomenal and we are incredibly grateful for your continued support, so we understand if you are not able to donate again in these difficult times for everyone.
The past fortnight has demonstrated what makes our Club so unique with the squad themselves contributing to Boost the Budget and there is a collective determination among the players to end this season on a high and reward the tremendous backing you have given them this season.
Everyone is now fully focused on preparing for the first game, scheduled to be at Altrincham on Saturday 18th July, and we need your help to give ourselves the best possible chance of success.
We cannot do it without you. We are #InItTogether.