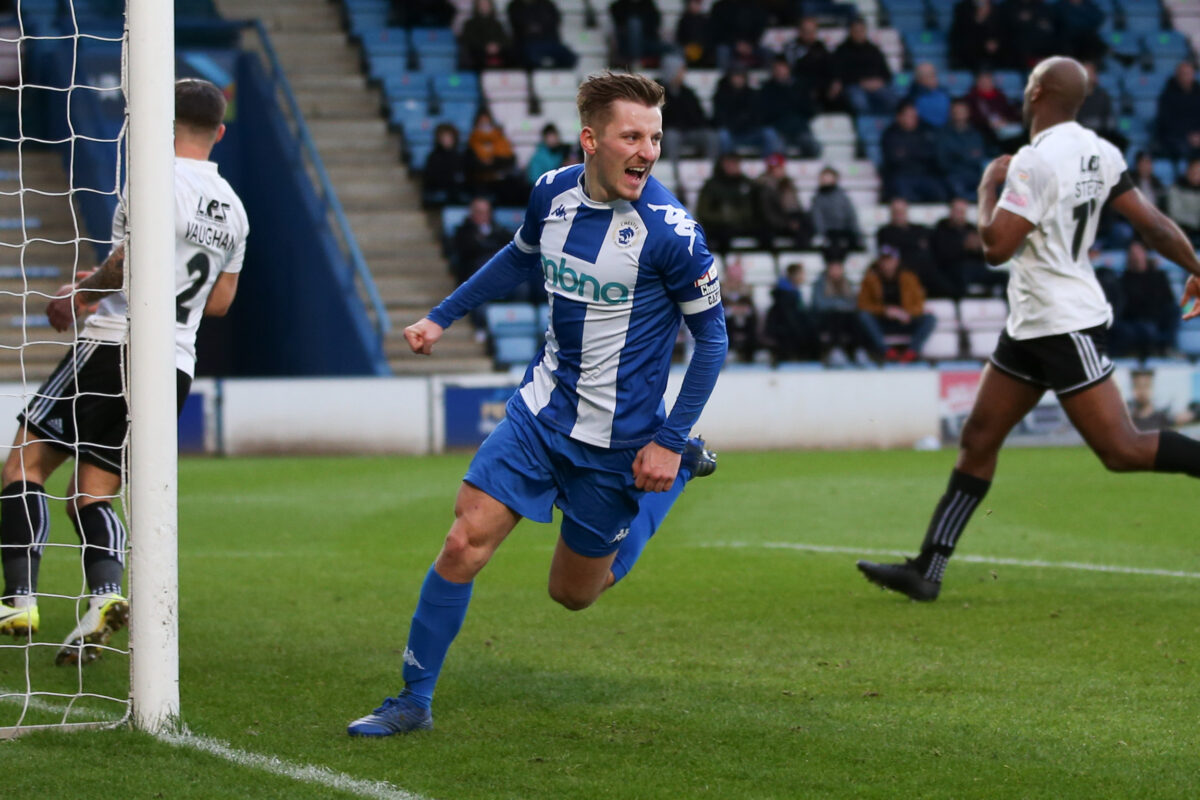 BREAKING | Captain George Glendon signs new deal at Chester FC!
Chester Football Club are delighted to announce that George Glendon has signed a contract for the 2021/22 campaign.
The Club Captain will remain with the Blues next season after putting pen to paper on a new deal.
Glendon has made 52 appearances following his August 2019 arrival, scoring six goals and establishing himself as one of the best midfielders in the National League pyramid.
The 25-year-old has been leading from the front this season after being given the captain's armband by Joint Managers Bern and Jonno at the start of the campaign.
His dominant displays in the middle of the park have seen him develop a fantastic partnership with Declan Weeks, who also signed a new deal with the Blues earlier today.
George was recognised as National League North Player of the Month for January following his eye-catching performances and was central to the Club's impressive form and exciting brand of football before the season was declared null and void.
Despite interest from higher level clubs, George showed a genuine desire to remain at the Deva Stadium and we are thrilled to have him on board once again.
It is thanks to your support over the past 12 months that not only has our Club managed to overcome considerable challenges, but also been able to put foundations in place which we believe will deliver success in the future.
Your pledges, purchases and donations despite being unable to attend matches demonstrate what supporter-ownership is about and the Board and Managers wish to place on record its sincere appreciation of your collective efforts.
Blues Joint Manager Anthony Johnson said: "If someone would have told me a few weeks ago that our Captain George Glendon would be a Chester player going into the 21/22 season I wouldn't have believed them.
"Not because he thinks he's better than us or he's ever given us any inclination that he wanted to leave – but because of his performance levels. Performance levels that wouldn't have looked out of place in League One.
"We've known for months the number of clubs that have sent scouts down to the Deva to watch our fantastic players and we knew it was George that they going away talking about, why wouldn't they?
"But when we sat down with him to talk about our plans for next season the surprise we got when he told us all he wanted was to stay at the club blew us away.
"It was a deal sorted in minutes and a deal that shows we're a club that has the best player in non-league football loving his time with us.
"We're a club planning for the future and that future starts now, it starts knowing that we have two brilliantly talented lads with us for the next year and a half."
Great to have you staying on board, Glenno!