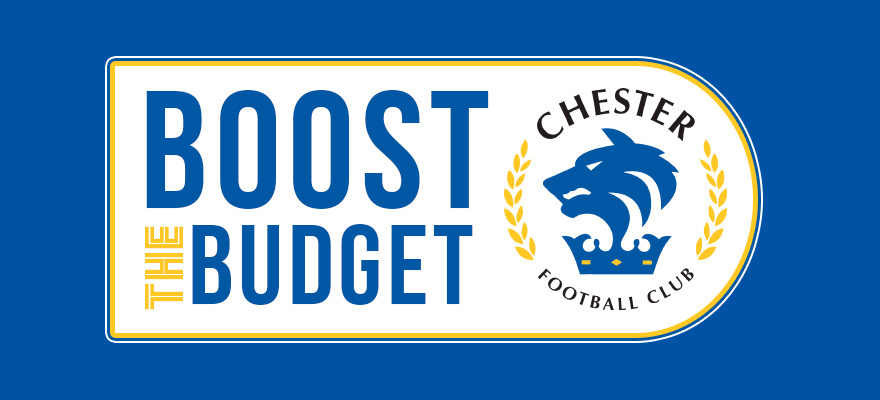 BREAKING | Chester FC Boost the Budget 2020/21!
Chester Football Club has today launched the Boost the Budget scheme to give the Blues the best possible chance of being competitive next season, setting an ambitious goal of raising £100,000 for the first team playing budget.
The coronavirus pandemic has been an uncertain and difficult time for all of us. The Board has taken a number of steps to safeguard the future of the club, but the club's ability to raise revenue and budget for next season has been greatly affected.
Our management team need certainty about their playing budget. Backing 'Boost the Budget' will provide that certainty and give Chester FC the best chance of hitting the ground running next season in what will be a much-changed football landscape.
You are not just contributing to our football club and raising vital funds – there is also an exciting five tier reward scheme giving you the chance to win some fantastic prizes and claim unique merchandise and experiences.
In addition, your support will help the club attract new youngsters to the Deva Stadium through providing free season tickets for our award-winning Community Trust to distribute in the local community.
Joint Managers Anthony Johnson and Bernard Morley said: "Boost the Budget is a critical scheme for Chester FC and we hope our incredible supporters firstly back us with the much needed funds and secondly take advantage of an exciting reward scheme that is in place.
"This 100k target isn't just about bringing players in, it's about us progressing as a club within our hybrid model. These funds allow us to stay in the training system we have been working towards over the past two years since we arrived at the Deva.
"Obviously we started as a part time club in 2018/19 and moved forward this season – and it is crucial we keep pushing on. The hybrid model is central to that.
"It is not just about signing players, it's also about developing our youngsters through the excellent academy setup and having a requisite scouting network in place.
"The five-year strategy that the City Fans United board have worked on – and that you would have had your say on during the consultation – casts an ambitious eye into to the future and this scheme is the first step on the road to what we hope provides a platform for success down the line.
"Chester FC is for all of us. We have to be self-sustainable but also have to be ambitious to flourish in times of adversity. Your support is as vital as ever as we all look to progress."
The scheme opens today, Friday 12th June, and will run until Friday 31st July 2020.
We welcome any contribution that you can make either as a one-off payment or via monthly direct debit.
Chair of the CFU Board Andy Morris said: "As a Club we are delighted to launch this initiative which will allow our supporters to donate and support the Club financially as we prepare for next season.
"We have seen other Clubs at our level adopt similar fundraising approaches recently where their supporters have donated significant sums to support the sustainability and continued development of their club.
"Supporters are eager to support the Club financially as well as donating their time and skills in other ways and this scheme provides a forum to for the community of Chester to donate financially to support their Club.
"This scheme will allow our supporters to actively contribute over a sustained period of time to support the continued development we have seen on the pitch over the last two years even during this very difficult period where budgets are restrained."
CLICK HERE TO BOOST THE BUDGET!
Everyone making a donation of any size will be thanked in the first programme of the new season.
We will update you regularly on the progress of the fundraiser over the next few weeks, with the first update on Monday 15th June. Over the six-week period of the fundraiser we will also reveal further details about the rewards on offer.
There are five tiers of Boost the Budget rewards available for those who can commit to contributing above £5 per month (or equivalent one-off payment) to our playing budget.
The tiers are: Our City, Our Community, Our Club, Club Hero, and Club Legend – and each tier brings additional rewards as you raise your contribution.
Everyone contributing £5 per month and above will be entered into three draws to win one-off fan experiences.
For £10 per month and above you will help our Community Trust distribute matchday tickets to local youngsters and get a special '10 Years' Chester FC pin badge.
The Our Club tier, £20 per month and above, will help the club enormously and so fans can choose special rewards like appearing in the annual squad photo, or buying a brick for a special 10 years of Chester FC commemoration wall.
Above that, you can be a Club Hero for £50 per month and above, gaining the first tickets to next season's End of Season Awards, or a Club Legend for £100 per month and above, for which we will invite you to a special Boost the Budget meal with the managers.
Rewards will be available to those committing to a direct debit at the level indicated or paying the equivalent one-off amount. Direct debits will come out of accounts on the 2nd of each month. In calculating the total raise, we will count the total amount pledged via direct debit plus one-off contributions.
Thank you for your continued support, please spread the word, and we hope you can help to Boost the Budget!