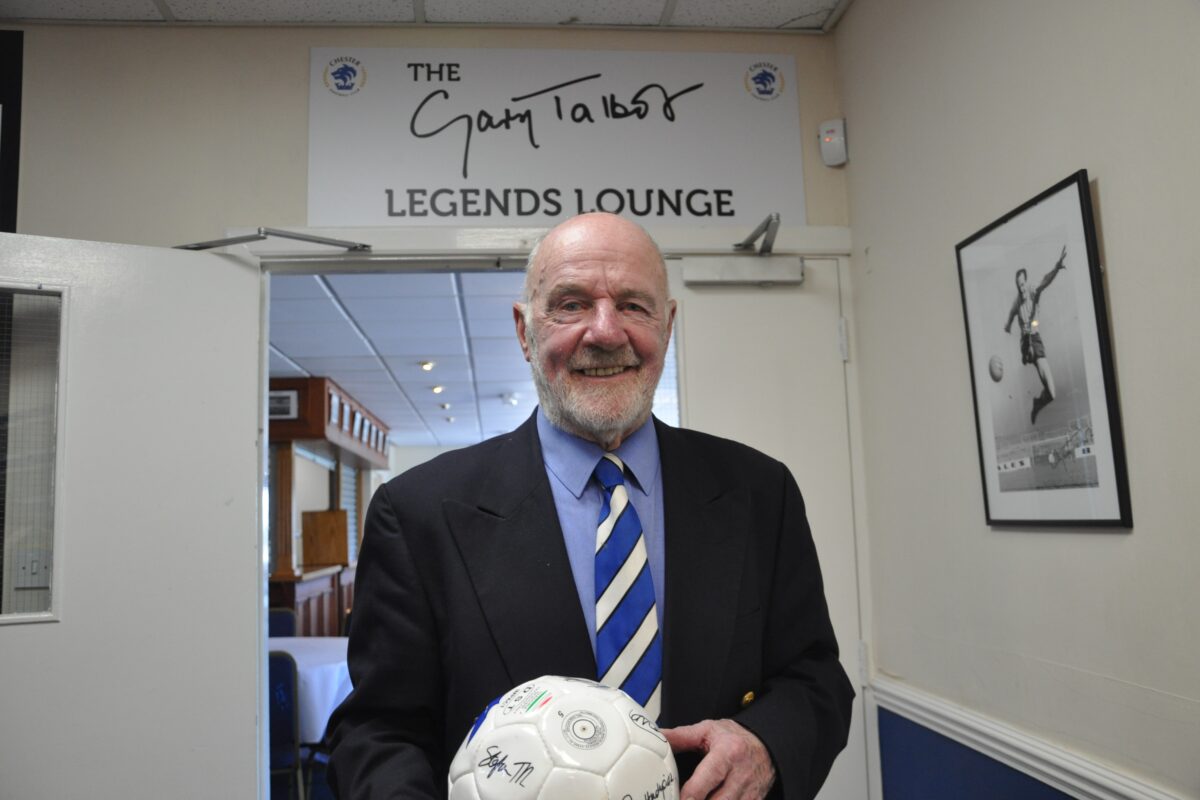 BREAKING | Introducing the Gary Talbot Legends Lounge!
Chester Football Club are pleased to announce that the upstairs hospitality lounge has been renamed in honour of a club legend.
The newly named 'Gary Talbot Legends Lounge' reflects a man who has put in an incredible amount of effort – in his unforgettable spells on the field – but also off it as a volunteer and a fantastic ambassador for the football club.
Talbot, now aged 81, is an honourary Life Vice-President of Chester FC.
Gary had two spells at Chester during the 60's. The forward scored goals at a superb rate, perhaps the best this club has ever seen. He made 183 appearances in all competitions, scoring 106 goals.
In the 1964/65 season he scored 28 of Chester's 119 goals and 37 in all competitions – as part of the 'Famous Five'. Since the club reformed, he has volunteered his time in the hospitality lounge and it is a fitting tribute to a superb character of this club.
Speaking to ChesterFC.com, Gary had this to say: "I'm astounded to be honest.
"I thought I was completely finished with football but I still keep going and my name is up on the board which is just wonderful.
"My family will be so proud.
"It's vital that everyone does their bit for the football club, and we have to keep at it and keep going and we will be successful."
Congratulations, Gary!
Gary Talbot (Courtesy of Chas Sumner)
Although Gary played in the reserves at Blackburn and Preston his career only really took off when he played against Chester manager Peter Hauser in a Show Biz game at Blackpool in the summer of 1963.  At the time Gary was concentrating on his career working as a photographer with the Daily Mail in Manchester but after scoring a few goals in this game he was offered a trial with Chester. The trial game was held behind closed doors against Tranmere and Gary came on in the second half, scored 2 goals, and signed part time terms soon afterwards.
At the age of 25 Gary made his football league debut and finished the 1963/64 season as leading goalscorer with 23 goals in 32 games. However it is the 1964/65 season which particularly stands out when Gary finished asChester's top League scorer with 28 league goals in the 119 goal team. That season also saw Gary score the fastest hat trick in FA Cup history with his three goals against Crewe coming in just 2 minutes 57 seconds.
In the next couple of seasons Gary's appearances were limited as he suffered a couple of bad injuries including a hairline fracture of the legand at the end of the 1966/67 season he joined Crewe after a contract dispute. While at Gresty Road he scored 20 goals in 35 games to help Crewe gain promotion to the Third Division. However, the extra travel involved together with the demands of the photography business caused Gary to rejoin Chester in time for the start of the 1968/69 season. This proved to be his last season in League football and he ended it in style finishing as leading goalscorer with 22 goals.