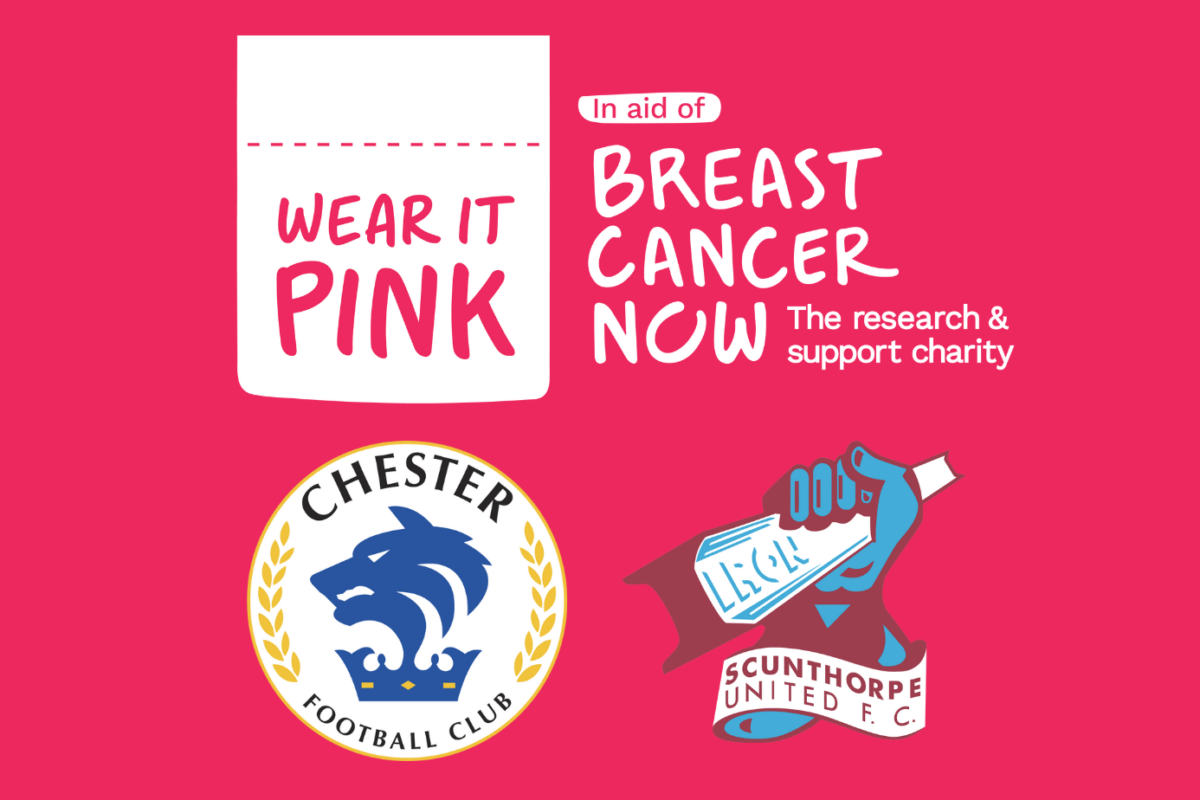 Breast Cancer Now awareness fixture
Saturday's National League North game at the Leap76 Stadium against Scunthorpe United will see the Blues show our support for Breast Cancer Now, the research and support charity.
Limited edition pink Chester FC match tops from the 2020/21 season will be signed and auctioned to further raise funds, and we would like to encourage our fans to 'Wear it Pink' and help us raise funds throughout the afternoon.
QR codes will be available to scan across our social channels and matchday programme, and a bucket collection will see profits split 50/50 between Breast Cancer Now – as well as being donated to a fundraiser for Jenna Wareing, the mother of former Blue Sean McConville's three children, who's family and friends are raising money to provide the necessary treatments to prolong her life.
Read more about the two causes we're supporting this weekend, with links to donate, below…
BREAST CANCER NOW
We're Breast Cancer Now. We're here to change the lives of people affected by breast cancer. How? By combining the power of research and support.
Our world-class researchers are working in labs across the UK and Ireland to create a world where the words "breast cancer" aren't met with fear. We're building a brighter future for everyone affected by breast cancer.
And because over 600,000 people are living with or beyond the disease, we're here with support for today, too. Our helpline, health information, and support services are here for you and your loved ones. Every step of the way.
We're the place to turn for anything and everything to do with breast cancer. Whatever you're going through. Whoever you are. We're here.
CLICK HERE TO MAKE A DONATION TO BREAST CANCER NOW 
JENNA'S STORY
Jenna Wareing is the mother of three children with former Chester midfielder Sean McConville. Back in September 2022 she was diagnosed with breast cancer at the young age of 32.
Following the end of her treatment in May 2023, a biopsy had to be done due to concerns around Jenna's liver. The biopsy was taken and the results very sadly were that Jenna had secondary breast cancer. For those who don't know, secondary breast cancer is not curable.
Private treatments are not covered by the NHS, so her family and friends are hoping to raise as much as possible to provide the necessary treatments to prolong Jenna's life with her children, friends and the rest of her family.