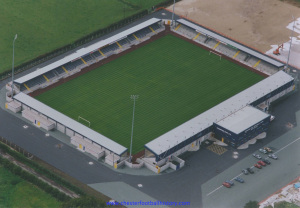 Celebrating the Deva Stadium
Happy 25 years!
Today marks the 25th anniversary of the official opening of our Deva Stadium. The Chairman of the Football Trust, The Rt Hon Lord Aberdare KBE, was on hand for the opening – as Morrison Construction Group handed over the ground to the football club.
On the 25th August we played our first game at the Deva – losing 2-1 to Stockport County in the 'Coca Cola Cup'. However, in our first League game we beat Burnley 3-0 on 5th September.
With our nearest home game falling on 9th September against Ebbsfleet this year, we intend to celebrate this monumental occasion. Keep your eyes peeled to our social media channels in the near future for special commemorative events taking place on the matchday.
The Deva Stadium was the first ground to be built that incorporated all the features required by the Taylor Report. These included disabled spaces on both sides of the ground, automatic turnstiles and exits as well as all other safety features needed to meet the Taylor Report requirements.
What was needed to construct our ground? Well, here's an indication:
6,500 tons of ready mixed concrete.
52,000 concrete blocks
48,000 bricks
2,000 litres of paint
40 miles of cable
100 electric sockets
550 light fittings
171 doors
1,5 miles of drainage pipes
16 standards timber
4.5 tons of nails and screws
Also:
20,000 chewed fingernails
30,000 backsides on the edge of their seats
120 decibels of chanting
15,000 pies purchased
1000 motivational shouts from Cleggy over the tannoy
Happy 25 years, Blues fans!