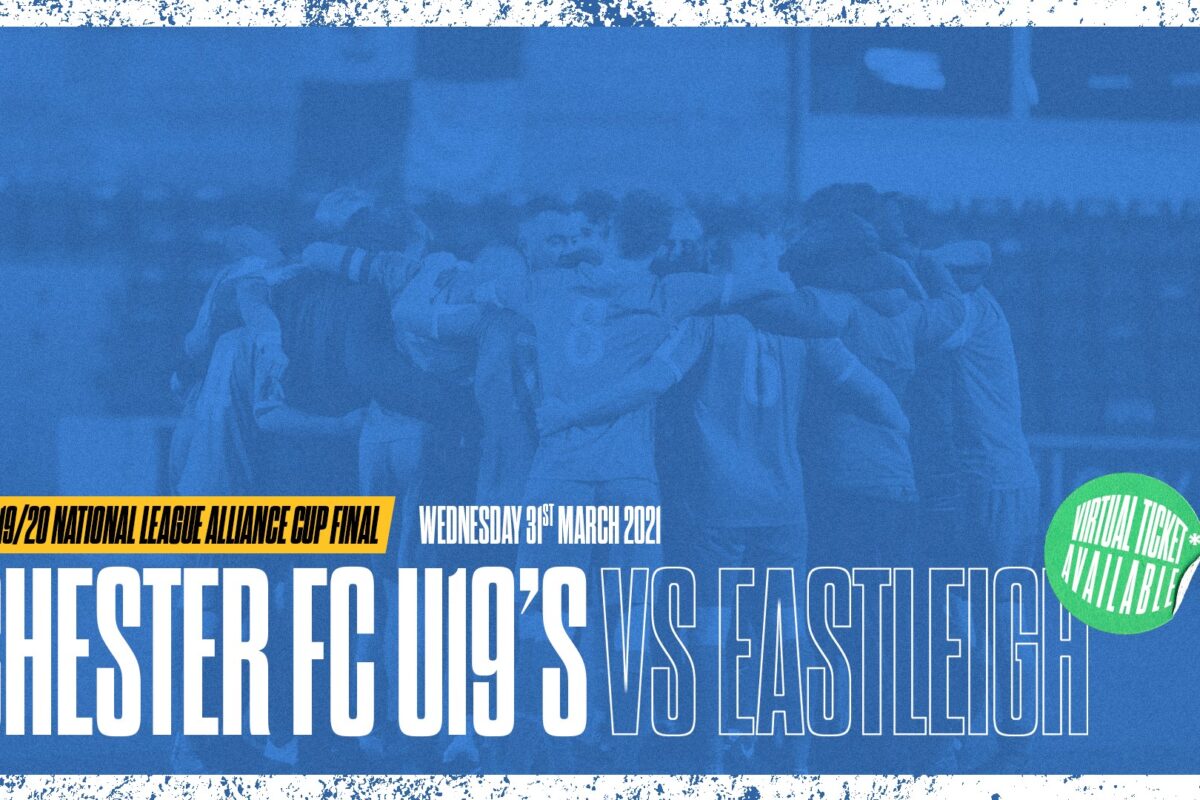 CFC YOUTH | Virtual Tickets launched for Academy Cup Final!
Calling all Blues supporters!
Ahead of the National League Alliance Cup Final, we are delighted to reveal all sponsorship and fundraising opportunities to support the Chester FC Academy.
We have launched a Virtual Ticket scheme for the match on Wednesday 31st March against Eastleigh FC.
With the game being behind closed doors, support the Young Blues from home by purchasing a £5 ticket – with every penny making a difference to the Academy setup. Visit www.chesterfcretail.com to get yours!
There are also some sponsorship opportunities for the big match.
Player Sponsorship – You can sponsor a player ahead of the final for just £50+VAT. Your name/brand will be featured on club media ahead of the game on chesterfc.com, as well as being mentioned alongside your player on Seals Live.
Match Coverage Sponsor – We have availability for you to sponsor our coverage for the Final! For £200+VAT you will be featured on club media ahead of the game on chesterfc.com, being mentioned on our Seals Live Audio Commentary, and having your logo/name featured on all of our matchday graphics.
In both sponsorship instances, please contact calum.mcintyre@chesterfc.com to book!
We will have full audio commentary available for FREE on Seals Live for the big game. Visit www.mixlr.com/chesterfc to tune into the match.
With regards to video coverage, Chester FC are still hopeful that the National League will be running a stream for the game and will update supporters if we receive any updates on this.
Academy Head Coach Calum McIntyre said: "We are obviously having a significant drive to raise funds to continue the success our Academy has had in recent years.
"Time and time again we have punched above our weight in terms of what our resources allow, and we rely hugely on contributions from our supporters.
"Participating in the National League Cup Final once again allows us to generate some funds to try and create the next bit of success for the Academy.
"Every single bit of support is hugely appreciated – whether that is buying a Virtual Ticket, Sponsoring a Player for the fixture or even sponsoring the Match itself.
"We cannot do the work that we do without financial support and are grateful for each and every contribution as we look to maintain the ever-growing production line of Academy Graduates."