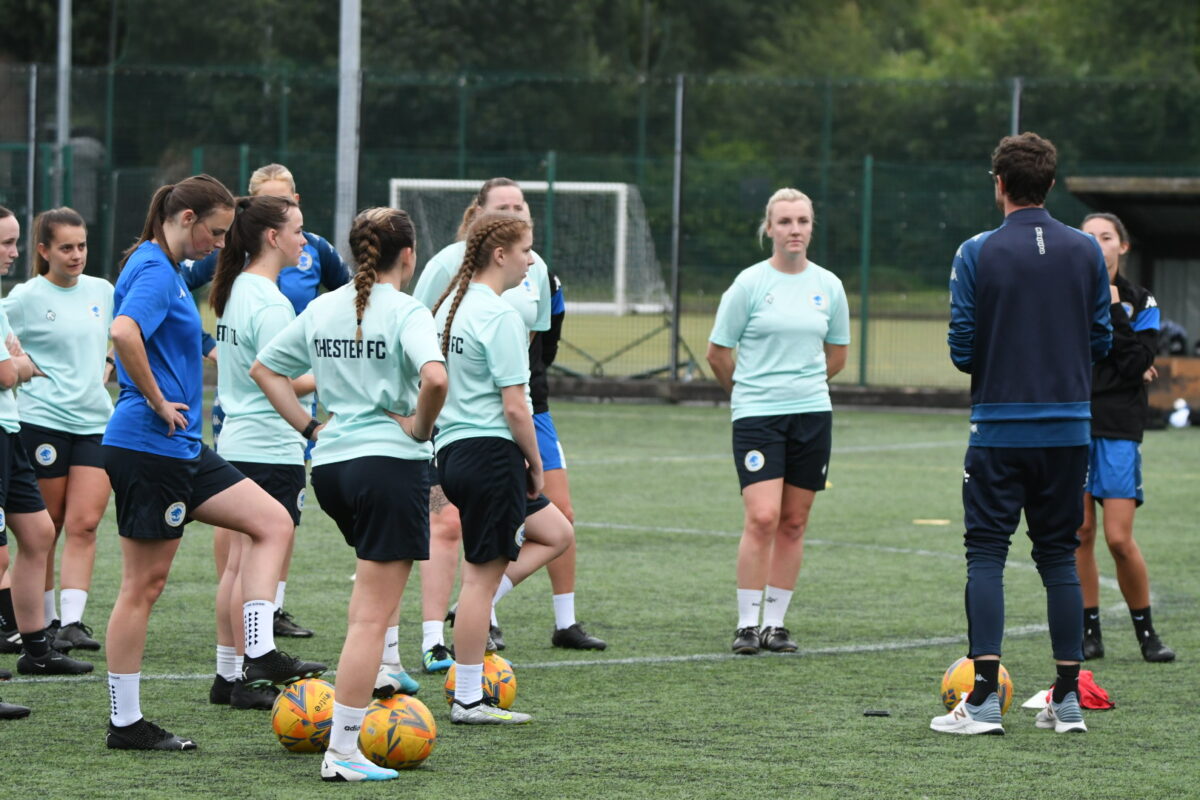 CFCW Preview: Poulton Vics FC Ladies (a)
Chester FC Women kick of their 2023/24 league campaign this Sunday with an opening day visit to Poulton Vics FC Ladies at the Poulton Victoria Football Ground. 
The Blues registered a fourth place finish in the league last season and will be looking to go one step further this time around and stake a real title challenge.
Following an intense pre-season schedule that saw Chester come up against teams such as Liverpool Feds and a Manchester United XI, Martin Fitzsimons's side will be raring and ready to go come the first whistle on Sunday.
Chester forward Molly Wood will be looking to build on a fantastic individual season last time out, after recording numerous hat-tricks through the season helping the Seals fight on all fronts. The performances saw her be named Chester's top goalscorer, Community Player of the Season and Club Player of the Season following some incredible performances. 
Sunday's opponents Poulton Vics finished last season in third place one place and five points ahead of Chester. The Merseyside outfit finished thirteen points behind eventual league winners Bury AFC Women following thirteen wins from their twenty games played in the league.
Last season's meeting at Poulton saw Chester run out winners following a nine goal thriller.
Sunday's game looks set to be a very close encounter, with both sides eager to register a first win of the season and three points on the board.  
STAT ATTACK 
Both sides each recorded a victory away from home last season, Chester winning 6-3 at Poulton and Poulton recording a 4-1 away win at Chester

Chester recorded opening day 4-0 last season against Altrincham
MANAGER THOUGHTS 
"This time of the season is always exciting, made extra special for us this year because we get to call the Leap76 Stadium our home for the first time! All the players can't wait for that first game at home in front of our fans. We'll need them with us every step of the way. 
"With the spotlight being placed on women's football there's a lot of money being pumped in to our level of football. How our league looks now is completely different to how it looked after the last game of last season. 
"We've spent a lot of time this year looking at the weaknesses of last year and put processes in place to give us a better structure. It's pleasing that now our weakness last season is now looking like one of our strongest points. 
"We've had a good few tests over pre season every team we've played has been of higher level to pre pare us for the numerous challenges this year.
"It will be tough on Sunday, we know what to expect. However, we head to Poulton confident of getting a result, but they'll say the same thing, which is what makes this league so exciting!" 
Preview by Jordan McNicholas.
Photo courtesy of Luke Reynolds Photography.