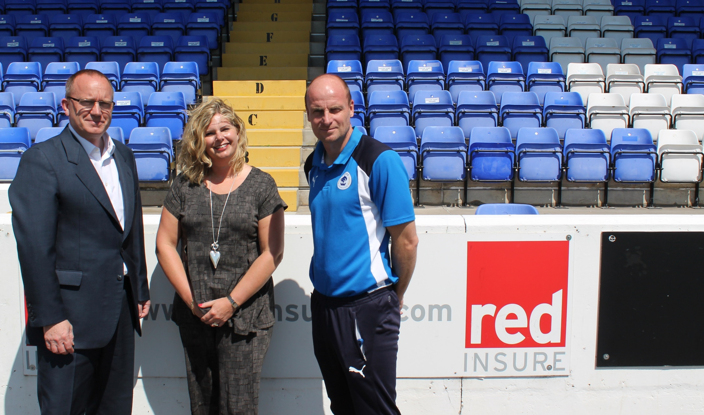 Chester FC Announce Major New Sponsorship Deal
Chester Football Club are delighted to announce a major new sponsorship agreement for the 2017/18 season.
The Blues have agreed an initial two-year deal with local insurance company Red Insure to take over the naming rights for the Swansway Chester Stadium's East Stand.
Chief Executive Mark Maguire expressed his delight at the news: "This is the latest important signing for Chester FC as we continue to reshape the club on and off the field.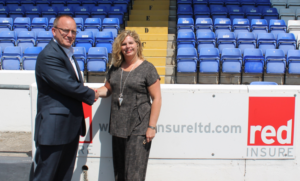 "We have obviously had an exciting summer in player recruitment terms and I am happy that this is being matched by the strengthening of our commercial partnerships.
"Red Insure have a strong association with football, having been involved for some time with the National League, they are based in Chester and during discussions in recent months have clearly bought into the plan that we have to build a platform for future success.
"We are confident that we can deliver significant value for their involvement as they become one of our major sponsors alongside MBNA, Swansway Chester and Swettenham Chemists. There will be further announcements of new partnerships in the coming days and we are confident that we can continue to build on the positive atmosphere around the club.
"In the meantime, I would like to thank Red Insure and in particular Janine Revill (Director) for their commitment to Chester FC and we look forward to long and fruitful relationship."
Janine Revill – Director of Red Insure – said: "Red Insure has had a long standing relationship with Chester Football Club for many years and following the relocation of our Sporting and General insurance divisions to the heart of the City, we felt it would be an exciting move to take our relationship to the next level as a main Club sponsor – and very much look forward to supporting the local community."
Red Insure have secured the sponsorship after Chester FC exercised an option in the contract with Maxiflow to end the current agreement.
All at Chester FC would like to place on record their thanks to Maxiflow for their fantastic support over recent years.