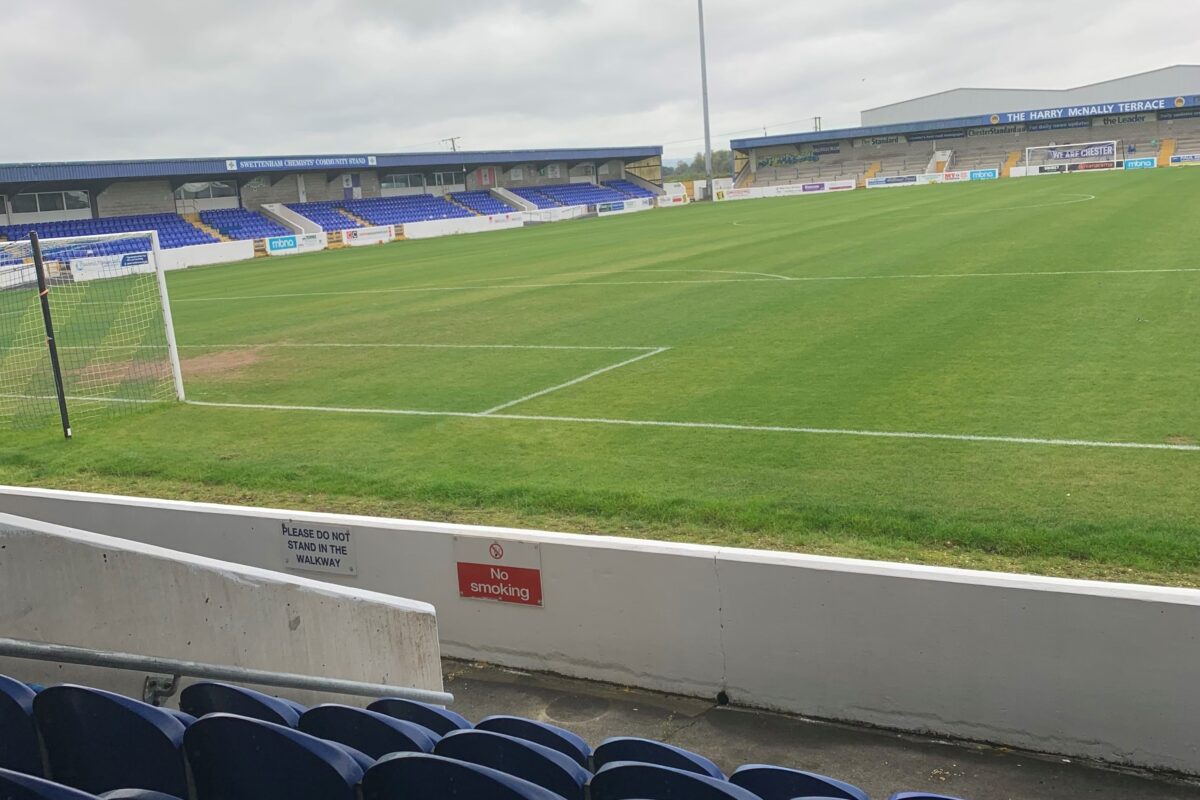 Chester FC Supporter Code of Conduct
Chester FC is an inclusive, family-friendly football club and committed to ensuring the Deva Stadium provides a safe, welcoming environment for all visitors.
When you purchase a season ticket or match ticket, you are agreeing to comply with the Supporter Code of Conduct and Ground Regulations.
The club will not tolerate unacceptable and anti-social behaviour at the Deva Stadium or any other football stadium. We expect all supporters to behave in a responsible manner and conduct themselves in a way that represents our values as a community club.
Conduct which jeopardises the safety and enjoyment of others, or is likely to bring the club into disrepute, is not acceptable and will not be tolerated.
Unacceptable conduct is conduct considered to be violent or disorderly. Violent conduct includes any actual, attempted or threatened physical violence against any person, or intentional damage to property.
Disorderly conduct includes:
that which is designed to create hatred or ill will towards individuals or groups based on their gender, colour, race or religion, sexual orientation, gender identity or disability.
using threatening or abusive language or conduct, displaying anything which is threatening, abusive or insulting.
Please respect your fellow supporters, club staff and volunteers, and follow the instructions of stewards and club staff at all times.
Do not encroach onto the pitch. This is an offence and anyone doing so will be ejected and issued with a club ban.
The club operates a zero-tolerance policy on the use of pyrotechnics and illegal drugs. The club will take strong action against anyone identified carrying or using these articles.
Do not bring prohibited items into the stadium. This includes alcohol, glass bottles, cans, air horns, laser devices, and any other items listed within the Stadium Regulations.
Be considerate when using social media. Personal abuse and wholly unacceptable posts are unacceptable. Anyone who uses language of a racist, xenophobic or discriminatory nature is indulging in unacceptable conduct and will face further action from the club.
In respect of any individual who is guilty of a football-related offence or is in breach of the Ground Regulations either at the Deva Stadium or when visiting other stadia, the club will take appropriate action. Any action which is deemed serious enough will be reported to the Police for investigation.
Such action is likely to include:
Refusal of entry to, or ejection from the stadium followed by a written warning
Temporary and/or indefinite club or Football Banning Order from attending Chester FC home and away fixtures
Report to the police potentially resulting in criminal proceedings leading to banning orders for all matches and/or custodial sentences
It is recognised that the action taken will be relevant to each individual case and we work closely with Cheshire Police to share and collate information regarding any supporters involved in unacceptable conduct and behaviour at both home and away fixture.
The club reserves the right to amend the Supporter Code of Conduct and/or Ground Regulations. All changes will be available to view on the club's website.