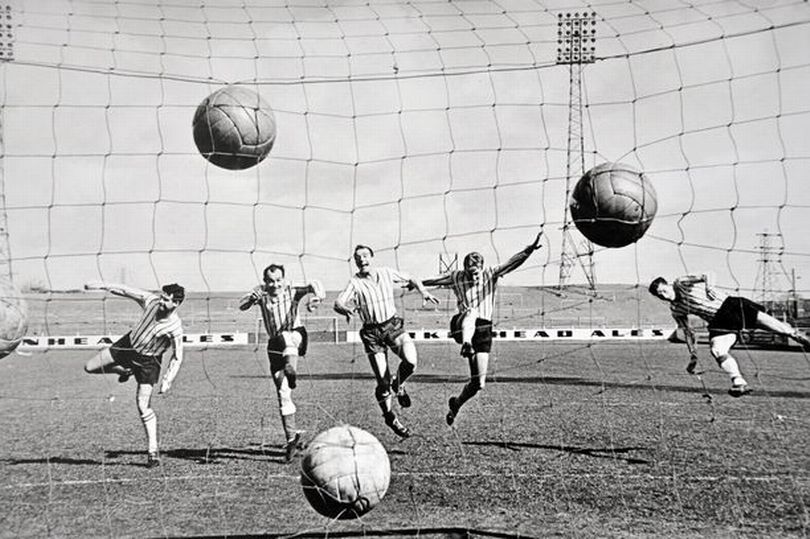 CHESTER FPA | Last two of the Famous Five are honoured
Two of the players whose goal-scoring exploits made history for Chester FC are to be inducted to the club's Hall of Fame.
Hugh Ryden and Jimmy Humes were members of Chester's 'Famous Five' forward line in a campaign which saw the team score goals at a rate scarcely believable in the current era. The team registered 151 goals in all competitive matches, with each of the five forwards (as there were, in those days) scoring at least 20 times.
Hugh Ryden went into the final Division Four game of the season, against Doncaster, on 18 League goals and, with a 6,000 crowd willing him on, managed to score the two he needed to reach the 20 mark. Two goals in the Welsh Cup gave him a final tally of 22. Jimmy Humes registered 17 goals in the League plus two FA Cup goals, one League Cup, and two Welsh Cup for a season's total of 22.
Their colleagues in that illustrious forward line are already members of the Hall of Fame. Mick Metcalf hit 38 League and Cup goals, Gary Talbot scored 37 and was top League scorer with 28, and Elfed Morris finished with 28 in all competitions.
Chair of the club's Former Players Association Alan Tarbuck said: 'It seems incredible that these achievements took place over 50 years ago because they are still so well-known among Chester fans and fondly remembered by all those who were around at the time. Everyone knows that scoring goals is the hardest part of the game in whatever era, and for Jimmy and Hughie to each reach the 20 mark in the same season was special. To do it when their mates were also banging the goals in makes it a truly historic feat and one which we are proud to honour.'
The two will be formally inducted into the Hall of Fame at Chester FC's home game against Leamington on Saturday Match 9th.
Carlisle-born right-winger Jimmy joined Chester from Bristol Rovers in 1963 and scored his first goal for the club in his second appearance, against Rochdale. In four seasons at Sealand Road he made 152 appearances, scoring 43 goals, before joining Barnsley.
Inside-forward Hugh was born in Dumbarton and was with Leeds Utd as an apprentice, moving on to Bristol Rovers and Stockport County before joining Chester in the summer of 1964. In four seasons he turned out 169 times for Chester, scoring 50 goals. He signed for Halifax in 1968.
Both Hughie and Jimmy played in one of Chester's most memorable matches, the 5-4 League Cup win over Derby County, then in Division Two, in 1964.
Nominations for the Hall of Fame are made by the Chester Former Players Association and approved by the club's Board of Directors. Already in the Hall of Fame are: Grenville Millington, Gary Talbot, Daryl Clare, Peter Jackson, Stuart Rimmer, Trevor Storton, Derek Draper, Iain Jenkins, Mike Metcalf, Elfed Morris, Ken Roberts, George Horan, Michael Wilde, Ronnie Hughes, Milton Graham, Harry McNally, Graham Barrow, Neil Young, Graham Abel, and Ray Gill.
Featured photo courtesy of Gary Talbot.