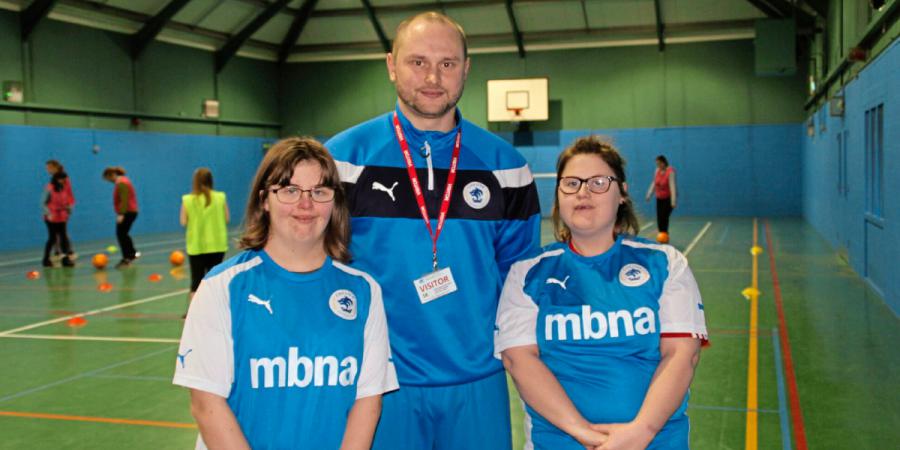 COMMUNITY TRUST | CFC give their support and training to Derwen College
Female footballers at a specialist college have played their first game of the season after receiving support and training from Chester Football Club.
Chester FC Community Trust continues its commitment to encouraging football at grassroots level working alongside young adults at the college for students with learning difficulties and disabilities.
The club has provided Derwen College, near Oswestry, with weekly training for its growing female football team, as well as free kit and opportunities to attend Chester FC games and experience behind the scenes tours.
The women, some of whom had never played football before working with the Chester FC Community Trust, are aged between 16-25, and thoroughly enjoying the fun, fitness and football. The newly named Derwen Devas played their first competitive game of the season against Wrexham this month and are looking forward to attending an upcoming Chester FC match.
Chester FC Community Trust chief executive Jim Green says that the charity was very pleased to be able to work with and build on the women's team that was established at Derwen College.
He said: "Derwen College first came to our attention through our coach Ben Richards, who formerly worked for Shrewsbury Town. He was keen to build a link with Derwen College. He explained to us the college's ethos and we shared his enthusiasm to work with Derwen's Ladies football team.
"The feedback from the college has been really positive and we are starting to build a strong team. It's a great college to work with, and the enthusiasm from staff and students has been outstanding."
Chester FC Community Trust delivers sport, education, health and inclusion programmes for all ages with football, and in particular the development of the women's and girls' game, a key focus.
"Female football is one of our big pushes at the moment," said Jim.
"Along with Cheshire FA and Shropshire FA, we are seeing a huge rise in the number of players and hope to double the number of women football players by 2020. The FA are committing a fantastic level of resources, and a huge rise in interest driven by the success of women's football nationally and at top flight level, and the higher profile of women's football."
Ruby Brice, a hospitality and catering studies student who also enjoys playing in goal, is thoroughly enjoying the camaraderie in the team.
She said: "It's exciting and fun playing with my friends. We're all like sisters together!"
Ruby is a Manchester United fan who enjoys watching the game but has only recently taken part herself.
She attends training every Wednesday afternoon with Ben Richards and Derwen Sport and Leisure Instructor Jack Harris.
Retail studies student Sarah Blows prefers to play up front as a striker and is enjoying being part of the Derwen College team.
She said: "I love watching and playing football and rugby and I've learnt a lot."
Chester FC Community Trust coach Ben Richards said that he felt privileged to be working with the women and to coach them towards their first game of the season.
He said: "I live near Derwen College so it's great for me to work with and support a college that I know so much about and is right on my doorstep.
"It has been wonderful to see how the players have blossomed. Some were very nervous and unsure to begin with because they didn't know what to expect. Now there's no stopping them."