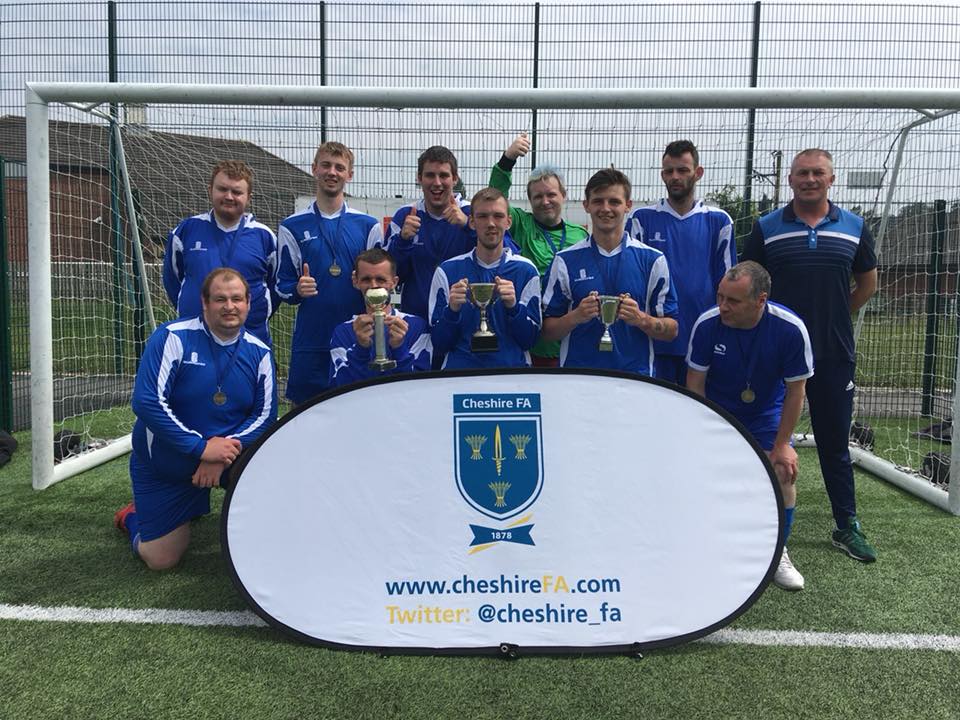 COMMUNITY TRUST | Chester FC Community Trust wins national award for mental health project
Chester FC Community Trust has received a national award for its work supporting men who have experienced mental health problems.
The charity won the Best Health Project category in the 2018 National League Trust Community Awards, which celebrate the impact of clubs across the three divisions of the National League in their communities.
Chester FC Mental Health & Wellbeing is a partnership between Chester FC Community Trust, forfutures and the Cheshire Centre for Independent Living through the Get Yourself Active project.
Weekly football training sessions take place at the Northgate Arena and a team representing Chester FC competes in the Cheshire Ability Counts Football League with participants invited to attend Chester FC matches as a reward for their involvement in the project.
The project helps to reduce the social isolation people with mental health problems can experience, offering participants opportunities to make friends and keep fit in a welcoming environment and talk about their problems without stigma, seek advice and access additional support.
In addition to physical health benefits, evidence shows regular exercise is beneficial for mental health and well-being too, helping to reduce stress and anxiety, increase self-esteem and reduce risk of depression.
Lee Gregg, who lives in Blacon, is a regular at the sessions and has captained the team, who completed a Cheshire Ability Counts League and Cup double this season and won the Cheshire round of the FA People's Cup.
He said: "I first started going to the sessions about three or four months ago and I absolutely love it.
"I've always wanted to play for Chester FC and now I've got that opportunity. It means a lot to me to be able to play for the club and they've been great in inviting us to matches.
"My fitness has improved and I've lost quite a bit of weight since I started. I feel better in myself and I feel more confident.
"I didn't know any of the other lads when I went to my first session but they are a great bunch. We have a good laugh, I've met some new people and they've become good mates.
"We help each other out. If one of us has had a tough week or something then the rest of us can pick up on that and we make sure they're okay. The football helps because you can be feeling a little bit low before the session and by the end of it your mood can be a lot better."
Levi Lloyd, of forfutures, has been involved in the project from the outset and manages the team.
He said: "I have seen first-hand the difference this project has made and how much pride the lads take in being associated with Chester FC.
"From a group of individuals who didn't know each other and who each has their own issues to face, the lads have become a real team and are now friends who support each other on the football pitch and in everyday life.
"I have been really impressed at how much they have learned about team spirit and achievement. Their attitudes have been first class and they are a brilliant group of lads to work with."
Jim Green, chief executive of Chester FC Community Trust, said: "We are thrilled to receive this award and grateful to the National League Trust for their recognition and continued support of our programme.
"It is extremely rewarding to see the positive impact it is having on the participants and demonstrates how football has the potential to change lives."
Thomas Bell, Get Yourself Active coordinator for Cheshire Centre for Independent Living, said: "This project has been a great success and highlights the importance of partnership working in order to create new, fulfilling activities for service users.
"The Get Yourself Active project's main aim is to give anyone, no matter what their background, age or ability, an opportunity to take part in a meaningful sport or physical activity opportunity across Cheshire."