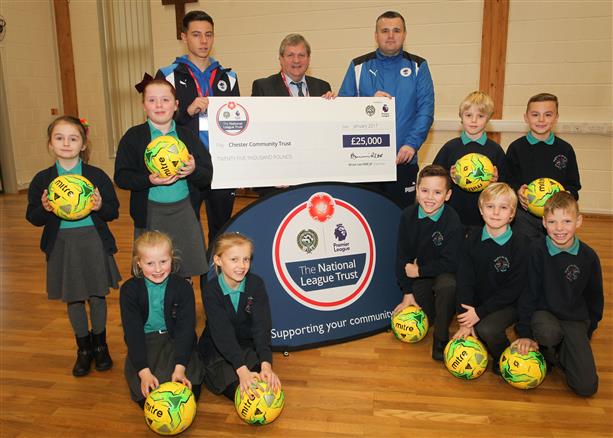 Community Trust launches Get Onside programme
Chester FC Community Trust is celebrating an award of £25,000 from The National League Trust.
The grant has enabled the Trust to develop Get Onside, an innovative education programme for primary schools in Chester and Cheshire West.
Get Onside uses the appeal of football to raise awareness of anti-social behaviour through a series of workshops to develop children's understanding, encourage them to think about how anti-social behaviour impacts on communities and how to access support.
As well as promoting responsibility, positive behaviour and building confidence, the six-week programme provides increased opportunities for physical activity and develops children's football skills through professional coaching.
Following a successful pilot with Saughall All Saints Primary School, Get Onside is now being rolled out to more schools with Lache Primary School and Guilden Sutton Primary School the latest to access the free programme.
Jim Green, chief executive of Chester FC Community Trust, said: "We're extremely grateful to The National League Trust for this award and excited about the impact Get Onside can have.
"Anti-social behaviour can be a real problem for our communities and ensuring children are aware of its impact from an early age can help them make the right choice and reduce anti-social behaviour.
"Get Onside combines this with structured football coaching sessions to develop children's skills, increase their confidence and promote the value of physical activity."
Susan O'Brien, project manager at The National Trust, added: "Chester have a great record of running innovative projects.
"Inspiring primary school children is one of our aims, and we are pleased to be able to support such an inspiring programme. It demonstrates the difference football can make on and off the field."
Primary schools wishing to find out further details about Get Onside can email community@chesterfc.com or call 07512 355396.