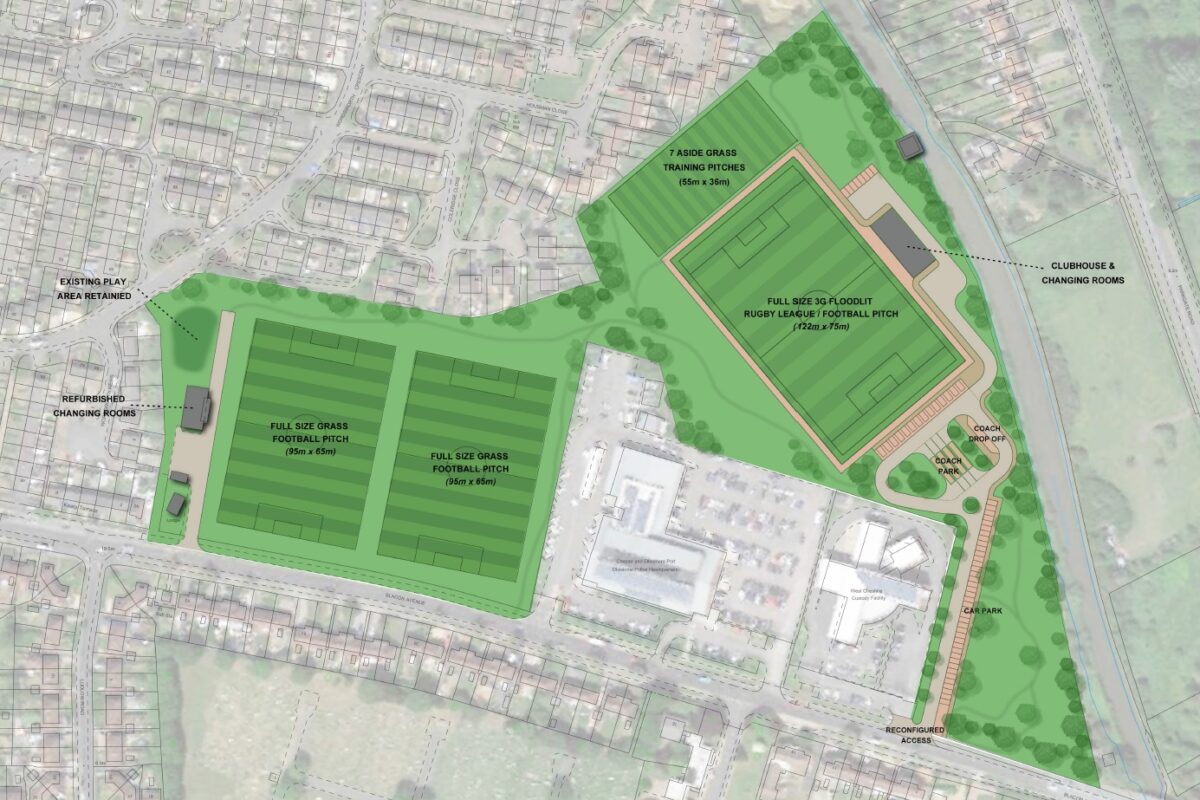 COMMUNITY TRUST | Public consultation survey for KGV Sports Hub
Chester FC Community Trust has launched a public consultation on its proposals for King George V Sports Hub, a new community sports facility in Blacon.
The public consultation is running until 30 November and is vital to the development of King George V Sports Hub. The results and feedback of the consultation will form part of the submission for planning applications for the scheme.
Jim Green, CEO of Chester FC Community Trust, said: "We believe the sports hub is an amazing opportunity for Chester.
"It will provide much needed sporting and community facilities for people of all ages and deliver significant benefits, increasing participation in sport, improving health and wellbeing  and creating new opportunities for local residents.
"Consultation is essential to the planning process and it is important as many people as possible take part in our consultation survey and let us know what they think."
Our Plans
The Community Trust is working in partnership with Cheshire West & Chester Council to create a fantastic new community sports facility for people of Chester.
The plans for King George V Sports Hub can be found here and the answers to some frequently asked questions can be found here.
The project has four main elements:
1) Improvement of the existing grass pitches including new drainage
2) Renovation of the currently derelict Pavilion to provide changing rooms, classroom, office and meeting space which will be the home of the Community Trust and available for community use
3) Creation of a new floodlit 3G artificial grass pitch accessible to local clubs and teams
4) Building a new Clubhouse with changing rooms and flexible community space.
Consultation
The current proposals have been shaped through engagement with key stakeholders and we now want to gather feedback from supporters, local residents, community groups and businesses.
Your opinion matters and will help inform how the project moves forward. It is important the sports hub reflects the needs of the community.
The Community Trust will also be holding a number of consultation events in the Chester area so if you are unable to complete the online survey, you will still be able to share your views.
Please take a few minutes to look at our plans using the links above and then complete the consultation survey.
Click here to take the King George V Sports Hub Consultation Survey

The survey will only take a few minutes to complete and will help us understand how the community feels about the site in its current state and the proposed improvements. You will also be able to tell us if there are additional facilities you would like to see developed.
If you would like to find out the latest news, upcoming events and how you can register interest in hiring the facilities either as an individual or on behalf of a group, sign up for the King George V Sports Hub mailing list here.
Chester FC Community Trust is continuing to fundraise for King George V Sports Hub and donations to the project can be made at www.justgiving.com/campaign/kgvsportshub.
If you would like to know more about the plans, have any questions or would like to be involved in the project, please contact Community Trust chief executive Jim Green on 01244 371376 or email jim.green@chesterfc.com.
The consultation survey is being administered by The Campaign Company on behalf of Chester FC Community Trust.