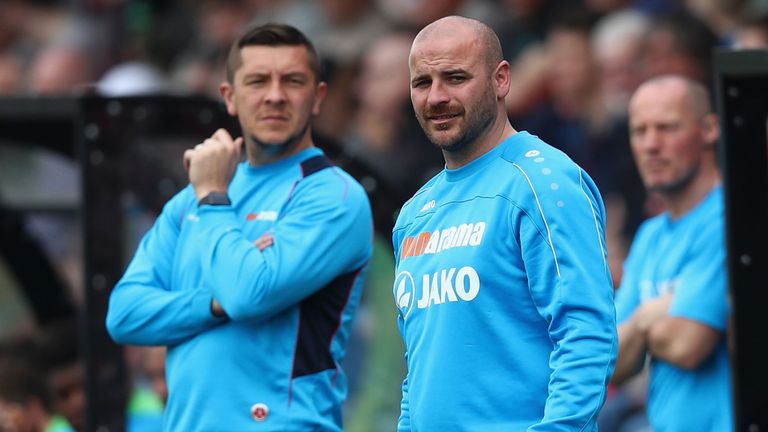 EXCLUSIVE | Bernard Morley speaks after being appointed Joint-Manager at Chester Football Club
Chester FC Joint-Manager Bernard Morley speaks to chesterfc.com for the first time following last night's announcement.
Former Salford City Managers Morley and Anthony Johnson have signed two-year contracts at the Swansway Chester Stadium.
Morley said: "Our ambition is success. Defining success this year for us will be getting into the Play-Offs. After speaking to the board, they don't want to consolidate by any means. I'm not up to date with everything at Chester, but I know that they had problems last year and they want to see stability.
"They want to see good football on the grass, they want us to work with the community and the setup and we're willing to do that. We got opportunities as 25/26 year old Managers, so it's important we look back where we have come from and make sure that the pathway is clear."
"We've got a lot of energy and a lot of drive. I think you're born with it. You're born with what you are, it's in you. We've got that fire in our bellies. We like to drive things and like our players to portray what we are on the pitch. A lot of people would say that's aggression and that we're bullies, that's rubbish.
"We're winners. We don't do consolidation. Whatever people think of us, we get a group of lads together and once they get that shirt on it's all about high standards. We want to keep that momentum going we've had over the last nine years.
"If lads want to buy into that, then we will be successful. If not, we will shake hands and they'll go separate ways."
It's been a frenetic month for Morley and Johnson. After securing the National League North title with Salford City – their third promotion with the club – they surprisingly departed the Ammies.
Exactly one week after their exit, they were appointed Joint-Managers at Chester.
"We're delighted to get back into the game. It's been a bit of an indifferent week – being so successful last year but leaving Salford. It's been a dull week – it's been hard. But, as soon as we were made aware Chester might be interested, we drove down and had a chat.
"We liked what we heard. It's a great football club, great playing surface – which attracts players – and it was an easy sell for us."
"It's going to be a tough challenge. I know a lot of people realise we had a big budget at Salford last season and they said it was all about the money. Not really. Money doesn't buy you everything.
"We understand it's going to be a tough league next year. The last thing you want to do when you've moved up from a league is to go back into that league – but we've had two years in there now but we're looking forward to it.
"We love a challenge. We're not people that like comfy slippers, we like to be on the edge of our seats. While we're driving it I'm sure we will be successful while we're here."
"We were fortunate last year where we worked with a budget that was probably superior to a lot of the sides. But that doesn't guarantee success. You still have to manage these big players.
"Other Managers in the past might tell you they'd prefer to work with a mediocre budget. It certainly helps with recruitment, but what you find is some players come for the money and not for the club. There's certainly a different attraction here though with the playing surface and the crowd.
"Hopefully me and Jonno are an attraction too!"
An extremely ambitious duo, the 34 and 35 year-olds will be hoping to be the catalyst to revive the Blues and aid a swift return into the Vanarama National League following relegation last term.
"We can't guarantee success. But one thing we can guarantee to the supporters is we've got to win – we've got to get results and get them on our side.
"But if our fans see the work ethic, the desire and commitment from the players on that grass – you start to get the support on side and the results come with it. Myself and Jonno are coming here to win games of football."
The appointment was made official yesterday evening, and the hard work began from the very first minute for Morley and Johnson.
Ryan Astles has already departed the club for Southport, and recruitment will be critical this summer for the Managers.
Morley said: "8pm last night when it came out, players and agents were on the phone. They'll be asking if we're interested in X, Y and Z – and of course we are. There's some players at Chester still under contract we will inherit that we want to work with.
"We will be starting from scratch almost though, with getting 12-13 players in over six weeks. It will be tough but players we've worked with over the years will vouch for us and hopefully it will come easy for us. I like to think we have a good reputation for our recruitment.
"It will be a bit different this time from Salford, we had scouts and a Sporting Director bringing players to us to say yes or no. Whereas now we will have to go out and get the players, it's going to be difficult but we're looking forward to it."
Whilst the First Team season is over, the youth still have a big night ahead of them at Walsall FC.
Tonight, they face FC Halifax in the National League Alliance U19 Cup Final. A league title, and also a 4-1 Semi Final win over Boreham Wood Blues, have made it a sterling season for Calum McIntyre's side.
Alongside the impacts of Tom Crawford, James Jones and Nathan Brown during the 2017-18 campaign, there's plenty of proof that the Academy continues to make huge strides each year.
The Management Team are excited to work with the system: "I wish them all the best tonight.
"Unfortunately with the short notice it's my night to look after the kids so I won't be there! But I'll certainly be watching the game back – and hopefully this gives them an incentive going into pre-season.
"It's an unbelievable achievement what they have achieved and I wish them all the very best.
"The pathway has to be clear. We've said before that if 16/17 year old lads are good enough to play football, they will play. That's a fact.
"These lads will get an opportunity if they are good enough, and they are good enough; having done our due diligence on them last night. To get to the final of that competition you have to be good and fair play to Calum who has directed them in the right way."
Morley concluded: "Our ambition is definitely success.
"To define that success this year is definitely the Play-Offs. If we can win it, we will go and win it. But we've got to be realistic at the start of a new project.
"We will do everything in our power to guarantee Play-Offs this year."