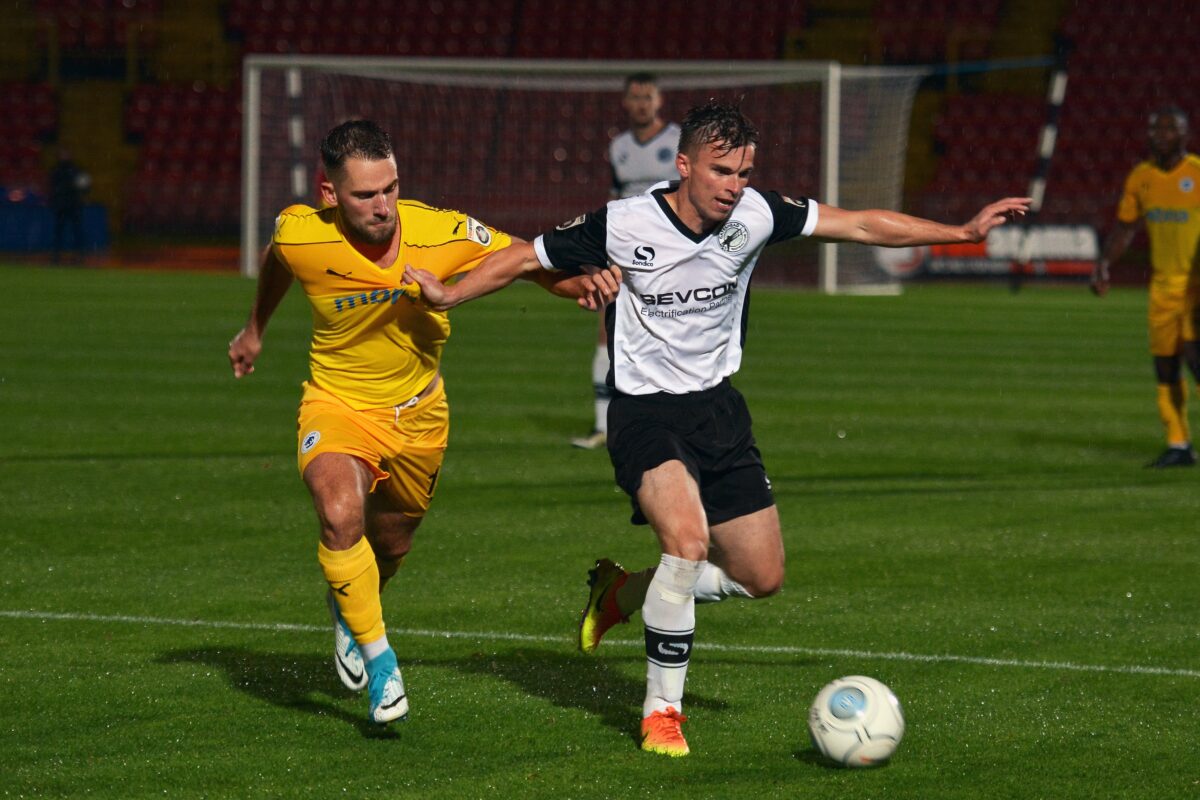 A heartbreaking last minute winner for Gateshead ensured Neil Aspin's side took all three points – after Matty Waters drew the game level early into second half stoppage time.
History seemed to go against the Blues from previous fixtures – with no wins from four attempts at the Gateshead International Stadium.
Caretaker manager Tom Shaw made an enforced change to his starting line-up following Saturday's 1-1 draw with Ebbsfleet, as Craig Mahon stepped in to make his 160th appearance with Nyal Bell ineligible.
An impressive display against unbeaten outfit Ebbsfleet over the weekend brought more life to a diminished start to the campaign – with the Blues starting the game as the brighter side.
Storm Aileen coasted its way across the British Isles throughout Tuesday evening, and affected play in the north east with strong, heavy rain causing difficulties on the pitch.
But the weather didn't impact on Lathaniel Rowe-Turner's ability, as he zipped an inch perfect pass across to Paul Turnbull. The 28-year old sized up his options from range, before striking his effort high and wide of Dan Hanford's goal.
Rowe-Turner continued to cause problems along the left flank, whipping in a vicious cross towards Ross Hannah, who headed straight into the keeper's midriff.
Undefeated in all four home fixtures this season, the Heed proved their worth with several goal bound efforts themselves.
And Neil Aspin's side found the back of the net through a rather likely source, a fourth own goal scored by the opposition for Gateshead this season.
Luke Hannant sent a perfect ball into the Blues eighteen-yard box, and under little pressure, ex-Blue Theo Vassell attempted to nod past Mitchell – before Andy Halls unfortunately got the last touch.
Almost fifty seconds after the break, and the Heed doubled their advantage through Richard Peniket.
Signed from Halifax Town in the summer, the 24-year old bundled home a low cross into the box from Johnson after the Gateshead striker collected a pinpoint pass from Callum Williams.
Into the final fifteen minutes, and the Blues started to look on the front foot – getting a reward for their efforts with a goal from Ross Hannah.
Harry White sent in a dangerous cross which troubled Heed keeper Hanford – and despite palming the ball away, Hannah was on hand to nod the ball home into an empty net.
Chester looked like they got their equaliser when youth product Matty Waters was sent through on goal by Harry White – and the 19-year old smashed the ball past Hanford in some style.
But straight from the kick off, Gateshead found the winner through yet another own goal – after Mitchell failed to deal with Paddy McLaughlin's corner.
Gateshead: Hanford, Vassell, Byrne, Fyfield, Williams, O'Donnell (Tinkler 78), Hannant (Langstaff 74), Penn, McLaughlin, Johnson (York 84), Peniket.
Subs not used: Macleod, Burrow.
Chester FC: Mitchell, Sheron, Halls, McCombe, Rowe-Turner, Joyce (Waters 74), James, Turnbull (Dawson 28), Mahon, Hannah, Akintunde (White 59).
Subs not used: Lynch, Davies.
Referee: Simeon Lucas
Attendance: 567