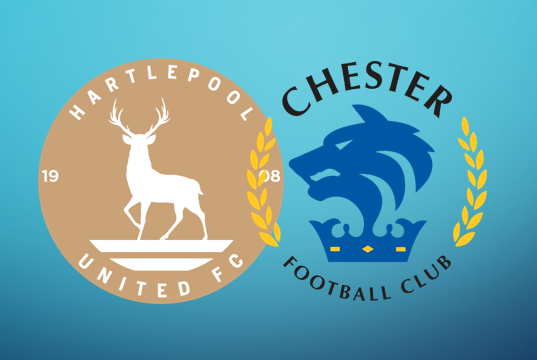 Hartlepool vs Chester: #AwayDayInfo
Here's all you need to know if you're a Blues fan heading down to Hartlepool on Tuesday:
TICKETS
Prices are as follows:
£20 – Adults (19+)
£10 – Seniors (60+)/Students/Under 19s/Armed Forces
£5 – Under 16s
Under 5s – Free.
Wheelchair/Ambulant Disabled are charged at the relevant age category.
Only seated accommodation is available for visiting supporters in the Rink End (current capacity 1035 including disabled enclosure), on the Clarence Road side of the ground (East side), entry is via turnstiles 1 and 2.
Please be advised a £1.50 card fee for sales in Hartlepool's Ticket Office applies to credit card sales (not debit cards).
Please note: It is imperative that fans do not stand in seated areas due to strict regulations set by the Football Licensing Authority. Persistent standing could result in disciplinary action taken against both home and away clubs and against the fans themselves.
BUY TICKETS ONLINE
As Hartlepool only have two away turnstiles (cash only), to alleviate any potential queues on the day at the Ticket Office or the turnstiles themselves – tickets are available online for the away end for those that want to purchase in advance.
CLICK HERE TO BUY HARTLEPOOL TICKETS ONLINE
DISABLED FACILITIES
10 spaces are available for wheelchair bound spectators in the Away Supporters Rink End Stand (helpers go free if the disabled fan is on high rate disability living allowance). Prior arrangements must be made for large parties of disabled supporters. The cost is £20 for adults and £10.00 for concessions (Over 60s, U16s, U19s, Armed Forces and Students). You can contact the Club ticket office on (01429) 272584 (option 2) or email tickets@hartlepoolunited.co.uk to pre-book tickets and also car park spaces for disabled supporters at least 72 hours in advance at a cost of £5 per vehicle.
AWAY TRAVEL
The Hipkiss Express will be running from the Swansway Chester Stadium to Hartlepool on Tuesday – at a cost of £20. The coach leaves at 2pm. Please call our ticket office Mon-Fri 10am-4pm on 01244 371376 to book your place.