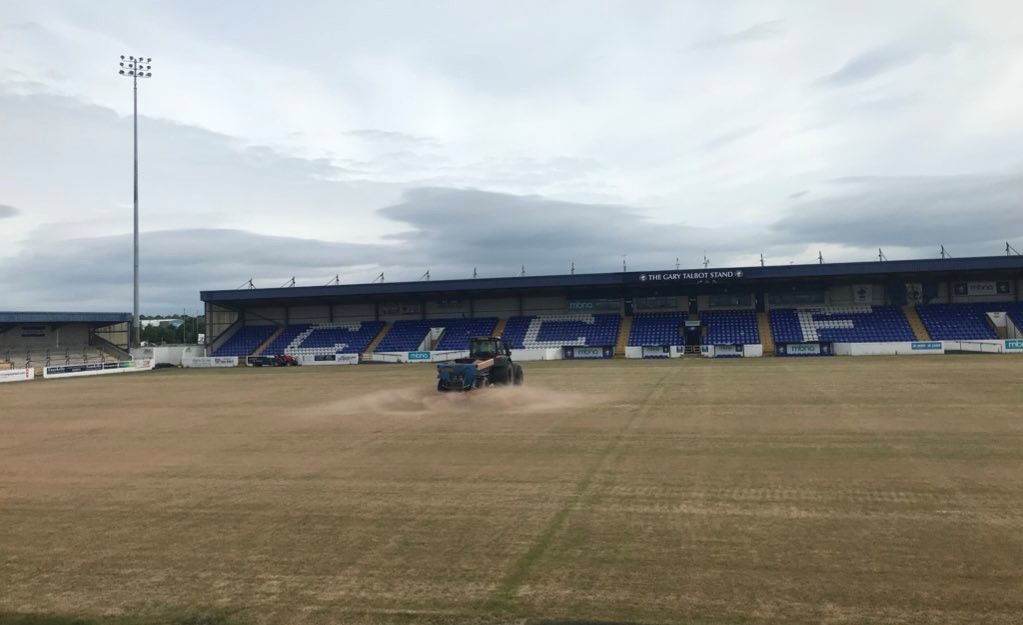 NEWS | Pitch work begins at the Deva!
Work is now well underway on the annual pitch renovations at the Deva Stadium – thanks to the generous support from our incredible fans at this difficult time.
Almost £4,000 was raised from the E-Matchdays last month and these funds have enabled the Club and groundsman Mike Barrow to ensure our pitch remains in top condition for when football returns.
With no matches scheduled and the recent good weather, work on the playing surface has been able to start earlier than normal with the expert assistance of our friends at Duncan Ross Ltd, one of the UK's leading contractors working in sportsturf, land drainage, fine turf, landscaping, agriculture and greenspace.
Mike and his team of volunteers scarified the pitch last week in three directions to rip out any of the weaker grass in preparation for the work.
On Monday the pitch was spread with 70 tonnes of sand which was drag-matted to level out the surface and then seeded four ways with the Club grateful to our friends at Dandy's for providing a fantastic deal on the grass seed. 
It is expected that with the forecasted good weather and temperatures set to remain – along with some natural rain or sprinklers – signs of growth will be seen in 7-10 days.
Then, in around 5-6 weeks, the pitch will be cut regularly and returned to its usual excellent condition ready for whenever football resumes.
Jeff Banks, director of Fan Engagement, praised the fans, players and management at the club for helping raise funds: "To achieve a figure of nearly £4,000 from the E-Matchdays was fantastic and it's great that we can visibly demonstrate where that money has been spent.
"We have always been proud of the surface at the Deva Stadium and this contribution together with the hard work of our groundsman and support from Duncan Ross will help ensure we continue to prepare the pitch for football's return."
Stay tuned to our Twitter page @ChesterFC for our #PitchUpdate posts over the coming weeks and months.