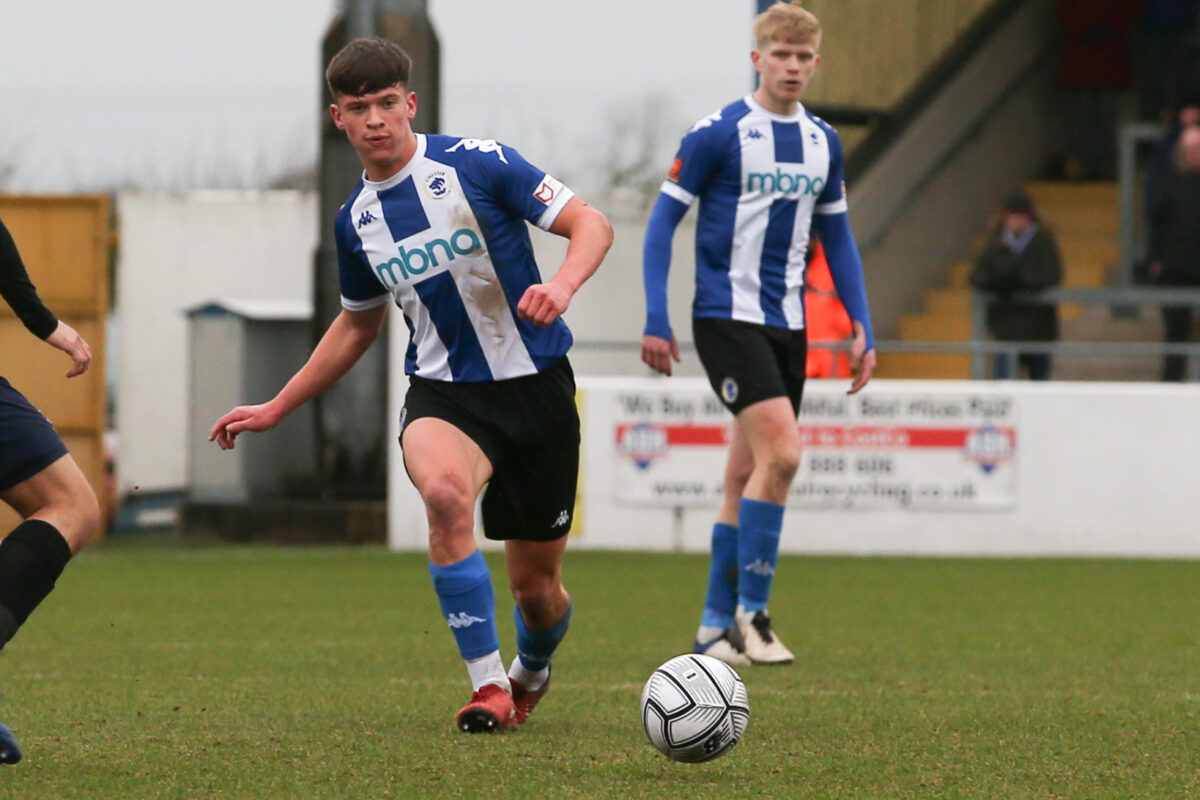 PLAYER INTERVIEW | Harrison Burke
ChesterFC.com spoke to teenage defender Harrison Burke following Saturday's 1-0 victory over Farsley Celtic.
The 19-year-old was part of a defensive unit that picked up a first clean sheet in four games, as the Blues returned to winning ways.
Burke said: "It was a huge win, especially the way we did it.
"We've not had many games like that where we've won by the odd goal. We had to dig in right to the end.
"Wyll made a huge save right at the death, and the whole team worked hard. It wasn't the best performance in terms of on the ball, but we dealt with them well."
Burke was selected in a back three for the game, along with fellow young defender Matty Williams and the experience of Simon Grand.
It was the same outfielders and system that finished the game strongly at AFC Fylde last Monday, and Manager Steve Watson opted to try it out – successfully – for the full 90 over the weekend.
"It was my first time in a back three, and maybe I felt a bit more secure. Having the experience of Grandy around me and Willo really helped in terms of talking us through the game.
"I felt like I did well in the air and won a lot of my headers.
"The Gaffer and Macca told me to stay strong and not get in a fight with the striker (Jimmy Spencer), because it will play into his hands with his experience. I think I did that well."
York are the next to visit the Deva, and Harrison takes encouragement going into this one with how the Blues have played against the promotion pushing sides in recent weeks.
"Before Farsley, we played three of the top four sides. Not only did we give them a game, but we've taken the game to all of them.
"We've been unlucky in those matches and on another day we may have got more than one point.
"We have to keep going and hopefully we can take all three points against York."
With just four games to play this term, players will be playing for their futures with the Blues and beyond.
But Burke, who signed a deal with the club this year until 2024, will be using these games to focus on improving his game going into next season.
"I'm still only 19 and I still have so much to learn," he said.
"I feel more experienced in men's football but I'm still learning and haven't scratched the surface of what I can do yet.
"If you go the games you can probably hear the Gaffer and Macca telling me what to do and how to improve, I like that and it really helps me.
"I want to know how I can keep improving and get to the next stage of my development."