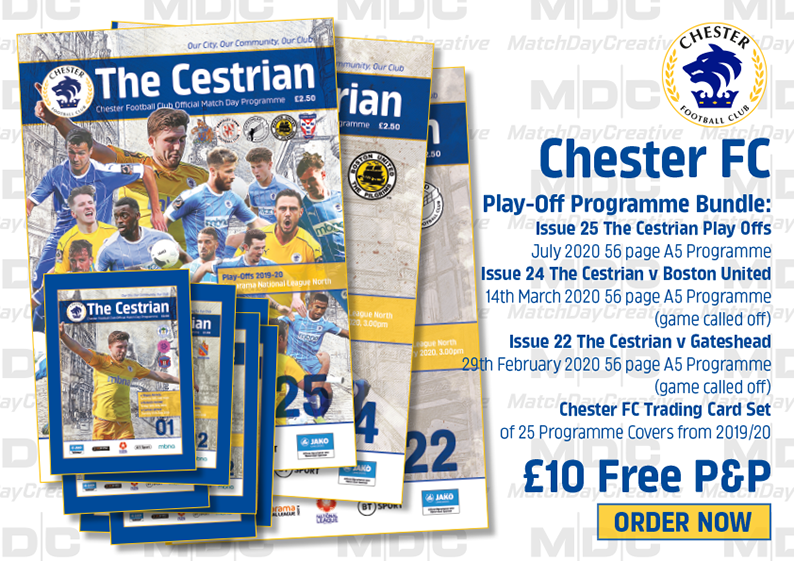 PROGRAMME UPDATE | Hurry – just 50 bundles remaining!
Our Chester FC Limited Edition Programme bundles have made a good start in sales, there are now just 50 left!
We've teamed up with our programme partners Match Day Creative, and for just £10 (with FREE postage) you get the following…
1: Gateshead (h) | Issue 22 | Saturday 29 February
Exclusive interview with James Jones
Chas Sumner takes us back to 1950 for an FA Cup tie with Bradford PA
The Big Question panel discuss National League Marketability
…and much more!
2: Boston United (h) | Issue 24 | Saturday 14 March
Exclusive interview with Matty Waters
A look at the Under-19's Semi Final victory vs Luton
The full report from the Blues Senior Cup QF win over Tranmere
…and much more!
3: The Play-Off Programme | Issue 25 | July 2020
A message from the Gaffers
Our favourite pictures from 2019/20
'Blues Tunes' – a new feature, with Jamie Morgan kicking us off!
Feature interview with John Johnston
…and much more!
4: Chester FC Trading Card set of 25 programme covers from 2019/20!