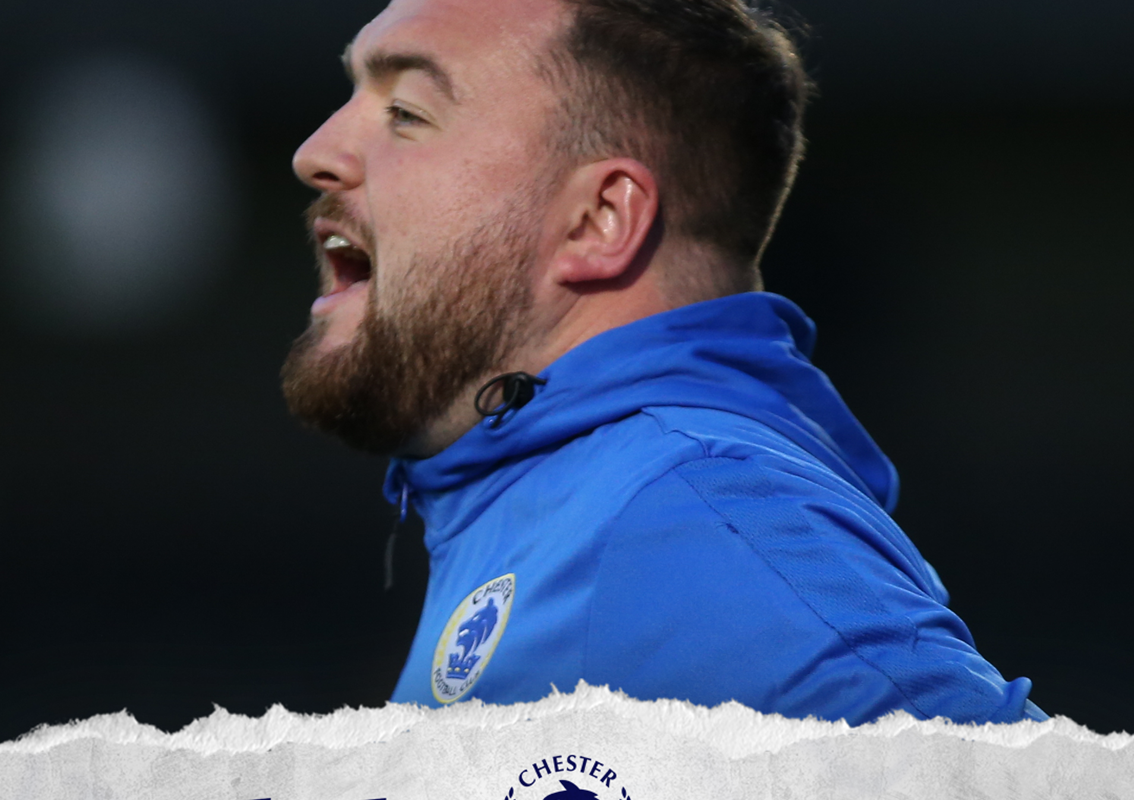 READ | An update from Manager Calum McIntyre
New Chester FC Manager Calum McIntyre talks us through his first couple of weeks as Blues boss.
"It has obviously been a really busy period since taking over as first team manager two weeks ago.
"The immediate priority was obviously the retention and release of existing players, but attention soon turns to other areas of importance ahead of the new season, notably the pre-season programme.
"Recruitment is in a really good place and we will not rush in securing the right players for what we want to be. I look forward to updating supporters as and when we bring players to the football club.
"I believe pre-season is an immensely important time of year. There are obvious elements around the physical preparation of players but it's equally important to begin to form the group dynamic as well as establish some key principles relating to what we want to be out there on the football pitch.
"To make my intentions clear, I have zero interest in any results during pre-season fixtures. For me, pre-season fixtures are opportunities to target specific aspects in a game based exercise, there has to be a real transfer of information from the training ground into match day scenarios and those fixtures are the best opportunity to do that.
"Our first fixture away at Whitchurch will give us an opportunity to simply return to play. It will be an opportunity for the players to get a kit back on and we will limit our information to focus really on the physical aspect. We will utilise 22 players and reintroduce them to game scenarios.
"Following the Whitchurch fixture, we will begin looking at our identity out of possession, we will introduce roles and responsibilities out of possession in two systems. With this in mind, we need to ensure we have appropriate fixtures to transfer those principles from training into a match day.
"We feel the two fixtures against Rochdale and Morecambe will be real defensive tests that allow us to put our principles out there into an 11 v 11. Ultimately, if you want to get to those pictures out of possession you need to play games where you will spend time without the ball.
"After the two EFL tests, we will move on to the Stalybridge Celtic fixture. This is a game where we will look at slightly different structures  and look at it as a fixture to perhaps experiment with one or two things that may be required on rare occasions during the season. Where we have had any trialists in, we would look to give them some clarity as to their future with us after that fixture.
"Moving on from Stalybridge, we will begin to add some detail and some principles into our work in possession. We are really clear as to what we want to be with the ball and how we believe we can create chances and hurt teams. It is important we give the players real clarity around our structure with the ball and equally recognise that our principles won't change but how we get to them might.
"The games in this period will see us look to transfer those patterns of play from the training ground into a match day situation. To maximise this, we needed to ensure we played fixtures where it is realistic to expect us to at least match our opposition and have opportunity with the ball (although this is by no means a certainty such is the nature of these games).
"As well as this, we have to play at venues where surfaces won't dictate that we must play in a certain way. We will visit Runcorn Linnets at a venue with an excellent surface before hosting Atherton Collieries at the Deva.
"The Atherton Collieries fixture may seem a little different than our traditional home pre-season games, but it is important that we play sides from different levels at the Deva as well. Too often, we will only host sides further up the pyramid in pre-season fixtures but it is important that there is a variety of opposition at home to maximise the outcomes for the players. Ultimately, we cannot just play the same types of games at home and expect to start the season as well rounded as we might like. These two games will see a focus on what we do with the ball on top of those defensive principles established in the early fixtures.
"That will take us into the final week of pre-season where we will work towards our final fixture as a "dress rehearsal". That week will allow us to introduce some set pieces and roles and responsibilites as to what we do from restarts.
"As well as this, that week will see us host an open training session at the Deva Stadium (during the school holidays) where our supporters will be able to come and watch the lads train and see first hand the work we will be putting in on the training ground.
"On that note, thank you to every one of our supporters who already renewed their Season Tickets for the coming season.
"To have over 500 sold already is phenomenal and I know how big that support can be for our players. My challenge now is to ensure that there is a football team that matches the quality of our supporters as we build that togetherness ahead of the new season."