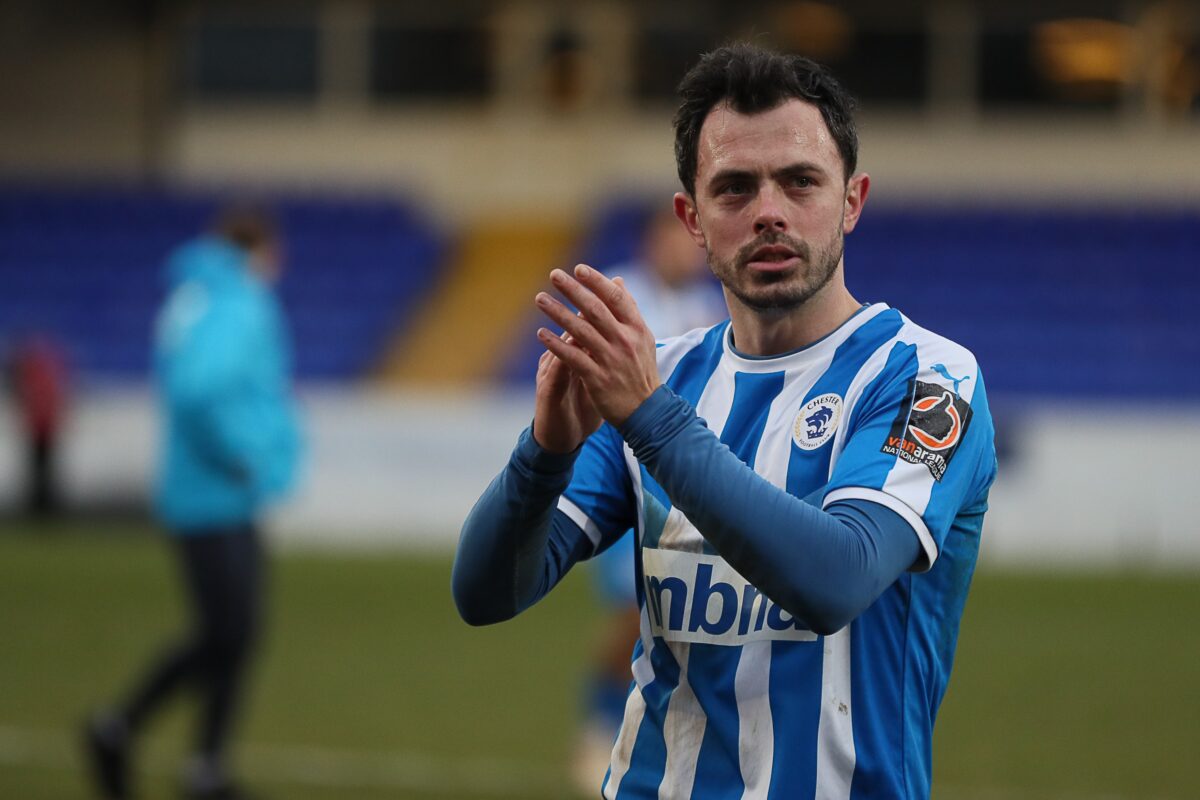 READ | Craig Mahon's final message to the Blues fans
ChesterFC.com opened the floor to the legend, Craig Mahon, to speak to the fans following his departure to Altrincham today…
I remember that first phone call with Neil Young, asking me if I would be interested in joining Chester. I was at Vauxhall Motors at the time and we'd lost narrowly in a game against you but I'd had a good game that day. Straight away I told him I would be interested and it's been an amazing journey ever since.
I met Neil and Alex at a hotel in Wigan – a Holiday Inn! It only needed to be a five minute conversation before I said yes. It's the best decision I ever made in my career.
I was a young-ish lad when I came in and I'd never played at a level as high as the Conference, so it was tough for me to start. I went out to AFC Fylde on loan for a couple of weeks, enjoyed it and got my confidence back. Then came the recall on the Friday before the Hyde game. I got to the ground, Jimmy Soul hadn't even got my jersey with my name of the back because he didn't know I was coming back!
I set the first goal up for Craig Lindfield and went on and scored the winner, it was a great start and one of those great memories.
Another one is the FA Cup run. This has got to be the best memory of being with the club but also in my life. We'd beaten Stockport County in front of a great crowd, then I became a dad to twins on the Friday before Southend. I had a McDonalds on the way home after being in hospital until 12, then got up at 7am and went down to Southend for the game and I scored the winner.
These are the kind of memories that no one can ever take away from me. I'll always have it with me. My kids, my wife, the club and everything made that my most significant memory.
I've had some truly proud milestones at the club, and every minute is a great memory. I've enjoyed all of my time here, it's a fantastic club that has looked after me and I've always tried to do my best by the club by working hard on the pitch and giving 110% all the time. But all good things come to an end.
Unfortunately, I'm not staying here for even longer. Things happen for a reason though. I haven't been playing and Altrincham came knocking – I couldn't really say no. I want to be playing football again, it's one of those things.
I want to say thank you. I cannot tell you how much you have done for me as a football club, and done for my family. It's been a huge part of my life. I wasn't married when I signed, I leave here married with two kids. I've grown up here.
It's an emotional time, but it is nothing but good memories. I will always look back with fondness, show my kids the clips of my time here.
It's a thank you – I hope I have given you as much as you have given me.
I've worked with so many great players, staff and managers. It's hard to put it all into words and say goodbye. I've met some friends for life here, I will never forget any of it. Thank you.
– Craig Mahon.