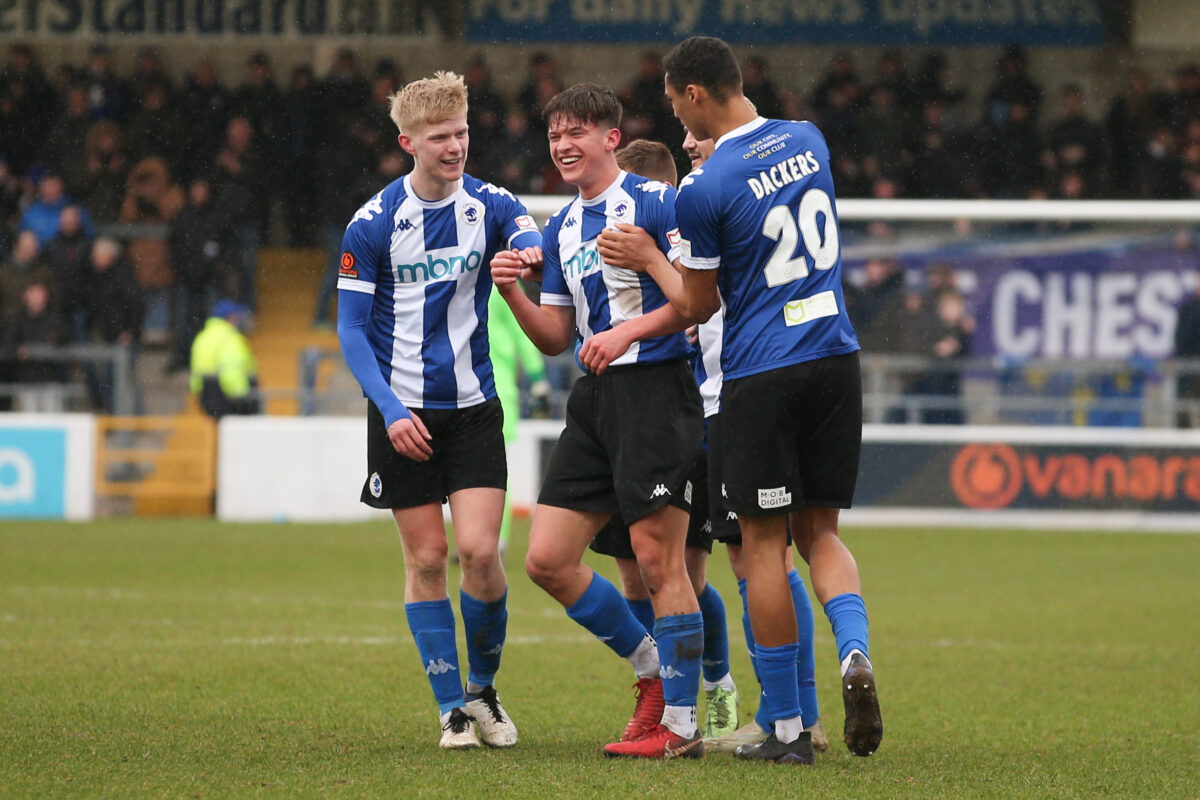 READ | Harrison Burke on 'surreal' few weeks with the Blues
It's safe to say that Harrison Burke grabbed his opportunity with both hands on Saturday.
A graduate of the Blues Academy, the 19-year-old made his first senior league start over the weekend in the 5-0 victory over Southport.
But Burke wasn't just there to make up the numbers. He scored the opening goal of the game in stunning fashion – and put in a fantastic performance in midfield which saw him named in the Non-League Paper Team of the Week.
The start was earned – two sub appearances in recent weeks saw Harrison impress enough to be given the nod by Manager Steve Watson.
"It's been surreal really," he said.
"Obviously I came on against Curzon, thought I did well, but maybe could have done better for the third goal.
"The Gaffer said that too, it's just those little details that will help me progress as a player, it's good to get constructive feedback.
"Then I got my home debut against Brackley, which was something I've always dreamt about, and then I got the start and the goal which was amazing."
His performance was made all the more eye-catching by being utilised in an unfamiliar position.
Progressing through the Academy ranks as a central defender, Harrison has been pushed forward into a more advanced role on the pitch over the past week.
"It's a bit weird to me playing in a defensive midfield role, but I've loved it and I hope the Gaffer and Macca have been happy with what I've done.
"They started me in that position on Saturday after doing ten minutes of it against Brackley so hopefully I impressed them.
"It's a bit alien to me because I'm not used to receiving the ball with players all around. At centre back the game is usually always in front of you when you're on the ball, whereas in midfield you're checking your shoulders constantly.
"But the game suited me, and I was just able to head it and kick it.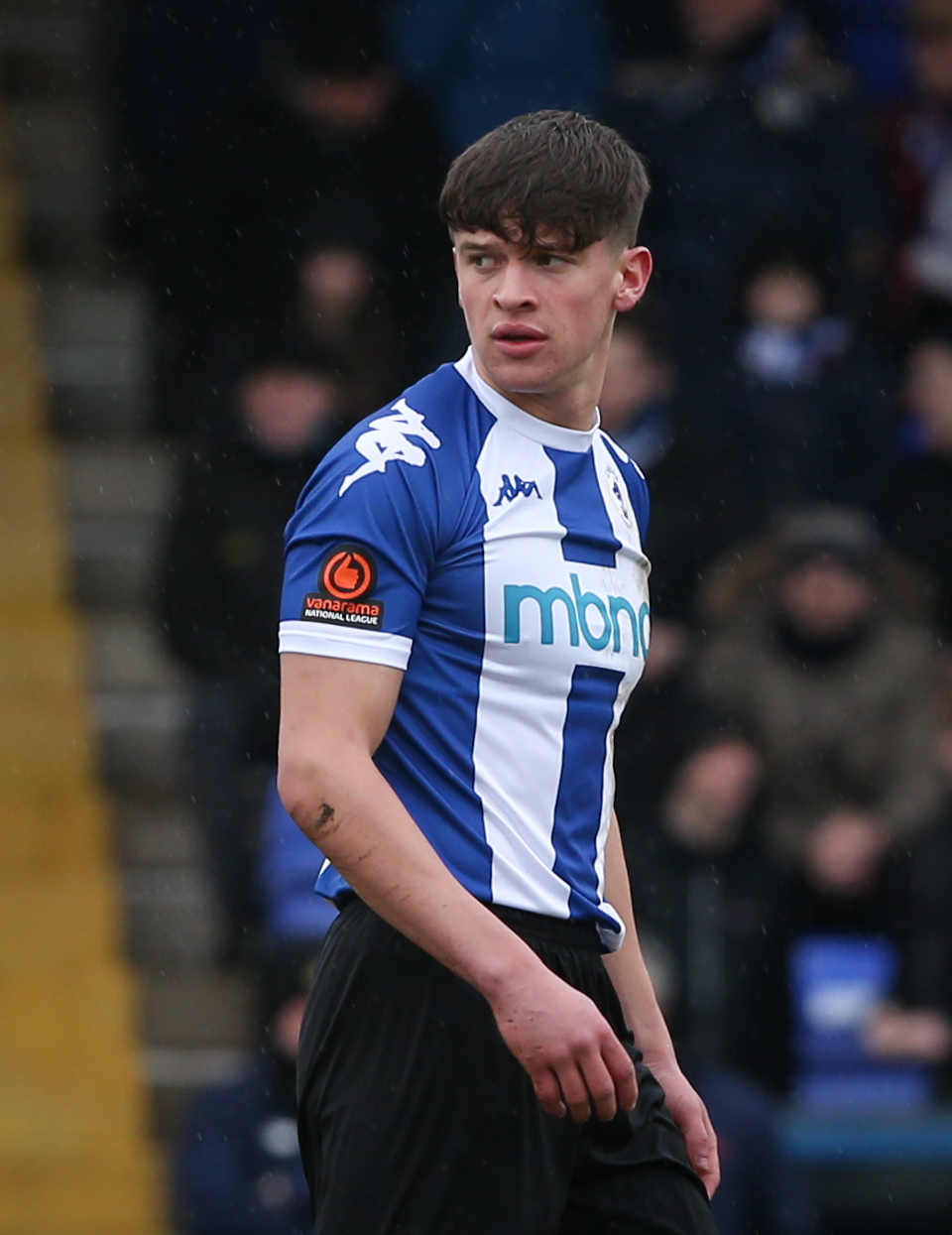 "If this position is where the Gaffer thinks is best for me to get experience, and if he thinks I am doing a good job, then I am more than happy to do it because I just love playing.
"Plus Grandy and Matty have been class in defence last few games. If I can protect the back four and give lads like Dec and Rowan licence to get forward like on Saturday, then I am happy with that.
"I love defending – I'd rather block a shot than score a goal!"
Despite his preference for making a block, he most certainly would have enjoyed the goal he scored to set the Blues on their way.
31 minutes in, the teenager opened the scoring with a magnificent left-footed strike from the edge of the area.
Harrison said: "If you watch the video back, I sort of adjust my feet just before I hit it.
"On the Wednesday prior I was refereeing the youth team game, and just before it me and Mike (Allcock, Academy Coach) did some stuff on my footwork for about 45 minutes.
"It was something I needed to improve on and the proof that it helped was there when I scored.
"I just hit it clean and it went in. I didn't really know how to celebrate to be honest!"
💥 What a goal. What a moment! @HarrisonBurke20

📹 Full match highlights from our 5-0 win over Southport are now available on @ChesterFCTV. 😆

🔵⚪️ #InItTogether #CFCSOU 🦭🦭

— Chester FC (@ChesterFC) February 7, 2022
It's been a rapid climb to the first team for the boy from the Village of Dodleston.
He cut his teeth with Clitheroe in the first half of the campaign and immediately became a key figure in the starting XI at Shawbridge.
Burke was recalled to the Deva in December having played 18 times in the Northern Premier Division One (West), putting in a string of impressive performances and also scoring on four occasions.
"I got so much from my spell at Clitheroe," Burke said.
"The lads were brilliant with me there and just getting used to men's football was great. It is a different game to youth football.
"You can be good at Under-23's level, but you have to be ready for senior football because you're against men who are going to be physical and toughen you up.
"You have to become a warrior, and if you don't it will swallow you up."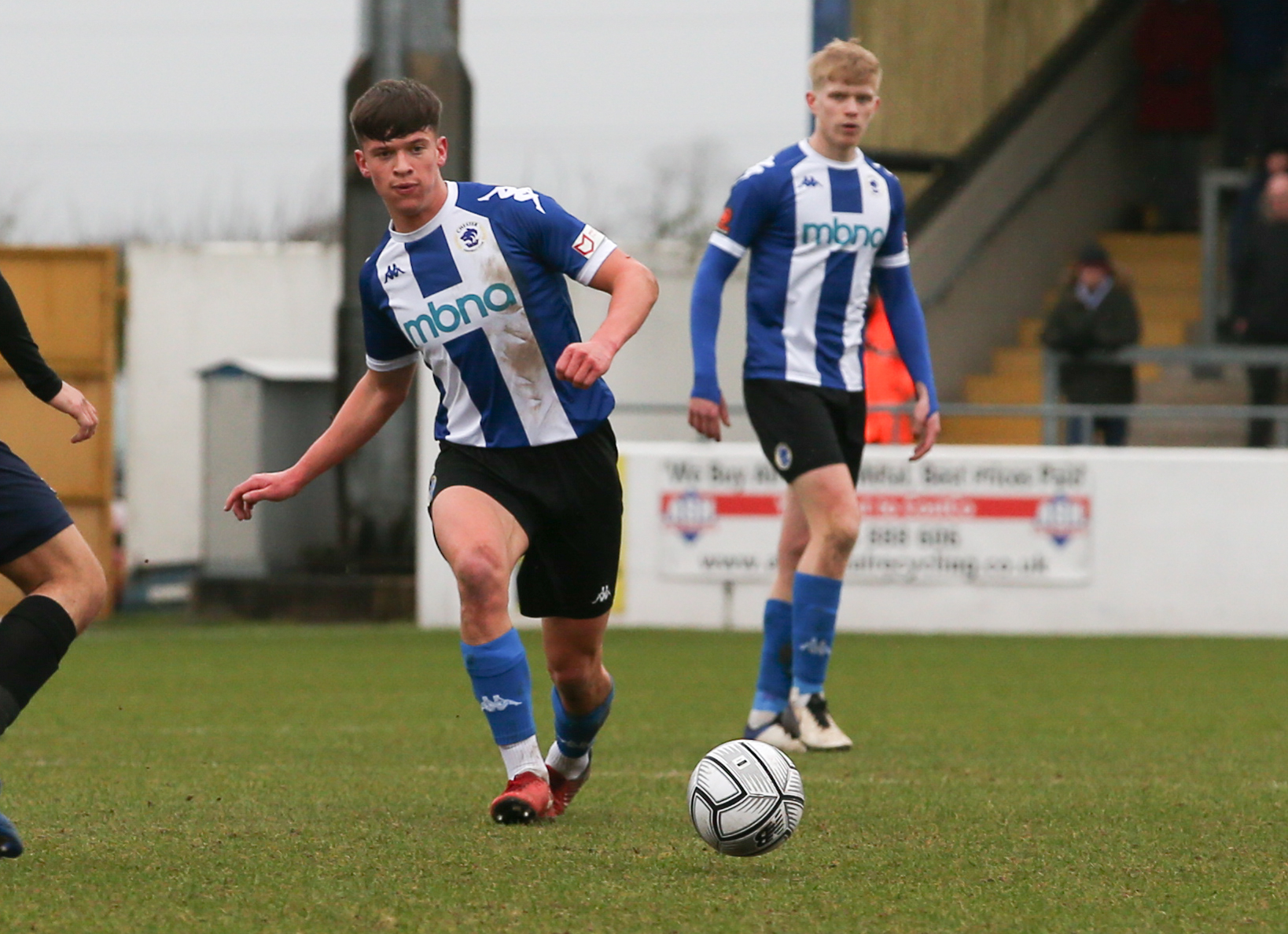 Saturday was a fine day for the Blues and for Harrison in particular, but no one in the dressing room is getting carried away.
Chester visit Darlington this weekend looking to make it back-to-back wins for the first time this season and build some much-needed momentum as they look to begin to climb the National League North table.
Harrison said: "We need to start by getting those back-to-back wins.
"To be honest we should have it now because we were excellent against Brackley and deserved to win, it was just unfortunate at the end.
"We've been playing well, just not getting the results. But if we start getting momentum now then hopefully we can push up towards the play-offs."