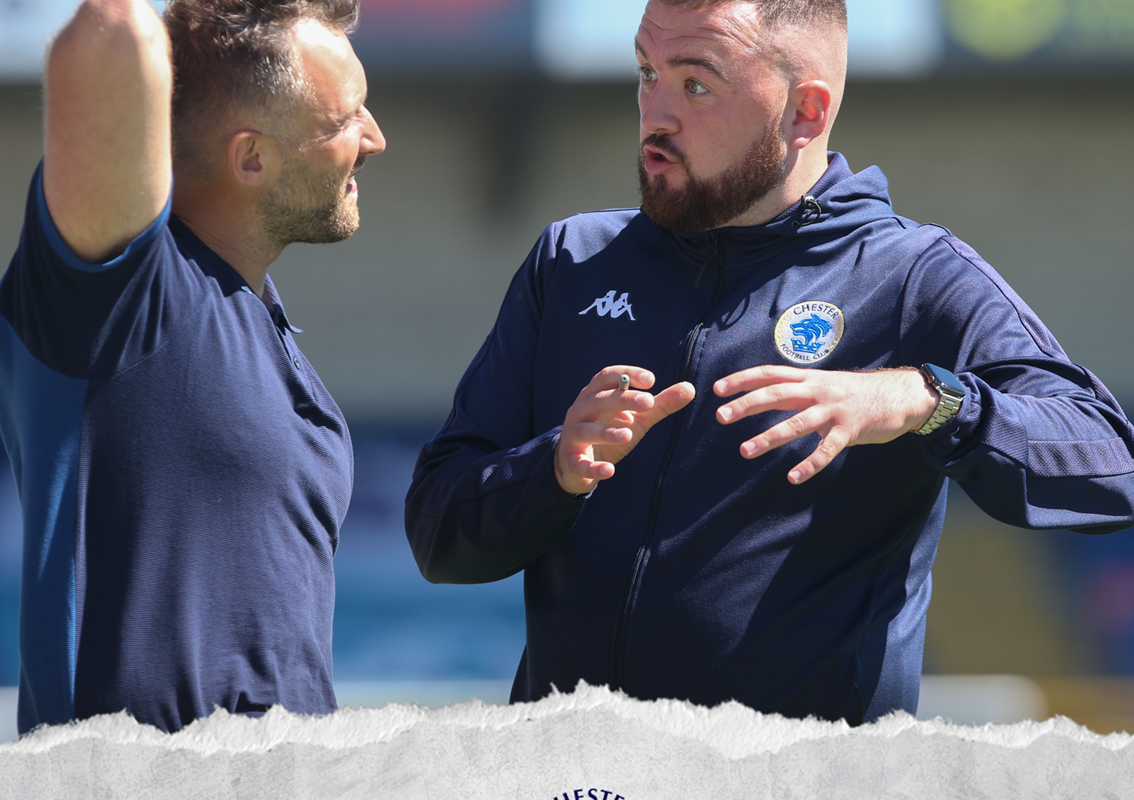 READ | Manager's Pre-Season Blog: Week 3 Preview
Across pre-season, Blues Manager Calum McIntyre will update supporters as we build to the new season. Today he reflects on our first friendly matches and looks ahead to Morecambe…
I would like to start this week's Blog by paying tribute to Barrie and Pam Hipkiss.
It is fantastic to see the work they have done for Chester City and Chester FC recognised with naming the South Stand in their name. They are both truly phenomenal people that it has been a privilege to get to know over the years. Very few will truly get to know the full extent of the work they do to ensure the club keeps going. So many people have so many stories of Barrie and Pam and the lengths they have gone to for this club over many decades. For the club to have honoured them in this way is tremendous and truly deserved. If I can contribute just 10% of what the Hipkiss family have to our club, then I won't go far wrong.
The week that has come and gone saw us return to action on the pitch with an away fixture at Whitchurch Alport on Tuesday night and a home fixture against Rochdale on Saturday.
Tuesday was very much about us getting back on the pitch and going through a physical workout in a different setting. I was really pleased with the work the players got through physically and the performance was steady enough given we had not done any work whatsoever on anything structurally. The players were simply given the task of winning the ball back as early as possible and maximising their physical output with some top up runs at the end of the players' respective halves.
Saturday was obviously a very different fixture. Thursday and Friday saw us introduce some of our defensive principles and allow us to establish an initial identify out of possession. Saturday gave us a really unique scenario to play against a back three which can often pose a real challenge to teams. We have a clear means of defending when we play against the system Rochdale adopted, particularly when we are playing against a side two divisions above. However, personnel dictated that we had to be quite flexible and I was so pleased with how a number of our players acquitted themselves in roles that may have meant they had to adapt quickly. I thought we looked an organised unit against Rochdale and created three really positive openings on the counter attack. I had next to no interest in what we did in possession given that it isn't something we have looked at but felt we clearly have some good foundations in our defensive work but there is clearly work to do.
The addition of Harry Tyrer last week is really pleasing.
To be able to add a player of Harry's quality to an area of the pitch where we are already strong is important for us. We now have two young goalkeepers with very different experiences and it's vital that we ensure we are as strong as we can be in every position. Joe Smith has signed a first senior contract and we will look to get him out on loan this season to introduce him to senior games.
The week ahead gives us a full week's training before of a tough assignment as we host Morecambe.
This week will see us continue our physical work on the training ground as well as continue to look at our defensive shape and structure. It is a simple fact demonstrated by statistics at this level in recent years that the sides at the right end of this league are always the ones with the right kind of goals against column. We want to make sure we have a solid base and structure to work from and our work out of possession is so important. As the sessions go on this week and into next, I hope that we can start putting some of our in possession pictures together as we continue to build towards the opening day. We have to be really flexible and ensure we have a clear plan as to how we defend against different systems, different styles and at different stages of the game. There is real pressure on the coaching staff to ensure we equip the players properly and I am pleased with the way the group has taken on board the initial bits of information we have put to them.
I am really excited about the business we hope to do recruitment wise in the next 7-10 days. We are working really hard to ensure that we bring the right players both on and off the pitch to the club. We are clear as to what we want to be and who the players within that need to be as well. We will have at least one new addition this week.
The players have been fantastic in their commitment and attitude during the two weeks we have been together and the staff are really enjoying working them. They are so determined to achieve something together and their focus is genuinely there to see day in, day out. Over the course of any season at any level, there are highs and lows. What I can guarantee about the group of players I have in front of me is that they are genuine in their appetite for success for this football club and they will truly do what they can to achieve it.
They need your support, the kind of support that has been shown during the off-season.