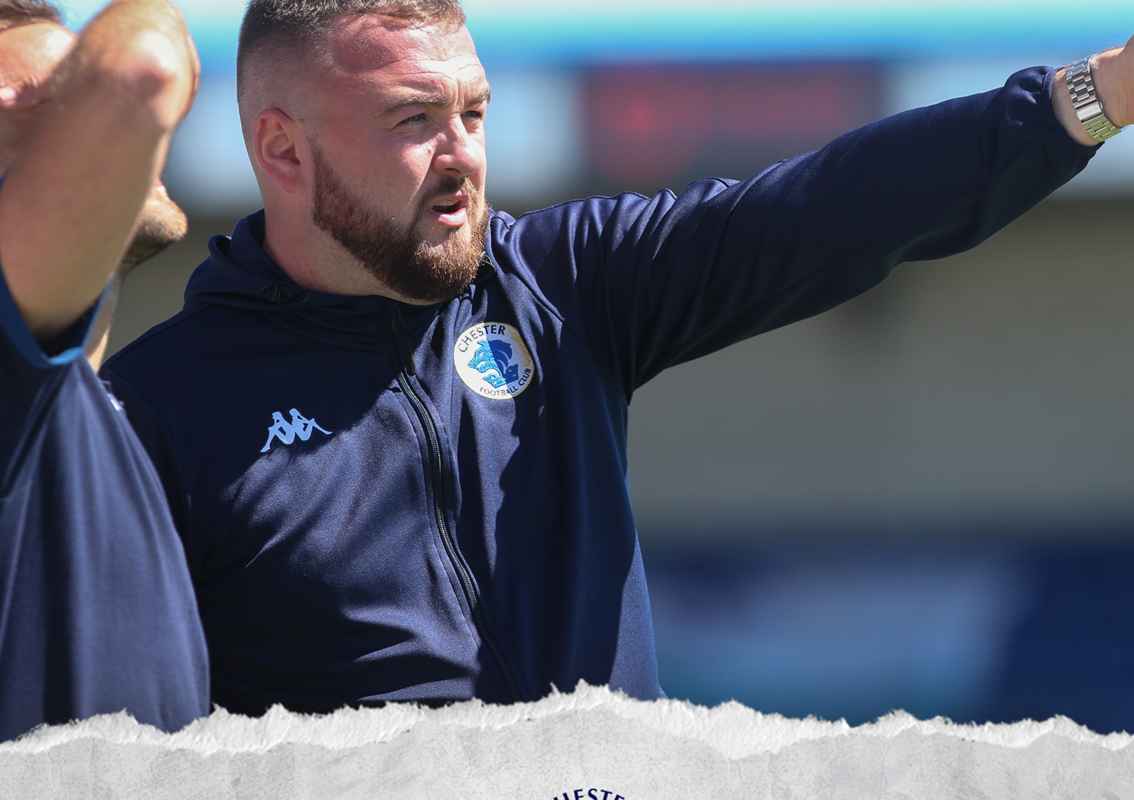 READ | Manager's Pre-Season Blog: Week 4 Preview
Across pre-season, Blues Manager Calum McIntyre will update supporters as we build to the new season. Here's the fourth instalment of his weekly blog…
The week that comes to an end was really physically demanding for the boys. A full week's training saw the players cover 10km on Tuesday and 11km on Thursday with at least 10% of this as "High Speed Running". During pre-season, we follow a series of runs alongside our sessions. This week's looked heavily at combining slower runs with sharper spells with two runs classed as the "Iniesta" runs. These are immensely tough but the boys were terrific in getting these done.
Alongside the obvious physical stuff, we delved into more detail as to our structures out possession. Rochdale saw us go up against a back three and we had to defend accordingly, whereas the Morecambe gave us a chance to use both our out of possession structures. I think both halves saw us be competitive, although in the second half we had much more joy in regaining possession which probably gave us increased confidence to use the ball a little bit better. The second half structure gave us an opportunity to have an extra man centrally and we tried to regain possession in a different way than the first half. I must keep hammering home that we have done ZERO work on in possession. We have given the players a few ideas on the spaces they can take up and identified the principles we want to deliver. However for us to have real clarity, we felt it was important to really target our defensive structures which the last two games have given us a chance to look at.
A young team went to Euxton Villa on Tuesday night and I was really pleased with how the lads did. It was important that Harrison Burke and Ollie Heywood showed the right attitudes playing with the Academy boys, as did Sam Turner and Zack Clarke. It was a really good test for the group of Scholars with many playing against senior opposition for the first time. I have seen how hard Mikey Allcock is working combining his first team duties with looking after the Academy and it has been great to see Reece Daly in and around the first team group so far during pre-season. He is a really talented lad and will benefit for the experience.
The week ahead will see us turn our attentions on the training ground to looking at what we will be in possession. Ultimately, we will have three clear patterns of play in terms of the spaces we try to occupy and what we try to create in possession. For us, it is all about creating overloads (2 v 1s, 3 v 2s and 4 v 3s) and each of the three structures does this in a different way in a different area of the pitch. We feel it is really important to embed out defensive structure first to ensure we have a solid base to work from. Over the coming games, our focus will shift from our work without the ball to what we are doing with it. We cannot always do the same thing and we will have to adapt to opposition, pitches and a whole host of other things. Our final three fixtures (Runcorn Linnets, Atherton Collieries and Hyde) will see us target specific areas with the ball and look to offer some clarity as to what we want to be.
Before those games, however, there is the midweek visit to Stalybridge. We will use Tuesday to experiment with a few things and to give some players who haven't had the minutes that others have had an opportunity. It will be a real mixed bag in terms of what we use, we will look to protect some players who have had a lot of minutes over the previous two games with the focus being on those who may feel they haven't quite had an opportunity yet. We are obviously well stocked in forward areas so it will be a chance to see some of the younger members of the squad as well as incorporating a few of the Youth Team players. Stalybridge will be a tough test for a really young team but this is the right thing for us at this moment in time.
Next Saturday sees us travel to Runcorn Linnets in what will be a really strange occasion for me and I imagine a few other members of the coaching staff. Runcorn were fantastic for me and it will be nice to be able to say some goodbyes in person on Saturday to people that I didn't get the chance to when I left the club. There are so many people there who were fantastic to me, my family and my staff and I look forward to seeing them on Saturday. I don't know what kind of reception we will get and don't really know what to expect as I've never returned to a club before as I've only had 2! I like to think we did an OK job there and I hope as many Chester fans as possible help boost the gate and it becomes a profitable exercise for Linnets. It's a good day out with some really good facilities. On the pitch, I have stated above where our focus will be as the first of our final three pre-season games.
I would like to end this week's blog by drawing reference to the fundraiser that has been launched to support Matty Waters through his rehabilitation after having ACL surgery a few weeks ago. This has been really tough spell for Matty and the work of the Former Players Association and contributing supporters in getting this fundraiser going says everything about the best parts of this club. Despite the fact that Matty's face (and haircut) makes him look 14 and for many of our supporters always seeing him as a young lad out of the Youth Team, Matty is now 24 with a house and bills to pay. He relies on football as an income and not earning makes this a really challenging time for him along with the challenges many of us are facing.
It is not my place to comment publicly on how he has been treated but I am keen that at least has some support from a football club that he was registered with. Matty picked up an injury playing for us and a result of the injury hasn't been offered a contract extension at his previous club. Many thanks to those that have already contributed and a thank you in advance to those that will as a result of reading this. We are working with Matty through his rehabilitation and hope to get him back stronger than ever, hopefully in a Chester shirt.
The season is getting closer and each week will only see us work harder to be in the best possible place for the season ahead.