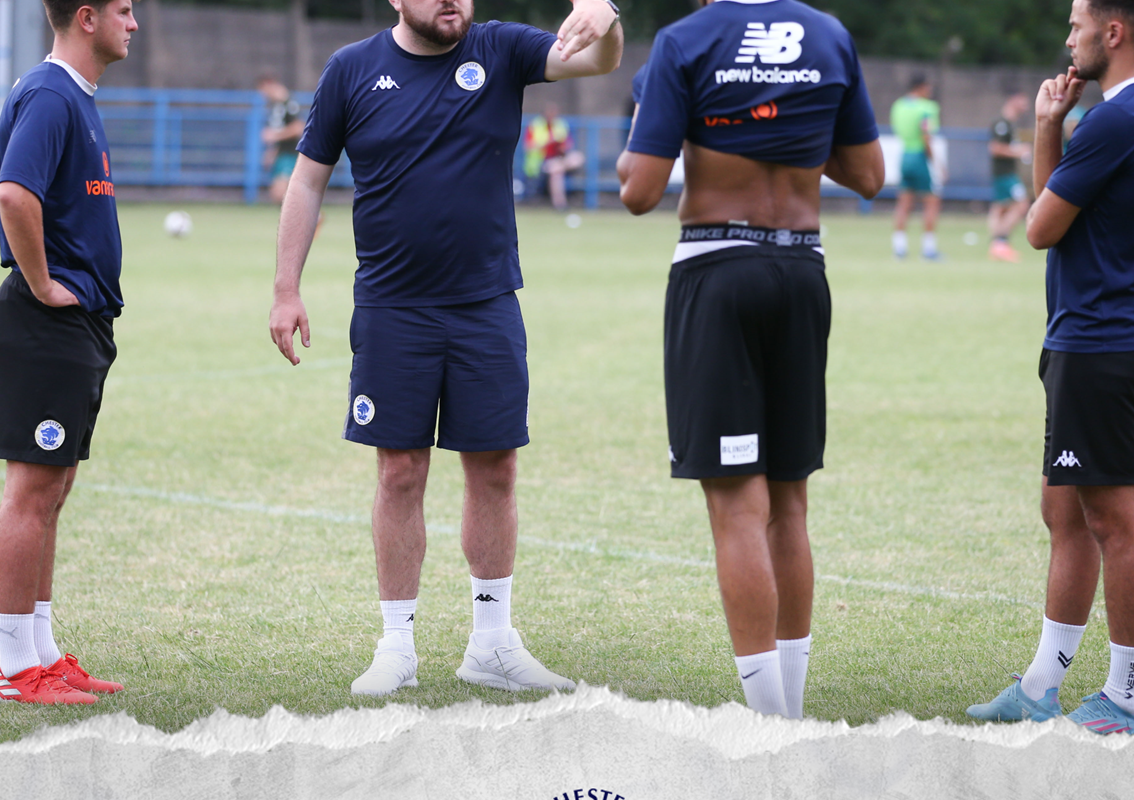 READ | Manager's Pre-Season Blog: Week 5 Preview
Across pre-season, Blues Manager Calum McIntyre will update supporters as we build to the new season. Here's the fifth instalment of his weekly blog…
I write this blog after our 1-0 victory at Runcorn Linnets, completing a week with two really useful exercises in terms of games for the players.
Our fixture at Stalybridge saw two very different halves of football. Our first half saw us reward some of our Academy players with their first exposure to senior football alongside some of the younger members of the first team squad. It was great to see Reece Daly score on his first start for the first team and it was a valuable experience for those younger players. The second half saw us get more minutes into some of the players who will have benefited from those extra 45 minutes. We looked much more like a senior outfit and I was pleased with the role our forwards played given the amount of chances we created.
From Thursday morning, we began introducing some of our work in possession. Let's be honest, no team is going to be the finished article on the opening day, never mind during pre-season, but it was good to be able to start putting some stuff in place as to how we are going to score our goals. The Runcorn Linnets game gave us a really specific test, it was great for us to play against a team who were ultimately conceding territory and forcing us to turn our possession into opportunities by restricting the space. Linnets defended with lots of players behind the ball which gave us a particular challenge. In the first half, we had hoped to utilise a pattern that created an overload in the middle of the pitch but Linnets' deep and narrow shape meant this was redundant at times.
These are good tests to ultimately target our in possession work against different defensive structures. I thought we created some positive moments but possibly lacked a bit of intensity and clarity around the penalty area when we did get into those positions. This is to be expected given we have just two sessions to look at this crucial part of what we want to be. I was really pleased with how much control we were able to establish in the game in terms of possession and territory but there is a little bit of detail to turn this into chances. It's also essential that we realise that teams will defend properly and make it difficult for us in different ways. We need to ensure that we play with a maturity that realises we cannot create a chance every time we have possession of the ball.
Lots of supporters have asked me to use this blog to provide an update on some of the players they have not seen in recent games due to injuries and so forth. As much as the desire for an update is perfectly healthy and normal, it isn't something I feel appropriate to constantly report on for a number of reasons. What I will say is that we have adopted an immensely cautious approach with regards to "protecting" players during this pre-season. Picking up niggles and so forth are natural during pre-season whether that be as a result of training load or anything in our games. Rather than risk any players who may have flagged up anything, we have chosen at times to omit them from certain fixtures. Whilst injured, each player has their own rehabilitation programme and we monitor this really closely. I expect three of the players who have not featured in recent fixtures to return over the course of the next two fixtures. There is still one addition I would like to make prior to the season's commencement with a potential second body if we needed to.
This week brings our final two pre-season fixtures, as well as the open training session at the Deva Stadium. We host Atherton Collieries on Tuesday night in another game where we will hope to look at what we are doing with the ball. We have looked really solid in each of our friendlies and each one has posed a different test. Tuesday will be no different in terms of having to look how we want to without the ball but we will look to establish another pattern of work in possession. This fixture means we have played three different levels of opposition in our three home friendlies. We will look at an alternative build-up picture in possession than the one we utilised today and will include at least one body that did not feature at Runcorn.
On Thursday, we will add our final pattern of play to the work the lads have done on the training ground. We will also hold our first target setting meeting. Over the 46 league games this season, we will split them into seven "six game" blocks before a final block of just four games at the "business end". There will be a points target for the six games based on our ambitions this season as well as which opposition we face in that block. We really engage the players in this process to ensure there is real clarity as to what we need to do to ensure we are where we want to be.
The open training session on Friday will be a good opportunity for our supporters to see first hand the work in training and see the players and entire group in a different setting. I hope that our supporters, particularly our youngest ones who will be enjoying their summer holidays from school will take the opportunity to engage with our players for the first time this season. Please don't be shy, after training our players will be more than happy to speak to our fans and stop for photos etc. Your support is massive and I look forward to expanding on that in my final blog next week.
As pre-season draws to a close, some of our younger players will be heading out on loan to ensure they are getting the senior game time to further their development. We will announce these as and when they get done but I am clear that this is an essential part of our young players' development. A final word for the pitch. The extreme warm weather we have experienced, as well as a real lack of rainfall has posed some challenges to the pitch. Ultimately, certain areas haven't grown the way that Baz (groundsman) may have wanted them to do but this is out of the control of anyone working on the pitch. Baz and the club have worked together this week to identify a solution to the lack of growth in certain areas that will take effect after the Open Training session on Friday to ensure the pitch is ready for our first home game on August 13th against Brackley. All involved deserve massive credit for the way in which they've addressed the problem and how they look to resolve it.
It's so important to realise that there are so many people that work so very hard to ensure the football team have the best possible chance to get three points on Saturday.
Another week's work awaits and I look forward to the final instalment of the blog next week as we review pre-season and look at how crucial our fans can be for us this season.