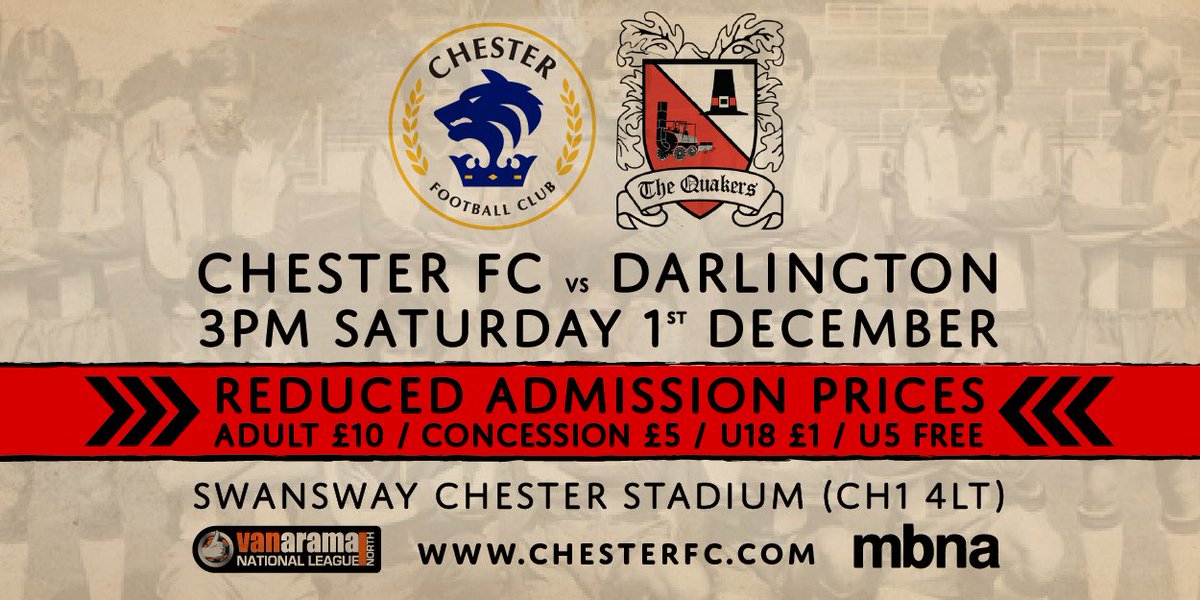 RETRO DAY | More exciting details revealed ahead of Saturday's game!
Chester FC fans are being offered the chance to take part in the Half Time Challenge on the Swansway Chester Stadium pitch, which will of course be sandwiched in-between the match against Darlington.
It is of course #RetroDay at Chester FC this Saturday, and thanks to local business Buy Clever Stuff, there are some excellent retro style prizes on offer for the winner.
All you need to do to get involved is to follow the Fan Engagement Working Group Twitter account @CFCFEWG and answer 3 questions which relate to both Chester FC and Darlington FC.
The three questions are:
Q1 – Who scored the goals for Chester in the 4-4 draw against Darlington?
Q2 – Name three players who have played for both Chester and Darlington?
Q3 – What season did Chester beat Darlington 6-0 after leading 5-0 at Half Time?
Respond to those questions by 6pm Thursday 29th November and if selected you'll get the chance to take part in the Half Time Challenge on the pitch this Saturday!
Saturday's Retro theme has also spread to the turnstiles with special reductions for the match itself, with Adult entry at just £10, Concessions £5, and Under 18s for just £1 – Under 5s entry is free as per usual.
There are also special meal deals to be had in the kiosks and in the Blues Bar, in the kiosks you'll be able to get a Bovril, Pie and a chocolate bar for £4.50 whilst in the Blues Bar there will be the deal of a Pie and a Beer or Cider for £5.
This is an ideal opportunity for Chester fans to pull those old replica shirts and get them on to help celebrate the Retro theme – whether those shirts still fit is of course another matter!
There is also a special 'Retro' edition of The Cestrian available to buy on the day too, with lots of unique content inside and a special front cover containing some great images from Chester's past.
So, please spread the word and bring someone to the match who maybe hasn't been for years, or even at all, and let's have a great experience to remember!