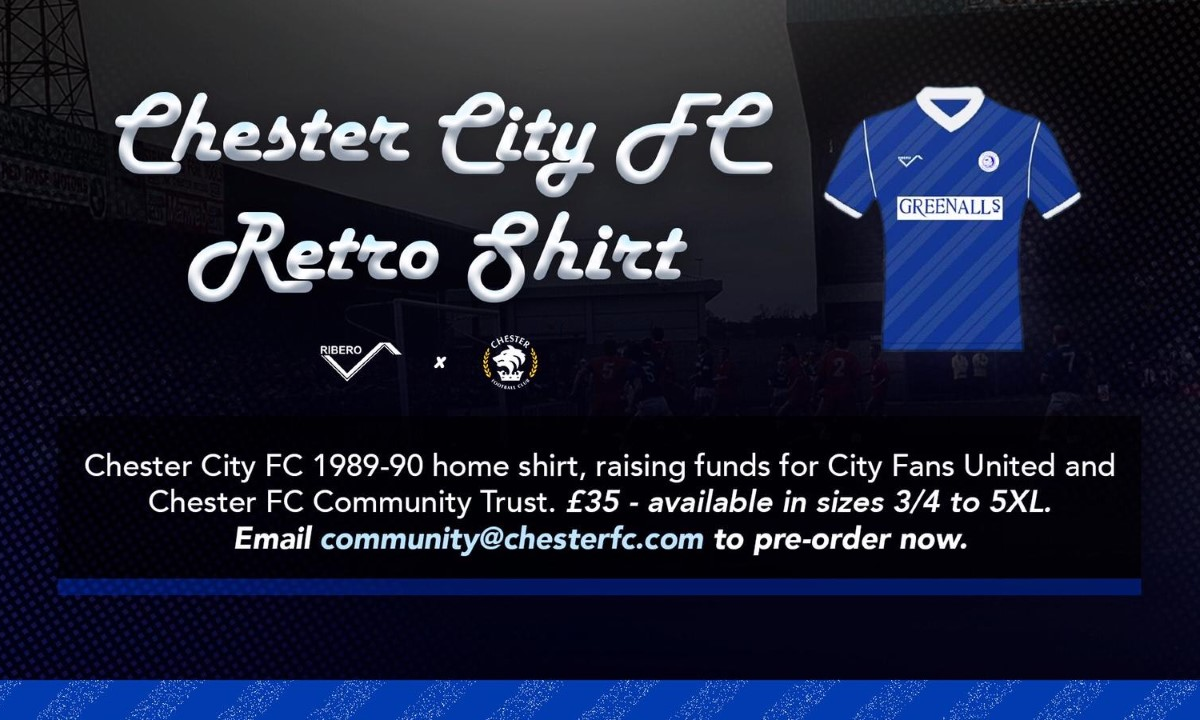 RETRO | Get your Chester City 1989-90 Shirt!
Turn the clock back 30 years with a limited edition retro Chester City shirt raising funds for Chester FC Community Trust and City Fans United.
The 1989-90 home kit as worn in the final season at Sealand Road is available to pre-order now.
The royal blue Greenall's shirt conjures up images of a Harry McNally team featuring the likes of Colin Woodthorpe, Chris Lightfoot, David Pugh, Graham Abel, Graham Barrow and Carl Dale.
The Community Trust and original kit manufacturer Ribero will reproduce the shirt with proceeds shared between the club's charity and CFU.
"Retro shirts are a great way of celebrating the club's heritage and we hope supporters will take up this opportunity to get their hands on a piece of history," said Jeff Banks, CFU director of fan engagement.
"The shirt will raise vital funds for the Community Trust to continue its fantastic work in the local area and support CFU's fundraising efforts in response to the Covid-19 pandemic."
Jim Green, CEO of the Community Trust, said: "We're delighted to be working with CFU on this initiative and, if it proves popular, this will be the first of a series of retro shirts featuring classic kits from the past.
"The Community Trust has suspended the delivery of most activities due to the coronavirus and this has had a significant impact on the charity's finances so every penny really we can raise really does make a difference."
The 1989-90 shirt is available on a limited pre-order basis and costs £35 (plus postage if required).
Ordering Information
To pre-order your shirt, email community@chesterfc.com confirming your size and whether you wish to have your shirt posted. An additional £5 is payable for delivery.
Please note the Ribero size guide below when making your order. All measurements are in centimetres.
Adult (length/chest): S (70/52), M (72/54), L (74/58), XL (76/60), 2XL (78/62), 3XL (80/65), 4XL (82/68), 5XL (84/70)
Junior (length/chest): 3/4 (46/35), 5/6 (49/37), 7/8 (53/39), 9/10 (58/42), 11/12 (61/45), 13/14 (63.5/47)
Pre-orders will be accepted until 31st May with full payment required to confirm your order. Please note the shirts are manufactured to order and the lead time for delivery is 4-6 weeks