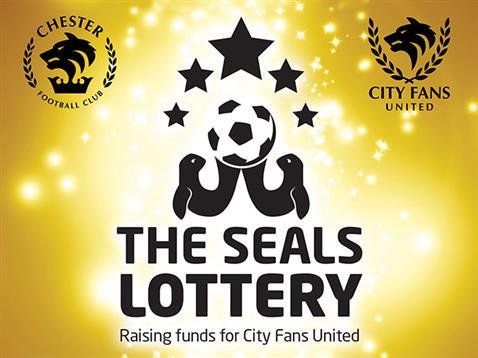 The latest Seals Lottery draw has taken place with the random number selector 'button' being pressed by club Media Officer Albert Davies, witnessed by Youth Academy Head Coach Calum McIntyre, CFU Board Secretary Marion Needham and Director Brian Burns.
Winners:
1st – £543.00  no. 180  Mr. D.Brawn
2nd – £407.25 no. 873  Mr. C.Statham
3rd – £271.50  no. 300  Mr. D.Elliott
Total lottery prizes are also matched by funds going to the development of Chester Football Club
To join the Seals Lottery, download the Application form today via this link and you could be the next big winner
http://www.cityfansunited.com/docs/seals_lottery-2.pdf or pick up a form from the ticket office. (cost is £5 per number per month)
(Note : -The Seals Lottery is now open to anyone aged 16 or over).