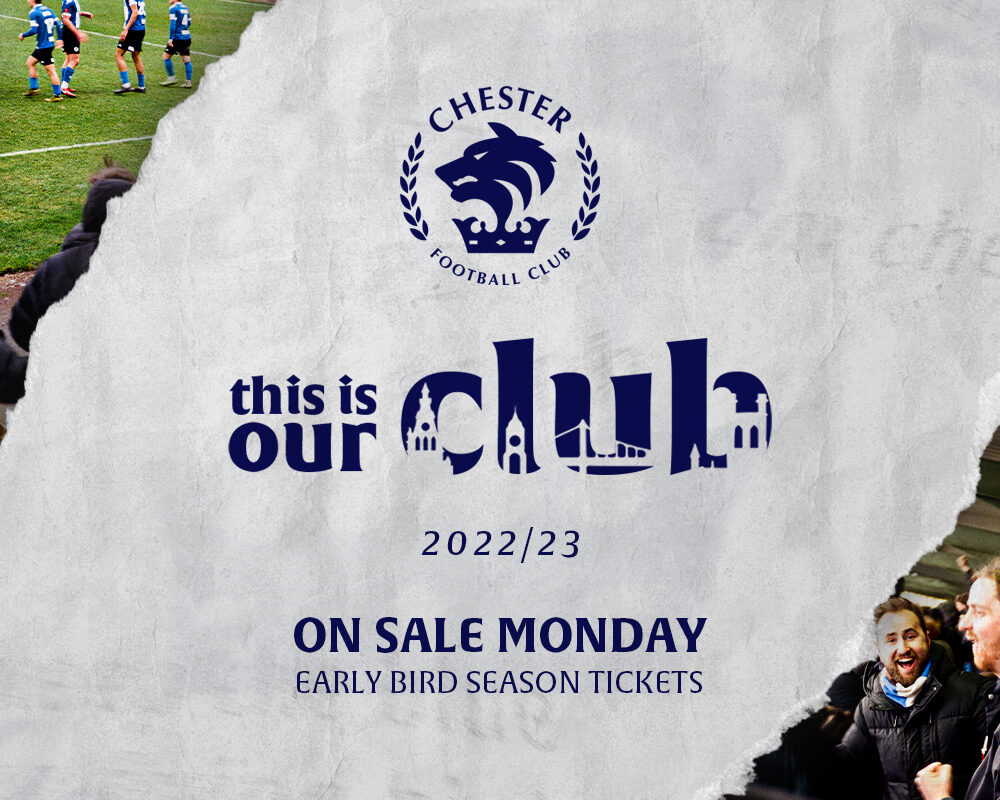 SEASON TICKETS | How to renew your ST on Monday
On Thursday, we released the Season Ticket details for next season, and here is your guide on how to renew your season ticket from next Monday…
ONLINE RESERVATION
Your 2022/23 season ticket is currently reserved for you in your Box Office account, and there is a simple three-step process to renew your season ticket. Please see the example below as an example of a season ticket reservation(s):
TO CONVERT YOUR RESERVATION
Once you have logged in to your Box Office account, go to the 'My account' area, which can be found in the header menu.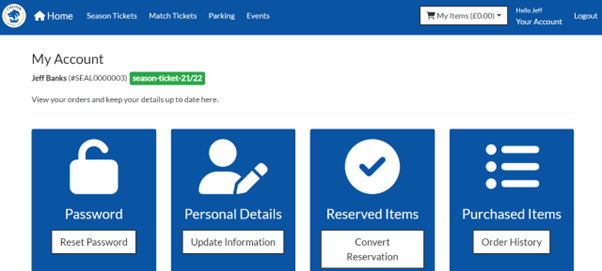 Select 'Convert Reservation' under the Reserved Items option.

Select the ticket(s) that you would like to purchase and click on the 'Add to Cart' button.

Review your order and click on 'Confirm & Pay' – this will then take you to the payment screen to complete your renewal.
You will then receive an email confirming your renewal and your Season Ticket will go into production. The club will advise when the Season Ticket cards are available for collection.
INSTALMENT PLAN RENEWALS
Those who paid for a Season Ticket last season via our Instalment Plan option also have a reservation in their box office account for the 2022/23 season. The same process as above should be followed.
Your first payment will be taken at the time of renewing your season ticket, with subsequent payments taken via Direct Debit at the end of May, June, July and August..
If you wish to pay for your season ticket in full instead of the instalment plan, then please email fans@chesterfc.com and we will arrange for your reservation to be amended.
NEW INSTALMENT PLAN APPLICATIONS
If you would like to pay for your season ticket via instalments, please email nick.phillipson@chesterfc.com who will then be able to set up the Direct Debit plan for you. Please note the closing date for applications will be Tuesday 24th May and will be based on the Earlybird price. If a new season ticket application then please note that seats cannot be selected until Monday 13th June at the earliest.
From Monday for new Season Ticket Instalment Plan Applications, please ensure you are firstly registered on the Chester FC Box Office (link Ticket Home | Chester FC Web (ktckts.com) and then visit the Season Tickets (Season Tickets | Chester FC Web (ktckts.com) page when you can purchase the first payment of the Instalment plan before we then set your remaining four Direct Debit payments up.
DISABLED SEASON TICKET RENEWALS
Disabled fans that occupied wheelchair spaces last season inside the Deva Stadium have had those same season tickets reserved for 2022/23, and should follow the same process as above.
Please note Carer reservations cannot be converted by a season ticket holder, and so once the disabled season ticket holder has renewed, they should email fans@chesterfc.com to have the Carer's season ticket renewed.
FURTHER ASSISTANCE
If you need any further assistance with the processing of your season ticket renewal, please contact the club in the first instance either by emailing info@chesterfc.com or by calling 01244 371376 during the normal office hours.