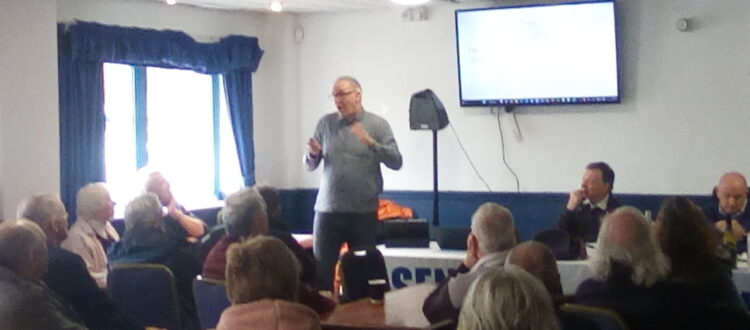 SENIOR BLUES | March meeting recap!
Senior Blues Members Meeting recap for March 2023, thanks to Les Smith for providing the update!
After opening the meeting, Chairman Chris handed the mic to Les to introduce guest speaker, football finance expert and Brighton fan Kieran Maguire, who was indeed present at the Deva in 2000 when we conceded seven goals to the Seagulls on our way to relegation to the Conference.
Kieran focused his talk on fan ownership and opened by saying it was workable in Scotland where Celtic and Rangers are the clear powerhouses and most other clubs accept this and just get along. In England there is a ceiling. He then went on to propose reasons why people buy football clubs. He cited profit and included the Glazers and Fenway Sports Group in this category as well as Jeremy Peace at West Brom. Some owners actually bought for love of the Club including lottery winner Colin Weir at Partick Thistle, Delia Smith at Norwich and Tony Bloom at his own Brighton. Amongst vanity projects he included Sheikh Mansour at Man City, Simon Jordan at Palace, Peter Swann at Scunthorpe and not least Roman Abramovich who lost £900K/week for 19 years in what was described as an insurance policy against Putin.
When Chelsea played Man City in the Champions League Final, the combined losses of the clubs were £1.6 billion, which led on to next category of owners, Insanity. Kieran contended that football also attracts "mad people". Crawley Town are currently owned by WAGMI United LLC (We're All Going To Make It), a group of US cryptocurrency owners and the first "internet" club where manager Matthew Etherington resigned after 34 days in charge and the co-chairman appeared in the dugout with a demonstrable lack of knowledge of the rules (nothing new there though is there?). Other "cases" were Cellino at Leeds who banned Sky cameras, Bassini at Watford who among other things was refused the keys to the Club safe (for personal use) by an employee after a Tuesday night fixture and subsequently banned for three years for financial misconduct and dishonesty. Steve Dale at Bury was also cited in this group. 
Kieran also looked at the finances through the league pyramid and whilst not having details of the National League North, he showed the average loss in the National League in 2019 was £700K with only three clubs making a profit. Reasons given were poor cost control and the poor TV deal. Average annual losses in League One and Two currently run at £2.8M and £400K respectively. He described the Championship as a "Corporate Lottery Ticket" with a one in eight chance of winning. So much so that the average annual loss is £22M and only Rotherham United have made a profit over the last 5 years but have been relegated twice in the process. As a self confessed nerd, Kieran's vast data base was even colour coded for each club's financial performance when he felt the need to refer to spreadsheet data. 
There was some discussion about players' salaries throughout the leagues and salary caps, and specific instances were quoted of players wages and transfer dealings. One fascinating tale to avoid exceeding a salary cap (at Derby County) involved an incoming player's mother being paid around £12K a week as an "academy scout" to cover the shortfall in his wages. "To avoid embarrassment to mum and player", Kieran chose not to mention their names, but did point out who his (very famous footballing) father was.  
When asked how to survive as a fan owned club, especially at a higher level, Kieran offered some suggestions as follows. Be smart: use the stadium as much as possible; if you have a 3G pitch monetise it; seek out all available grants; develop a Brand; don't go over budget; develop a youth system although Premier League clubs offer poor compensation for taking players. 
Although the talk could have gone on for much longer, Kieran's good lady (the "Baroness") and dog were waiting in the car park with the long trip to Brighton ahead. His insight, humour and forthrightness was well appreciated by the members and it is easy to see why he is the go to authority on Football finance on radio and TV.
Geoff announced the Senior Blues Goal Nets fundraiser to which the members responded magnificently with cash donations and pledges. Chris announced we would be voting for a Senior Blues Player of the Season at the next meeting. Margaret updated members on forthcoming trips and the sponsored game vs Peterborough Sports. 
Next Meeting: Friday March 31st
Guest Speakers: Nuffield Health and John Bithell's Big Quiz Challenge