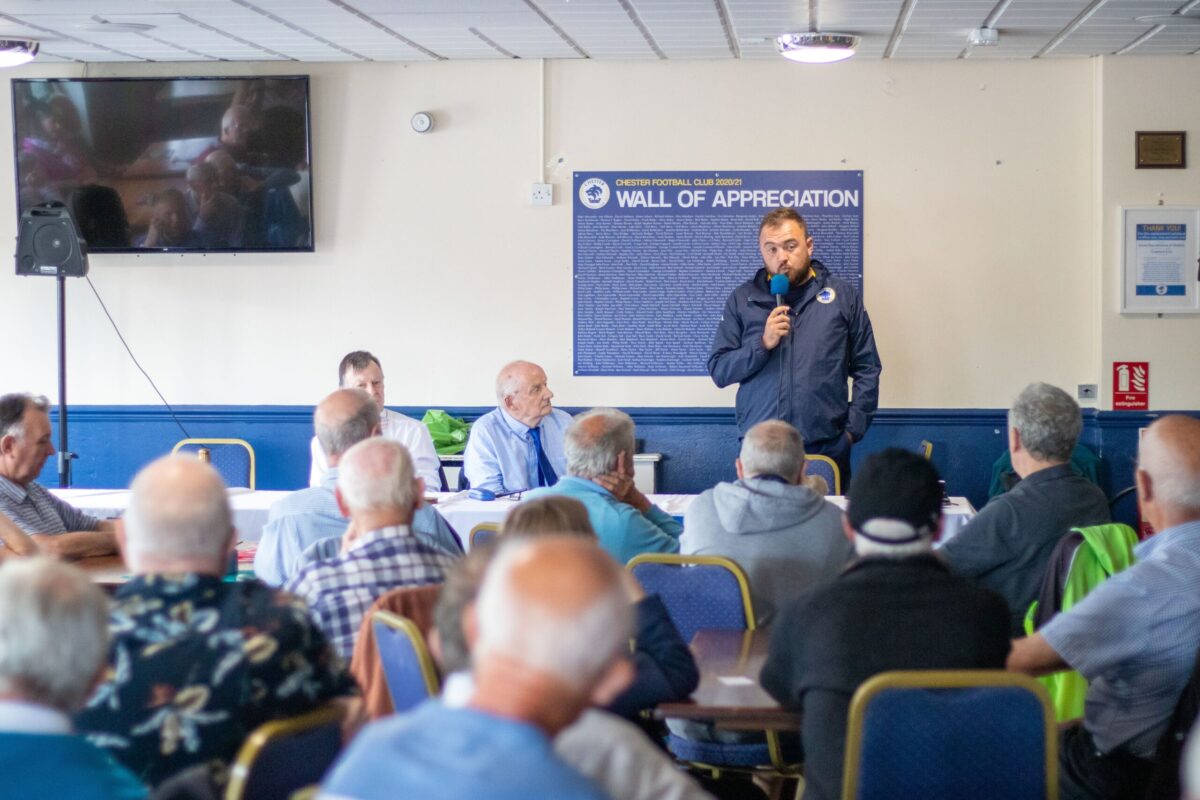 SENIOR BLUES | Next meeting takes place on Friday!
The next Senior Blues meeting takes place this Friday!
NEXT MEETING
WHEN? Friday 7th October at 10.30am
WHERE? Blues Bar, Deva Stadium, CH1 4LT
WHO? Chris Matheson MP, followed by John Bithell's Big Challenge Quiz.
New members are welcome!
---
Senior Blues Members Meeting recap for 2nd September 2022, thanks to Les Smith for providing the update!
Guest speakers were skipper, George Glendon; Communications Manager and Football Administrator, Albert Davies; Academy Manager and First Team Coach, Mike Allcock.
Chris Courtenay Williams introduced George who talked about his football career including the high spot of being on the bench for Manchester City in European games; the despondency of being left without a club after Bury folded, and being effectively rescued through Bern and Jonno making contact with his dad, who had managed at Radcliffe Borough for over 20yrs. He spoke about his love for Chester and his frustrations at not getting promoted after two Covid interrupted seasons, last season's poor results and his current ACL injury which will keep him out for most of this season. He answered lots of questions including his opinion on refs, his partnership with Dec Weeks, the current squad, his buying into the Chester model, morning training and the KGV, and footballers' wages. He had praise for the coaching staff and said his ambition is to get promoted with Chester.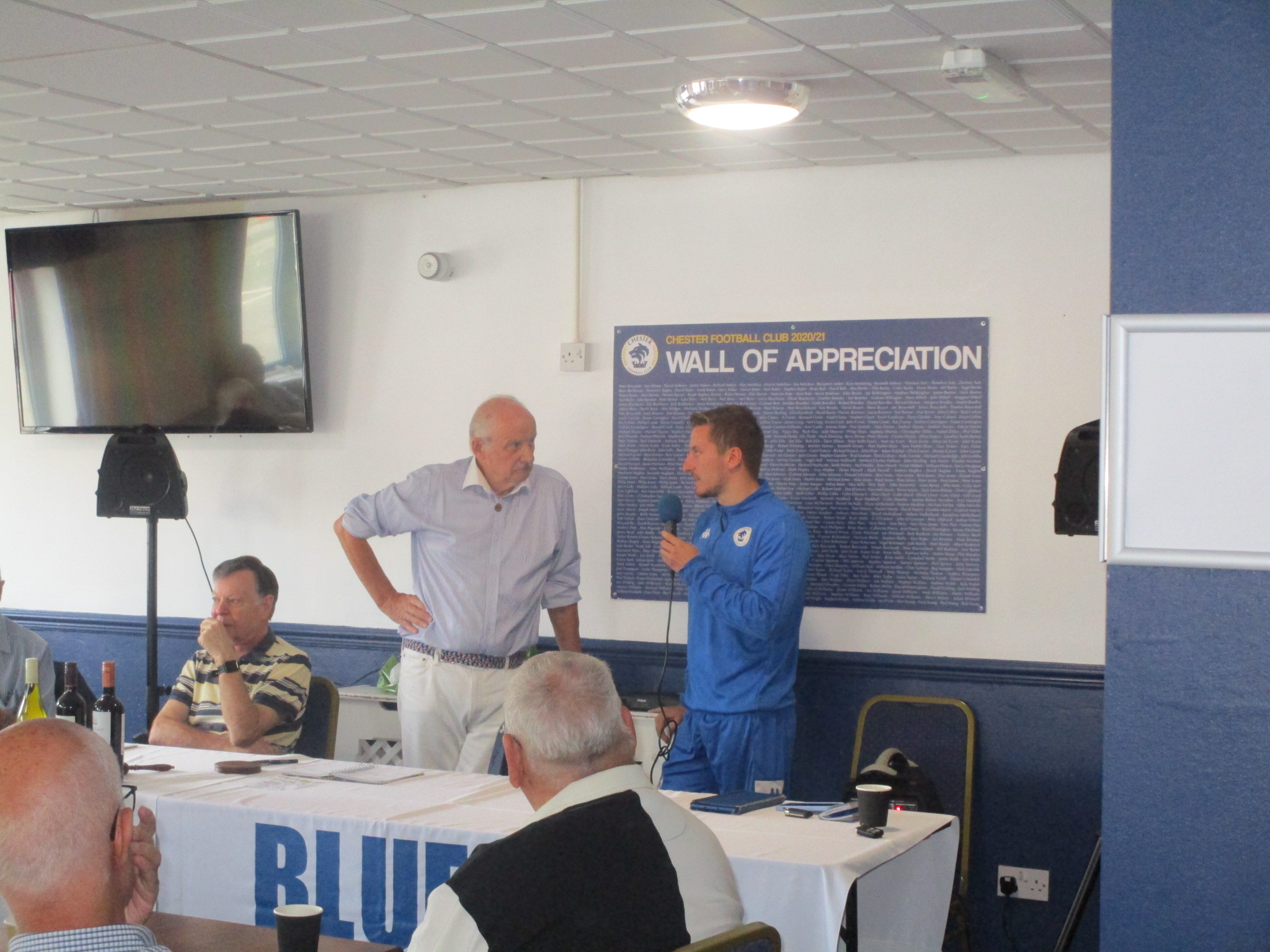 Albert described his new dual role at the Club after starting several years ago on a volunteer basis and dealing mostly with media aspects. Commercial aspects are carried out in conjunction with Georgina (Slawinski) and football business with Calum and Jim (Green). There is a plan to utilise students to assist at the club as part of their educational programme. As well as day to day communications, Albert is responsible for the Club website (which he would very much like to see improved) and the Seals Podcast. In his role as an interviewer Albert was primed to probe our self-effacing Chairman Chris about his football career. It turned out Chris was a childhood friend of Ron Davies, and there his 11-a-side football career ended. Although he played 5-a-side till the age of 75 (and don't we know it!), he actually uttered the words "I wasn't good enough for 11-a-side". Thanks Albert for prising out that gem of information. Thanks Chris for being a good sport.
Mike Allcock told us about his background in teaching, sports journalism and coaching, and some valuable and happy years spent at Hyde United. Contact with Calum led him to Chester as his Academy assistant and also as first team coach in Calum's management team at Runcorn Linnets. He spoke of a 24 month plan to progress 5-6 youth team players to the 1st team squad. The philosophy of his dual role at Chester is player development in the Academy on Wednesdays (in the National League Alliance) and Sundays (in the North West Youth Alliance), whilst as first team coach the focus is clearly on winning matches. Mike also talked about the 2yr Btec in Sport programme offered to our Scholars, with 24 players in the 17/18yr age group. There is a desire to recruit for the full time programme principally from the current U16 age group which is filled with local talent. This can be supplemented with players released from EFL clubs.
Other Business
The Members agreed to the Senior Blues' Sponsorship of our home fixture vs Alfreton Town on 10th December. More details later.
Geoff Leith outlined the arrangements for the Christmas meal which will be held after our meeting on Dec 2nd. Payment was requested at the October meeting.
---
Chester FC Senior Blues is a group for older supporters who meet monthly and organise regular social activities.
Formed in 2013, largely through the efforts of the much missed Peter Mitchell and Chairman Chris Courtenay Williams, the Senior Blues meet on the first Friday morning of the month in the Blues Bar from August to May.
New members are very welcome with membership costing only £10 a year..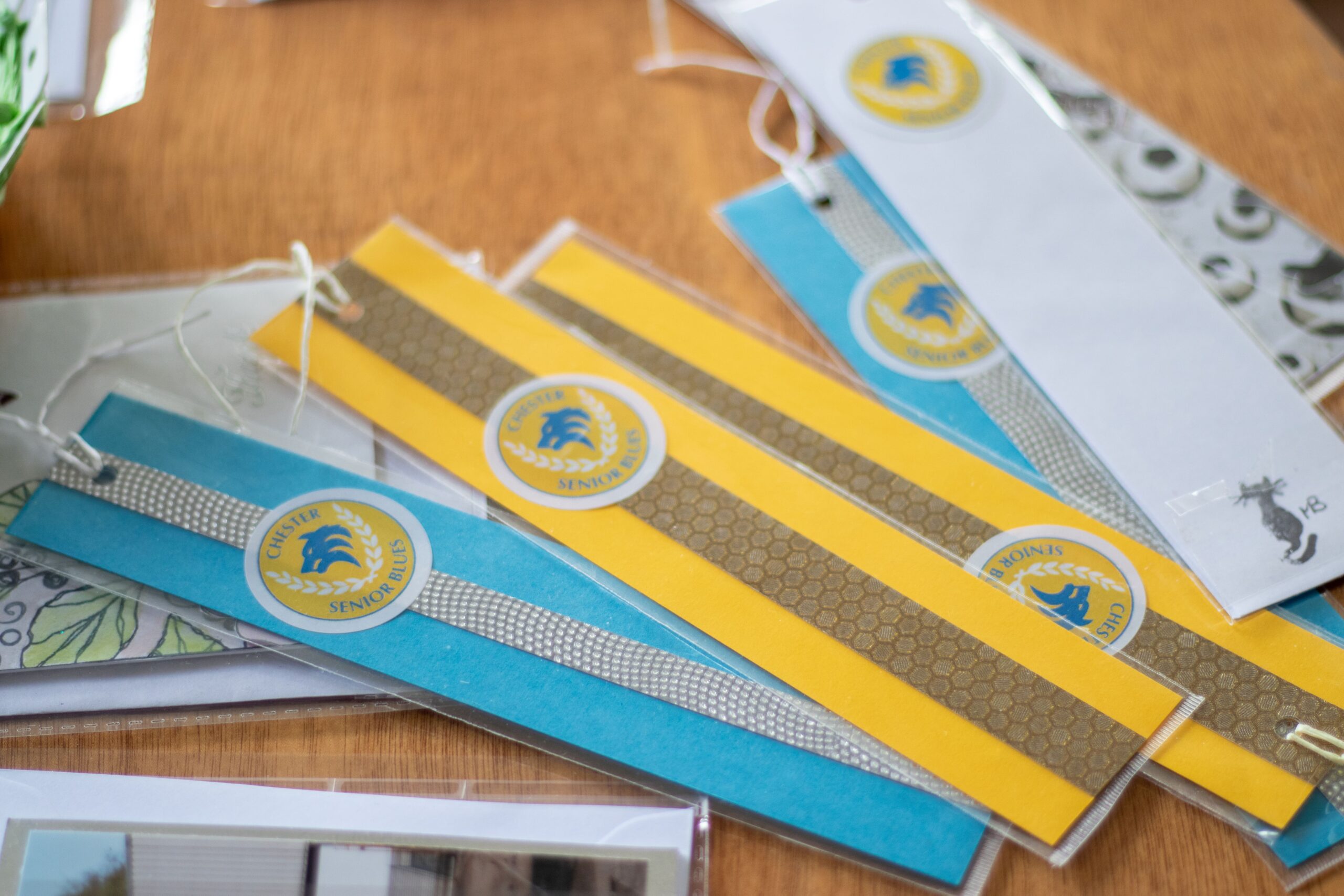 Meetings start at 10.30am and are well attended with generally between 50 and 70 members present. Tea, coffee and biscuits are served and there is a raffle and merchandise for sale
All monies raised is for the benefit of Chester FC, with the principal focus being the Academy, which has received approximately £20,000 to date.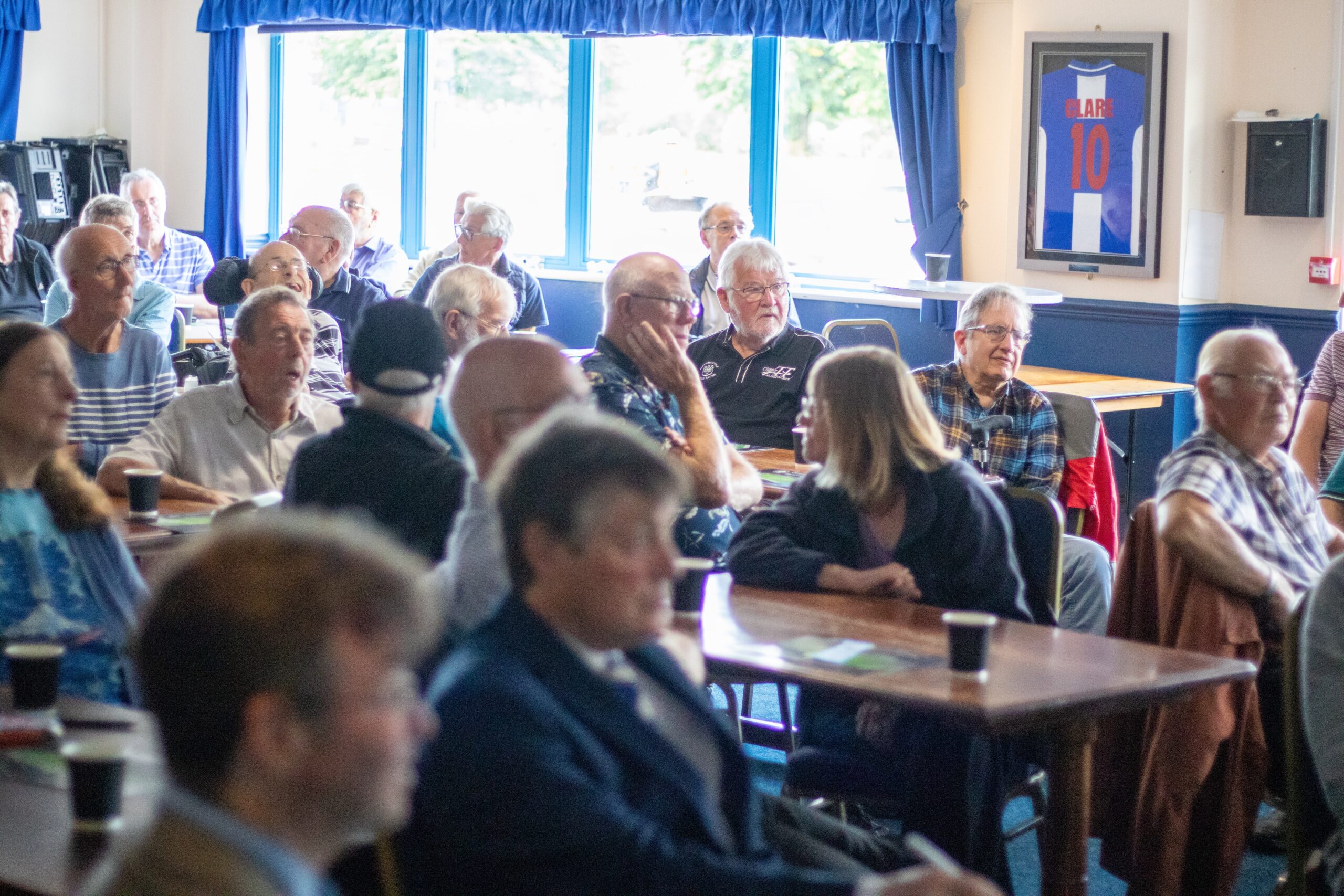 New members are welcome and all money raised goes to the Senior Blues Youth Foundation.
Photos courtesy of Yasmin Thomas.