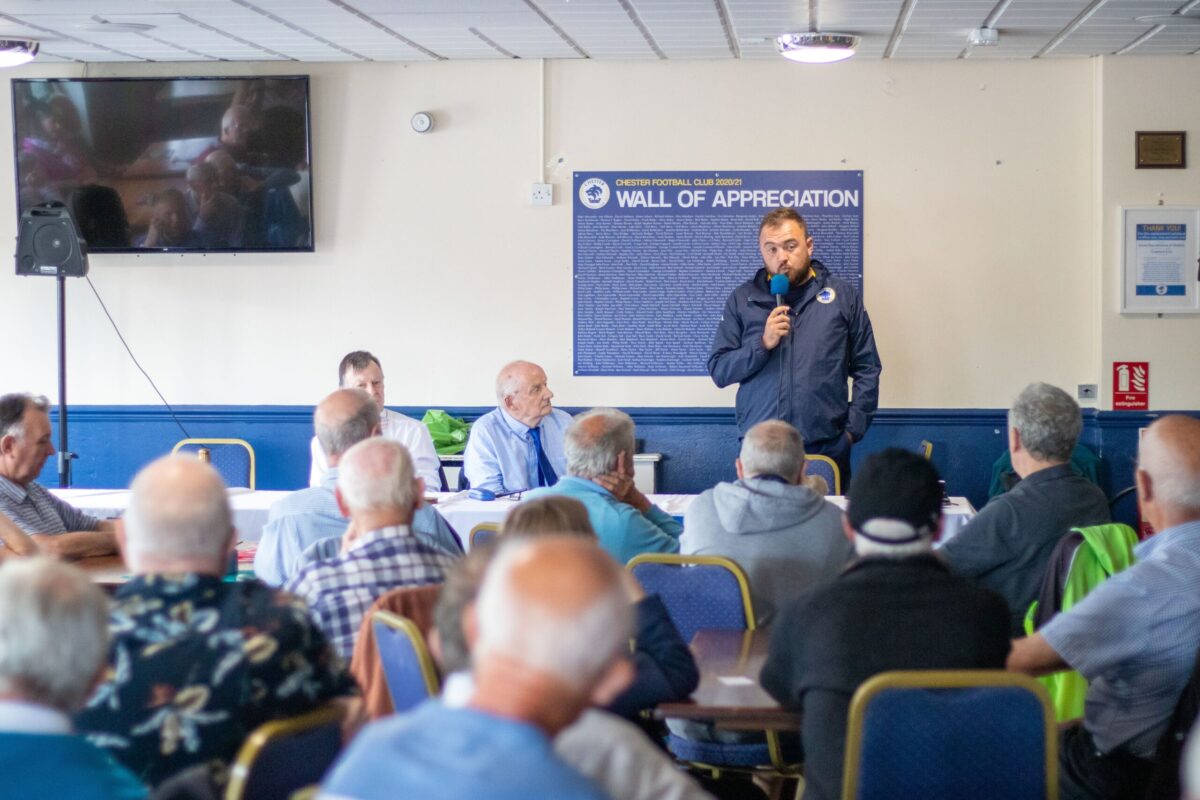 SENIOR BLUES | Senior Blues meeting takes place Friday!
The next Senior Blues meeting takes place this Friday!
NEXT MEETING
WHEN? Friday 2nd September at 10.30am
WHERE? Blues Bar, Deva Stadium, CH1 4LT
WHO? Guest speakers include Club Captain George Glendon, Academy Head Coach Mike Allcock and Communications Manager Albert Davies
New members are welcome!
---
Members Meeting Recap: August 5th
Almost 70 members attended the first Senior Blues Meeting of the 2022-23 Season.
Guest speakers were CFU Chairman Kieron Shiel who updated us on the progress made over the summer, including the recruitment of Calum McIntyre as First Team Manager; Georgina Slawinski who explained her role as General Manager and distributed copies of the Chester FC Commercial Brochure. She was followed by Matty Waters who thanked supporters for the financial assistance for his ACL operation through the Chester Former Players Association Just Giving Crowd Funding Appeal.
Matty is being helped in his rehabilitation by the Club and is targeting March 2023 as a return date. Grenville Millington, representing the FPA, asked those present to give generously if they hadn't already and then proceeded do a brilliant time-filling stand-up routine of stories from between the posts whilst waiting for Calum and Colin Woodthorpe to arrive from training. Colin needed slightly more persuasion to speak than Calum (and Grenville!) but unsurprisingly both received the members full attention and support for the coming season.
On a sad note, after the meeting a number of members attended the funeral of Senior Blues Treasurer Vic Croft. Vic was encouraged onto the Committee by his good friend and true Blue, Peter Mitchell who passed away in May 2021. Vic will also be sadly missed.
Plas Cadnant  – the Hidden Gardens
On Friday 19th August, a 53 seater coach carrying passengers with a combined age probably somewhere in excess of 3600 years set off from the Deva Stadium at 9.30 for Menai Bridge. The owner of Plas Cadnant was most welcoming, the gardens were spectacular, the food in the cafe was superb and the coach driver was particularly skilful in negotiating the steeply descending single track road into the valley. The weather was perfect and a good day was had by all (I think!)
Thanks to Les Smith for providing an update!
---
Chester FC Senior Blues is a group for older supporters who meet monthly and organise regular social activities.
Formed in 2013, largely through the efforts of the much missed Peter Mitchell and Chairman Chris Courtenay Williams, the Senior Blues meet on the first Friday morning of the month in the Blues Bar from August to May.
New members are very welcome with membership costing only £10 a year..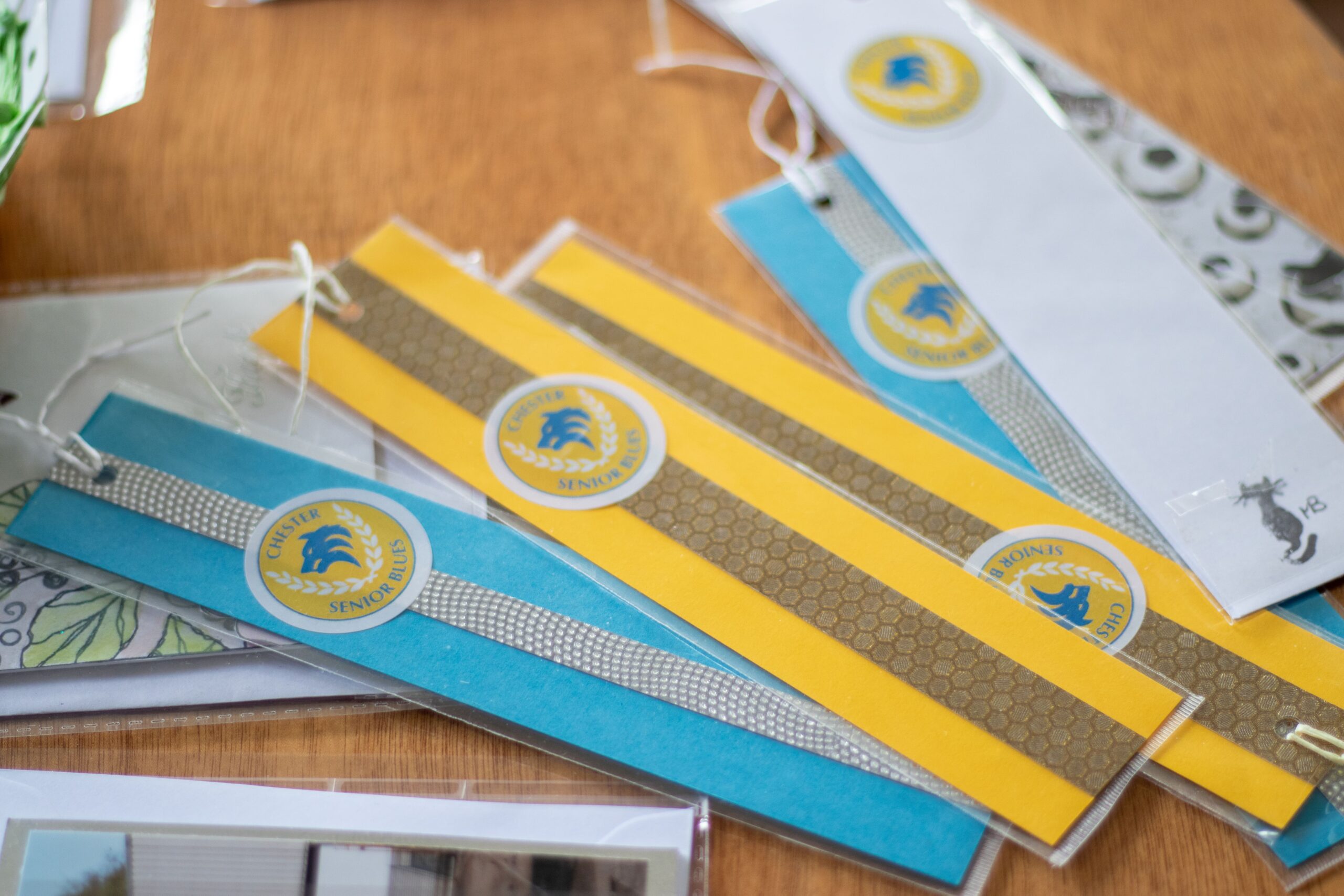 Meetings start at 10.30am and are well attended with generally between 50 and 70 members present. Tea, coffee and biscuits are served and there is a raffle and merchandise for sale
All monies raised is for the benefit of Chester FC, with the principal focus being the Academy, which has received approximately £20,000 to date.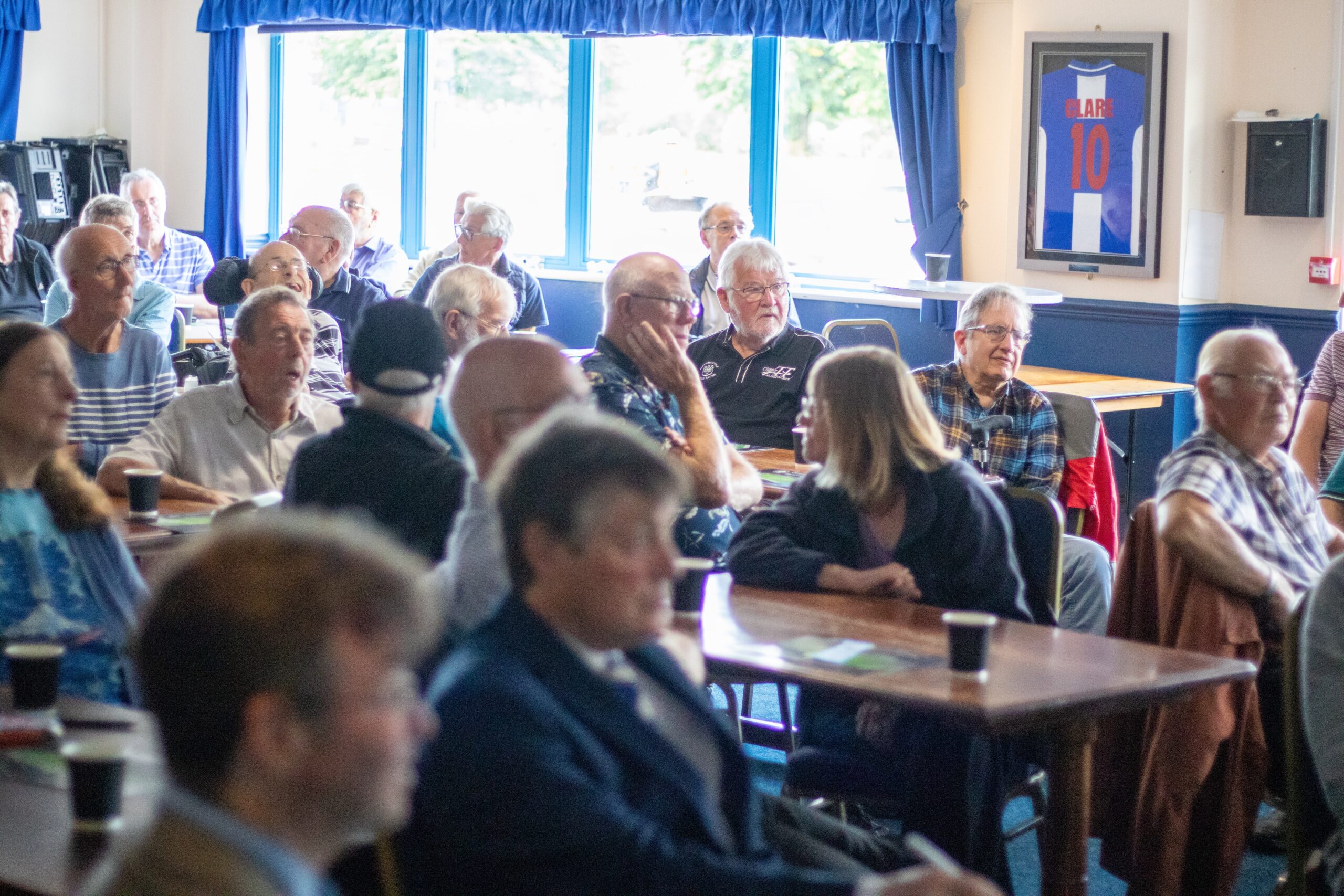 New members are welcome and all money raised goes to the Senior Blues Youth Foundation.
Photos courtesy of Yasmin Thomas.