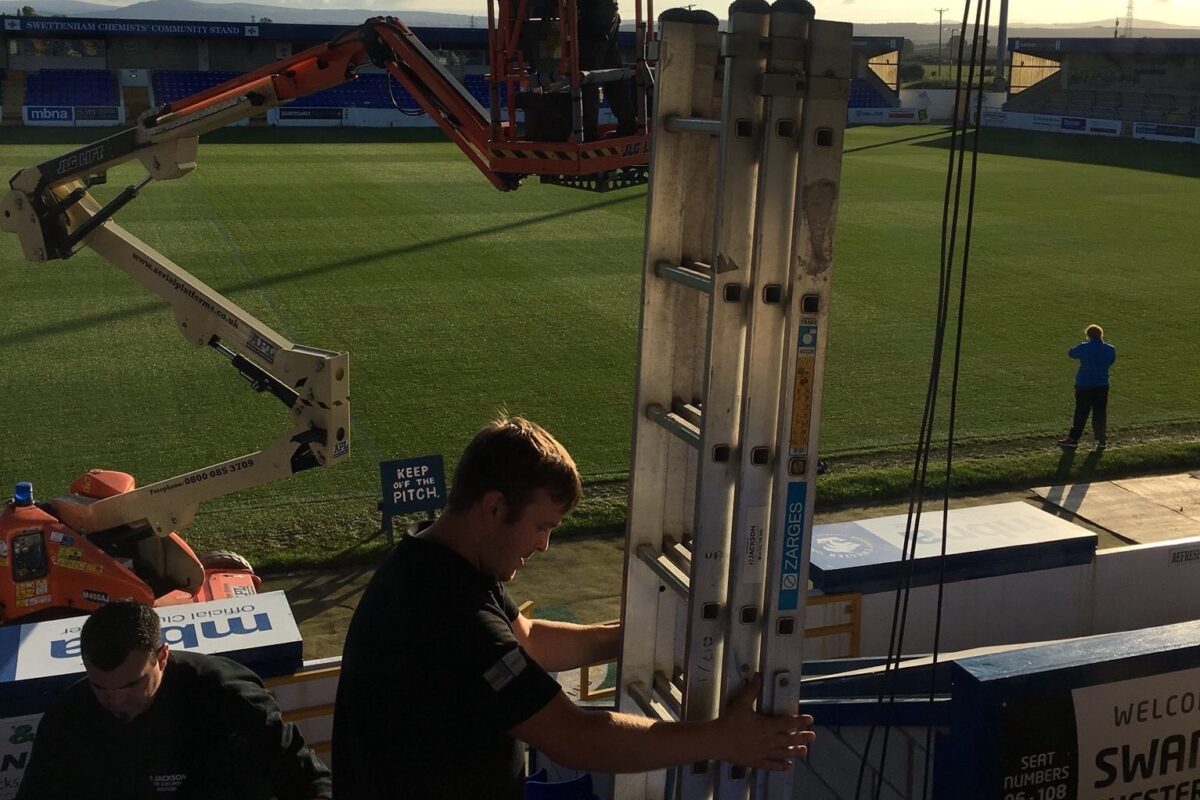 STATEMENT | Club's Safety Certificate restored
Chester Football Club are delighted to confirm the decision made this afternoon by the Safety Advisory Group to restore the Club's Safety Certificate – thus allowing us to stage this weekend's game against Bradford Park Avenue.
Restoring the Stadium to full working order has been a job larger than anyone connected with the Club could have imagined when faced with the flooding damage a month ago. However, we would like to thank our fans, and those from opposition Clubs, for their patience in resolving these issues which unfortunately caused the postponement of several games.
Without the significant work carried out by those at the Club then the staging of this game would not have been possible and the Club would formally like to put on record its thanks and recognition for their hard work. We would like to personally thank Glenn Weatherall from Aspray for liaising with insurers and suppliers, Jackson Fire for their electrical work and CCTV system installation and Buy Clever stuff for the new PA system.
Following the water damage, the previous PA system was condemned and has been completely replaced including over 100 speakers and more than two miles of cabling installed. This work resulted in completely replacing the initial system that was installed over 25 years ago. Hopefully there will be a much improved audio experience on matchdays!
The CCTV has also been completely replaced with a comprehensive re-wire across the stadium. The system is now a Samsung digital system with HD images and a new digital video recorder with appropriate capacity to record and restore images for the safety of supporters.
The turnstile counting system was impacted by the damage to the control room. However having been tested since the restoration of power it is in full working order and was an essential aspect of our ground grading assessment. Similarly the Fire Detection System also went down but given the restoration of power this to has now been restored to full working order.
Given the complete re-wiring undertaken as part of the installation process, a full testing procedure has been undertaken for new installations and an Electrical Test Certificate has been issued.
Cosmetically all damaged ceiling tiles and carpets have been removed and the existing lino floor remains in the areas directly affected by the flooding. With all electrical and installation work now complete, the final step of redecoration and new carpets will take place over the coming weeks but we do ask for supporters patience whilst these areas are restored to standard.
In addition to Aspreys, Jackson Fire and Buy Clever Stuff, Chester Football Club would like to place on record our appreciation to the wider football community for their support. We want to thank Kidderminister Harriers, FC United of Manchester, Hereford FC and Bradford Park Avenue for their co-operation and also Macclesfield Town who supported us immensely with a potential alternative venue had this been required for the Bradford Park Avenue game. Without doubt it is in times of adversity clubs pull together to support each other and these clubs have been a credit to the National League, EFL and their supporters.
Finally, as a Club we would like to thank the fans for their patience and ask that you turn up in your numbers for the coming games to support Bern, Jonno and the lads. The damage not only caused challenges in resolving infrastructure problems, but also in cashflow from missed matchday revenues – not forgetting the footballing challenge of playing consecutive away games.
As such, your support is essential at this time so please get yourself down to the Swansway Chester Stadium and Back The Blues!