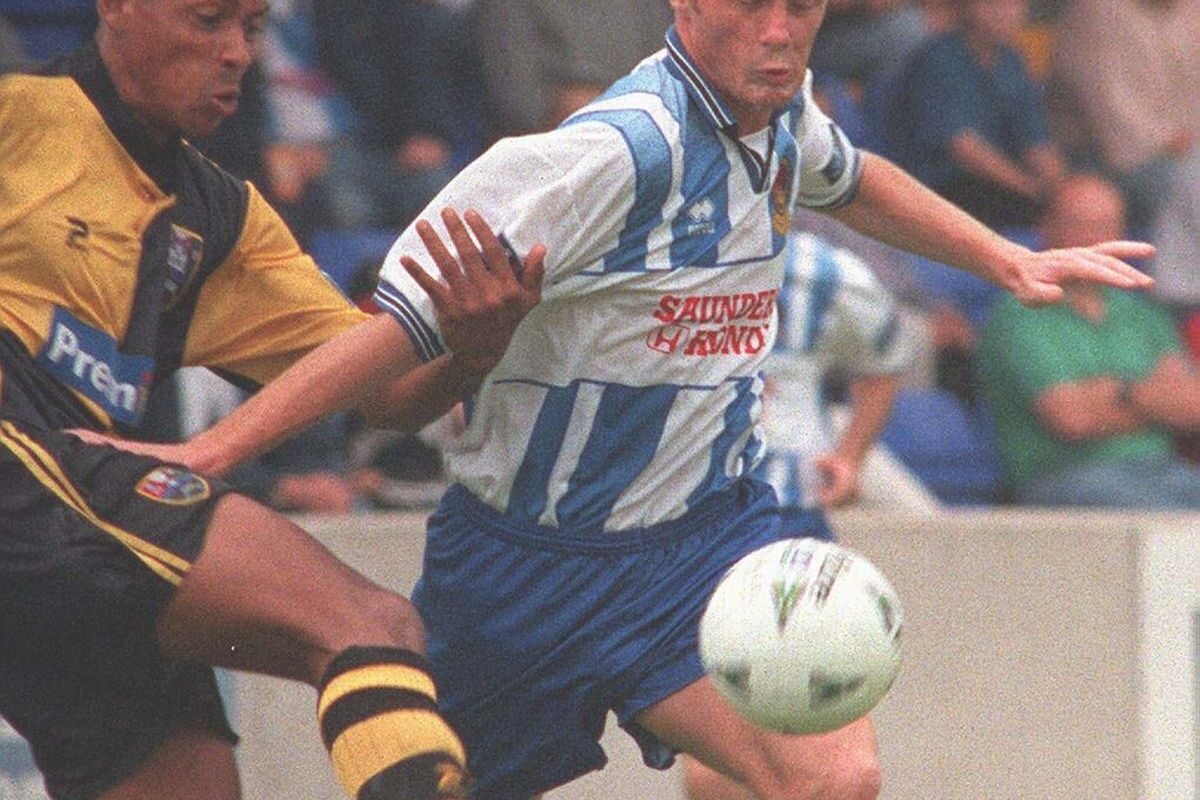 THE BIG INTERVIEW | Andy Milner
By most standards it was a season to forget. Starting with seven straight defeats, the Blues were nailed on for relegation by Christmas.
Yet for one night alone, February 14, that 1994/95 campaign is steeped in club legend. Even fans who are far too young to remember know all about St Milner.
A goal and two players down at the Racecourse Ground by half time, the Blues somehow withstood an onslaught.
Then, with 84 minutes on the clock, a misplaced Wrexham pass near half way allowed Iain Jenkins to send Andy Milner away. The forward summoned the last reserves of energy and galloped away into the box, but it seemed his opportunity had gone when he cut back…only to set himself and curl the ball into the net. Incredibly the no hopers had emerged with a 2-2 draw, sending the thousand or so Blues in the crowd into raptures.
Forget roses and chocolates, replaying the flickering TV highlights of the match is what Valentine's Day is all about.
"It's woven into the fabric of the club," says Milner. "If I'd scored that goal at Halifax or Southend it might have been remembered for a week. To have it talked about more than 25 years later is flattering. I scored better goals and had better performances but it's all about the symbolism. I still get messages every year and I never get tired of being reminded. It's really nice to know that for a brief moment that season we gave the fans something to be proud of.
"The whole St Milner's Day thing always makes me chuckle. It's a great memory but it almost feels like another lifetime now, which is kind of weird."
Milner admits he joined City from Rochdale, in the summer of 1994, without really doing his homework. Despite having been promoted to the third tier in some style the Blues were in turmoil after Graham Barrow walked out. His successor Mike Pejic was forced to assemble a squad on a tight budget, later claiming with some justification that he inherited "an impossible job".
"To be honest it was a massive opportunity for me," says Milner. "I was stepping up a league, so I didn't need much persuading. But I remember going to a trial game and pretty much everyone was being taken on."
He scored on his debut, a cracker in a 4-1 home defeat to Bradford City, and the first league win didn't arrive until October. By mid-February, with the trip to Wrexham looming, there had been just two victories and Pejic had been shown the door.
"It might sound funny but we didn't regard ourselves as a relegation side," says Milner. "Maybe because there were so many new lads we were like a brotherhood. We never felt we were as bad as the table suggested and the fans didn't turn on us. I think there was a realisation that a hand had been dealt and everyone just had to get on with it.
"In the build up to the Wrexham game there had been a few little shoots of recovery. We honestly felt we had the nucleus of a decent side and we went there thinking we had nothing to lose. I also had the feeling that if we got something it would somehow make up for all the disappointments of the season. I knew exactly what it meant for the supporters."
Derek Mann was in charge for the derby. Milner agrees with those who suggest the former physio was, perhaps, too nice to be a successful manager but preferred Mann's softly-softly approach to the more abrasive style of Pejic.
"Mike had played international football," recalls Milner. "He didn't think we were good enough and I didn't really see eye-to-eye with him, whereas Derek encouraged us to play with less fear."
LINK: How The Chronicle reported St Milner's Day in February 1995
The Blues went in to the match with this line up: Felgate, Preece, Jenkins, Shelton, Alsford, Lightfoot, Flitcroft, Priest, Milner, Rimmer, Bishop (subs Page, Burnham, Newland).
Whatever the team talk was that night it went out the window long before half time. The hosts missed a penalty, Eddie Bishop gave the Blues the lead from the spot but Wrexham scored two in reply. Disastrously, Bishop and Chris Lightfoot also saw red.
"We had some great characters but maybe a few were a bit hot-headed and that's what happened in the Wrexham game," says Milner. "I can't remember exactly what was said at half time but Derek never threw a tea cup in his life. It was calm. For some crazy reason we didn't feel out of it. We were determined not to throw the towel in and get beat four or five, although in that second half it did feel a bit like the Alamo. There was no point me being up front on my own, so I was just trying to do my bit to help out by dropping deep."
When he received Jenkins' pass with six minutes left Milner's first thought was to keep possession.
"It was a really bobbly pitch and not easy to run with the ball," he recalls. "I hadn't done as much work as the defence so I still felt reasonably fresh. Initially I was just trying to give the lads at the back a rest. As I got into their box I wanted to get the ball on my stronger right foot, and maybe wait to see if I had any support. There was no one to be seen so I thought I might as well have a shot! I can't describe the feeling when it went in…probably shock. I certainly didn't have the energy left to run to our fans, who were at the far end."
Can a 2-2 draw ever have been celebrated so wildly?
"It was party time in the dressing room," confirms Milner. "I often have to remind myself we didn't win the game. I think we got rid of a lot of our frustrations that night and showed that although we were bottom of the league we weren't such a terrible team. It was very raucous with some of the lads banging on the dressing room wall."
Although that one goal secured legend status Milner, now 54, played a total of 125 games for the Blues and scored 25 goals including four in a match against Doncaster. He cherishes memories of playing alongside Cyrille Regis, and was in Kevin Ratcliffe's side which reached the play-offs two years after the heroics at Wrexham.
"Kevin was without a doubt the best manager I played for," says Milner. "He had such good tactical awareness. He wanted to get the ball down and pass. It was fun. We maybe struggled a bit in the dark days of winter but on good pitches we were as good as anyone in the league.
"There was a lot of optimism that we would beat Swansea but not scoring in the first leg of the play-off semi-final killed us. The away game was probably the most hostile atmosphere I ever experienced. The feeling afterwards was total emptiness…I never did get to play at Wembley."
Following retirement from playing Southport-based Milner had a stint as a driving instructor, before training as a counsellor and psychotherapist.
"In team sports you don't really talk about your emotions, so counselling is the other end of the spectrum," he says. "I'd like to do more work with sportsmen and women."
These days his sport is golf and former team mate Neil Fisher is among his playing partners. Julian Alsford, who went on to play for Dundee United and now works in finance, is another pal from his Chester City days.
Milner says: "I was lucky to be in great dressing rooms at Chester and have a great rapport with the fans. I wasn't the best player in the world but they could see I tried my best. The team always came first for me."
The Big Interview with Andy Milner is courtesy of Adrian Lee.