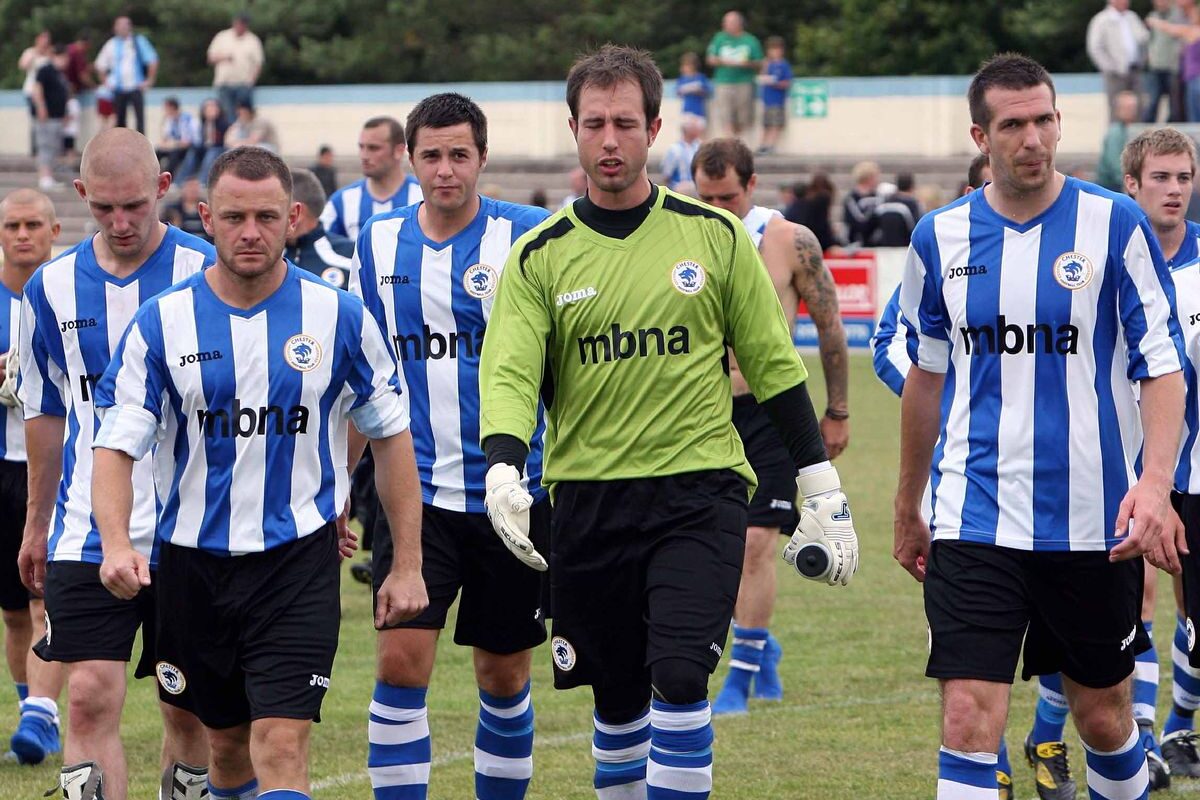 THE BIG INTERVIEW | Richard Whiteside
The purple banner in the crowd at Warrington Town's Cantilever Park said it all: 'Chester Are Back'.
After a flurry of signings and a hastily arranged pre-season, the club's rebirth was officially sealed on 24 August 2010.
The starting eleven for that opening league fixture bore only a passing resemblance to the team that celebrated promotion eight months later, on a crazy day at Garforth. However, the man between the sticks on both occasions was Richard Whiteside. One of five keepers through the doors that season, he answered a call from Neil Young, his former manager at Cammell Laird, to join the Blues.
"The first contact was through Facebook, then I drove down to meet Youngy and look at the set up," recalls Whiteside , who signed from Burscough. "It wasn't a difficult decision to go from playing at grounds in front of one man and his dog. I could have signed for Fleetwood, in a higher league, but I could see what was happening at Chester and wanted to be part of it. Football has never been about the money for me. It felt right and I knew a few of the players, including Anthony Sheehan and Stu Jones."
First up was a friendly at Colwyn Bay where, in a reference to Young's recruitment policy, some jokers put a sign proclaiming 'Colwyn Bay B Team' on the Chester dressing room door.
"During the warm up, I just remember more and more Chester fans turning up," says Whiteside, who was on Blackburn Rovers' books as a junior. "It was a bit of an eye-opener for a friendly. Having that sort of following at away games, week in week out, made a huge positive impact."
He's a laid back character and, by his own admission, likely to turn up for training clutching a KFC. So the big crowds and weight of expectation never phased him.
Although the lack of preparation time, due to uncertainty over the Blues league status, wasn't ideal, Whiteside says: "It certainly wasn't a scratch team. At that level you can put good players together and even if they don't gel immediately the quality shines through. All those lads bought into what Youngy wanted to achieve – to win the league. Anything less was failure. Having players like George Horan and Michael Wilde gave you confidence."
Recalling the first league match, which ended 1-1, Whiteside adds: "It was intense. They scored a scrappy goal. It came from a cross and it was 50-50 whether I should have gone for it. We felt we should have won."
For the first home game, against Trafford, 2,743 fans flocked to see the new look Chester. "It was incredible," says Whiteside, who was completing his teacher training alongside playing. "It was under lights on an absolute bowling green of a pitch and we won 6-0. The place was booming. You could really feel the passion."
There was a feeling that the Blues would steamroller all opponents but the first setback came in September, a 2-1 home defeat to Chorley. After that there were 14 games unbeaten, but Whiteside suffered an ankle ligament injury in a win at Cammell Laird. Ultimately he ended up playing 23 league games, including the final two.
"Even sat in the stands I still felt part of it," says Whiteside, who watched numerous players come and go. "Myself and Mikey Aspin used to joke about the dressing room door opening and a shepherd's crook pulling us out. No-one's place was guaranteed, we understood that. You can't encourage complacency."
Whiteside played in the crucial penultimate away game at AFC Fylde, which all but secured the title.
"There was relief and a feeling that it was job done, but there was no big celebration in the dressing room because we weren't quite there," says Whiteside. Going into the last fixture only defeat, combined with a Skelmersdale win and a huge swing in goal difference could deny Chester the title and promotion.
It so happened that 29 April 2011 was Royal wedding day, for William and Kate, but that was a mere sideshow. More than 2,000 Blues fans turned up for the party at Garforth which began well with a Michael Powell goal on the stroke of half time. Surely nothing could go wrong?
"It was a scorching hot day," Whiteside remembers. "I think the emotion of the day just got the better of us, although to be fair they scored two good goals."
The final whistle signalled a 2-1 defeat and players, management and fans gathered on the pitch as news of events unfolding elsewhere filtered through on mobile phones. Incredibly Skem were 7-1 up, deep into added time, and pressing for another goal against bottom club Ossett Albion which would have snatched away the title on goals scored. Step forward Danny Toranczak, surely the only player to gain Chester legend status without having played a game. Game over, 7-2. So very Chester to put the fans through the wringer!
Whiteside says. "It was mad. It was a mammoth task for Skem but the goals kept going in. We were thinking: 'what have we done here?' When it was all over the champagne started flying. It was my first title. On the coach journey home we stopped off at a couple of pubs.
"In terms of what we achieved, with a new team coming together, it was my best season in football. Of course we got stick that we'd bought the league but at every level you have to invest to succeed. It wasn't just about money…Youngy had a culture and style of play and brought in the right players. It was fantastic to be a little part of that historic season. No-one can ever take that away from me."
In fact, his only unhappy memories of his stint at Chester are the ice baths that Neil Young introduced to try to deal with a rising toll of injuries.
"They used to fill paddling pools with freezing cold water," says the former number one. "It was a nightmare."
Whiteside could have hung around at Chester, but was told he'd probably be a back-up the following season. Instead he accepted an offer from AFC Fylde, closer to home, then moved to Lancaster City.
These days Whiteside, who has two daughters aged five and three, is a training manager for a blue chip company. The 35-year-old also runs his own veterans' team, AFC Lytham, where he's given up the gloves and plays up front.
"Every goalkeeper thinks he's the best forward in the world," he laughs.
The Big Interview with Richard Whiteside is courtesy of Adrian Lee.