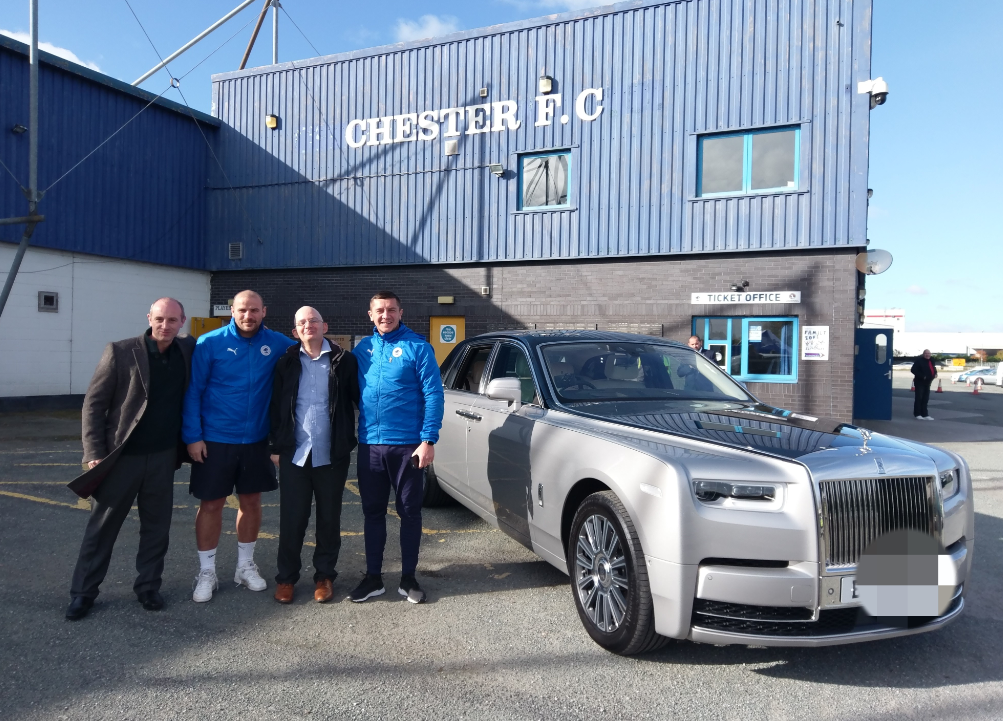 VIP EXPERIENCE | Graham Shaw watches the Blues face Alfreton Town
One Chester fan got an unexpected VIP experience on Saturday as the Blues won 3-2 against Alfreton at the Swansway Chester Stadium.
Graham Shaw, from the Wirral, a lifelong supporter contacted Blues director of Fan Engagement Jeff Banks, to see if he could manage to get to speak to Bern & Jonno to talk about all things Chester. Nothing unusual in that request, but Graham is unable to get to many home games due to a back condition that limits his movement.
So, Jeff decided to make a few calls and send some emails which culminated on Saturday, with Graham being picked up in a Rolls Royce Phantom car, with the trip generously donated by Cheshire Luxury Cars and Stuart Murphy.
The Phantom then brought Graham to the match with his guest, Mark Black, who was celebrating his birthday the previous day in style.
A full three course meal followed as the club laid on hospitality for Graham and his guest, before taking their seats – club Director seats – that Jeff and his colleagues on the board would normally use, but today was Graham's day in those seats!
The match, well we all know how that turned out. It had everything. A topsy turvy game with 5 goals, 2 red cards, 2 penalties, and just about everything else, but more importantly, a last minute winner for Chester to send Graham home very happy.
The Phantom that had brought Graham to the match, then set off on the journey back to the Wirral to drop the VIP's off for the day having had a unique experience at a Chester FC match!
On his matchday experience, Graham said "What an incredible day. I can't thank the club and Stuart enough for arranging everything. I struggle to get to games these days but coming back today was special and I think my friend will be coming back to watch Chester again in the future, so the club have a new fan. It was an amazing end to the game too, so what better way to enjoy a day at the match, a last minute winner before being chaffeur driven home in a Rolls Royce!"
Stuart Murphy, who along with Cheshire Luxury Cars arranged the ride for Graham, was delighted to help, and said, "One of the main motivating factors for me getting involved with Chester FC is that it's a community club. Football is nothing without the fans – so it's vital we make fans feel appreciated – so it was a privilege to give Graham a day to remember."
"We have some really exciting plans on the horizon – too early to mention them quite yet – but mark my words, every decision we make is with fans at the very forefront of our minds."
Jeff Banks, Director of Fan Engagement was pleased Graham had enjoyed his matchday experience, "From the moment I had the email from Graham telling me he struggled to get to home games and wanted to just have a chat with the managers, I set about making it a lot more than that and giving him a day he'll never forget. With Stuart's help we truly managed that, and shows just how a fan owned football club can make a very big difference to someone with just a little bit of effort."
Graham will now be embarking on an operation that will hopefully enable him to come back more often to the Swansway Chester Stadium, and everyone at Chester FC wishes him well and we look forward to seeing him in the future.