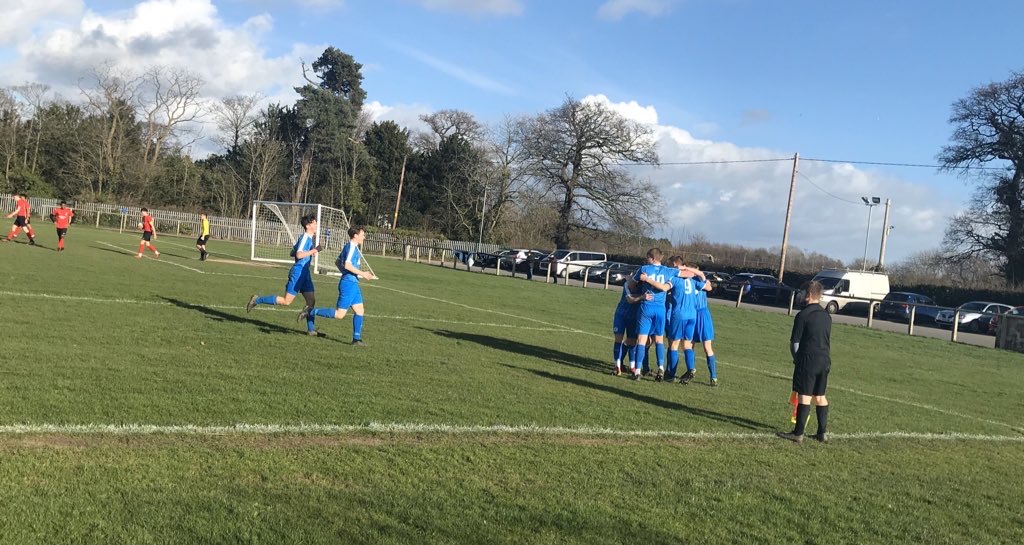 YOUTH | Academy Round-Up with Calum McIntyre
Wednesday afternoon saw the Blues' Youth Team reach the Semi-Final of the prestigious National League Alliance League Cup after a 3-0 victory over Rugby Town.
The National League Alliance League Cup, won by the Blues in 2018, brings together each of the sides that compete in the National League Alliance structure on Wednesday afternoons. Having already seen off Hartlepool, Gateshead, Harrogate and Rugby Borough during the competition, Rugby Town travelled to Chester for the Quarter-Final unbeaten this season and having only been edged out by Grimsby Town after Extra-Time in the FA Youth Cup.
Will Goodwin scored the Blues' first after 16 minutes, finishing a devastating counter attack after impressive work from Jake Hampson, Tom Ruffer and Sam Hughes. Stuart Crilly doubled the Blues' advantage ten minutes later, Goodwin turning provider with his cross finding Crilly at the back post to emphatically volley home. Harrison Burke put the game beyond any doubt just after the hour mark, turning home Jake Hampson's free-kick to settle the tie.
The Quarter-Final victory means that Chester will now face either Halifax Town, Dartford or Eastleigh in the Semi-Final on Wednesday 11th March.
Academy Head Coach Calum McIntyre said: "I am absolutely delighted for the boys and everyone involved. This is a competition that we choose to take really seriously and have a right go at each year.
"The final in 2018 was an immensely special occasion and I think seeing that has created a real desire from this crop of boys to want to have that sort of experience themselves and we are now only one win away from that. In terms of the competition so far, we got the hardest possible tie in the opening round away at Hartlepool who I genuinely believe are the best side in the country and will win the National League Academies Division, but we deserved to go through and then saw off two well established sides in Gateshead and Harrogate.
"The boys have been so impressive throughout and I thought Wednesday was an immensely professional performance in all areas. It reflects what the lads are about, real industry and immense quality. I'm ecstatic for them and really proud of them."
It has been a season of change and the busiest in recent memory for Calum McIntyre's men, with participation in the new National League Academies Division adding significant travel to the boys' fixture programme as well as raising the standard of opposition significantly. The Division consists solely of sides in the National League and National League North and McIntyre is pleased with how the Young Blues' have adapted to the new level of football;
"It's been fantastic for our lads to step up and ultimately experience the new fixture programme but to see how well they've acquitted themselves is phenomenal really. We are travelling around the North of the country, between Hartlepool and Solihull and despite all the challenges that brings with it, the lads have been incredible.
"We don't have our own minibus, logistically it's been tricky but the lads don't make any excuses and have shown they are as good as anything at this level of football. For us to be able to compete with some of those clubs and the facilities and resources they can offer is so pleasing for us and is what we are all about."
Alongside their fixtures in the National League Alliance, the Young Blues have also retained their place in the North West Youth Alliance. The North West Youth Alliance fixtures programme has been for predominantly the Club's Under 17s players, during the first year of their Scholarship with the club. However, North West Youth Alliance Cup competitions have been contested by the Blues' Under 18s side.
The Young Blues travel to Curzon Ashton on Sunday in the Premier Division Cup Semi-Final before travelling to Altrincham AFC in the NWYA Open Cup Quarter-Final a week later. This makes for an immensely busy period for the Youth players but this is not something that concerns the Blues' Youth Team Boss. " We've obviously played our younger lads in the league fixtures on a Sunday afternoon to challenge them ultimately a year above their age group in most cases. They've done great, some times it's a bit much for them physically but it's a real eye opener for them as to what will be required the following year in the second year of their Scholarship.
"We have had some real mixed bags in terms of team selection this season as so often our Under 17s players have been selected for the Under 18s on a Wednesday afternoon which is really pleasing for us as it shows the production line is working in terms of the developing players within the age groups.
"We will enjoy the busy period, it feels crazy to have three cup ties within ten days, all at the latter stages of competitions as well. For me, I'm just really proud of the boys to be doing what they've done across the board, reaching this stage of the season and having so much to play for.
"It's a testament to the lads that we can reach a Cup Quarter-Final and two Semi-Finals. It reflects exactly what they're about. They're a superb group with a unique character off the pitch and it's so exciting to see what they could achieve in the coming months."
UPCOMING CUP FIXTURES:
Sunday 16th February- Curzon Ashton (A)- North West Youth Alliance Premier Division Cup Semi-FInal
Sunday 23rd February- Altrincham FC (A)- North West Youth Alliance Open Cup Quarter-Final
Wednesday 11th March- Halifax Town/Eastleigh/Dartford- National League Alliance League Cup Semi-Final
---
For more updates on the Academy, keep checking www.chesterfc.com, @chesterfc and @cfcyouthacademy on Twitter!