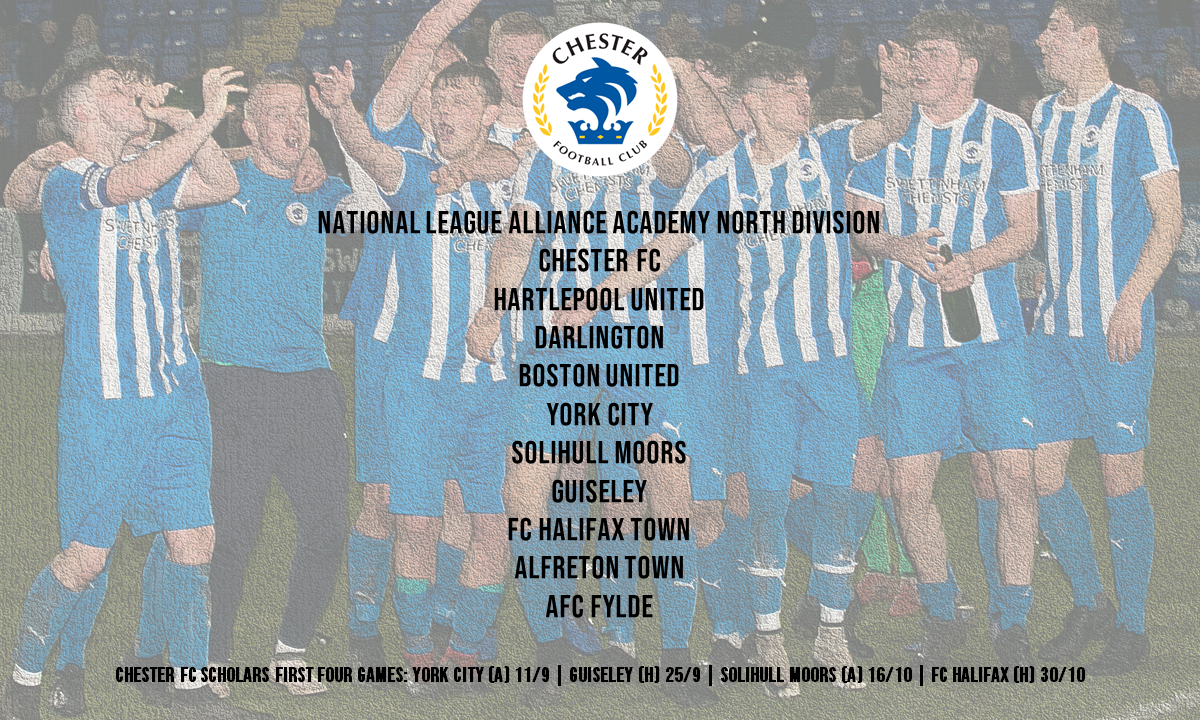 YOUTH | Blues Scholars to compete in new National League Division
Chester Football Club are delighted to announce they will take part in the new National League Alliance Academy Division.
The Division is a new scheme that recognises National League, National League North and National League South clubs that meet certain criteria in regard to Youth Development. The Division will see a North and South Division as well a National Cup competition.
The Young Blues will also continue to compete in the National League Youth Alliance League Cup. This was the cup Calum McIntyre's side won in 2018, defeating FC Halifax 3-0 in the final at Walsall FC. Last season, they were knocked out at the Quarter Final stage by York City – the same fixture kicks off the 2019/20 season for the Young Blues.
The National League Alliance Academy North Division features…
Chester FC
Hartlepool United
Darlington
Boston United
York City
Solihull Moors
Guiseley
FC Halifax Town
Alfreton Town
AFC Fylde
Academy Head Coach Calum McIntyre had this to say: "This is a superb opportunity for our young players and equally a recognition of the immense work that has got us to a point where we are suitable for such a standard of football.
"For us to now be able to ultimately have a higher quality games programme against a host of well-established sides will no doubt bring our Youth Development programme on to the next level.
Things continue to progress for us year on year, we are seeing more Academy boys in the first team squad than ever before, we've moved boys on further to the pyramid and we've also had some terrific success with our Under 18s.
"This will allow us to expose our players to a greater level of football on a weekly basis which will be massive in furthering their development."
The Chester FC Scholars begin their season on 11th September with the trip to York, before hosting Guiseley in their first home game two weeks later.
They conclude the league campaign at home to Boston United on 11th March.
"It's obviously going to be really, really tough. It's a promotion of sorts into a league where there will be clubs who are far better resourced than us or have recently been a Football League outfit.
"We're going to be a small fish in a big pond which will perhaps be a change for us in recent years in terms of our games programme. We're really looking forward to the experience, although we might not quite enjoy the travelling as much as we enjoy the games!
"I'm really excited and can't wait for this new cohort of players to get to test themselves week in, week out."