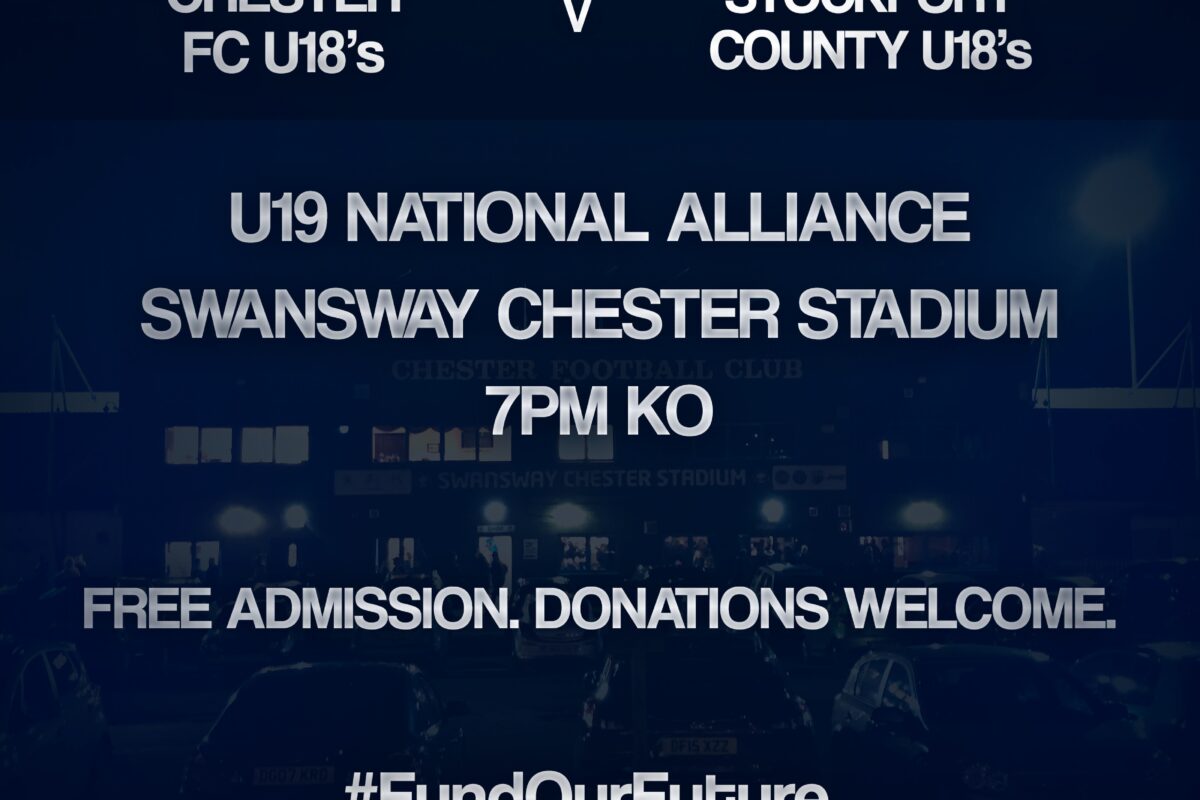 YOUTH | Under 18's can seal the title tonight at the Swansway Chester Stadium!
Chester FC's Under-18's face Stockport County this evening (7pm) knowing that a point would see them crowned Champions of Division J of the National League Alliance.
The #FundOurFuture event means tonight is a crucial night for the academy setup, with all funds raised going into their budget and continuing to aid the incredible work Calum McIntyre and his staff do.
Entry to the game is FREE, but donations are appreciated and the programme is just £1 so we would urge you to buy that too!
Speaking on the event, Academy Head Coach McInyre said: "Tonight is massive night for our Youth section.
"The opportunity to win this division here at the Swansway Chester Stadium is massive for the lads and they have done so well to earn this opportunity. I hope that there's a real crowd here to support the lads get over the line but equally share the opportunity to celebrate with them.
"Tonight's game is a hugely significant fundraiser for the Academy. We cannot do the work we do to produce the players that we have without the constant financial support we look to generate. Tonight's game gives supporters the opportunity to take in a game and make a contribution to the Academy on entry should they so wish.
"We have been so fortunate in recent seasons to have had some tremendous nights down here at Youth level. Tonight has all the potential to be another of those. We look forward to welcoming all our Academy players and their parents as well as a sold out hospitality lounge and a number of new players who will be undertaking their Scholarship with us next season. It would be terrific for them to see exactly what this club is all about and have a decent crowd in this evening.
"We are really looking forward to it. We need one point to mark an achievement that is huge given the clubs we have been competing with. We have done it in style all season and will be hoping to demonstrate that this evening."
Please come and support this vital fundraiser for the academy!