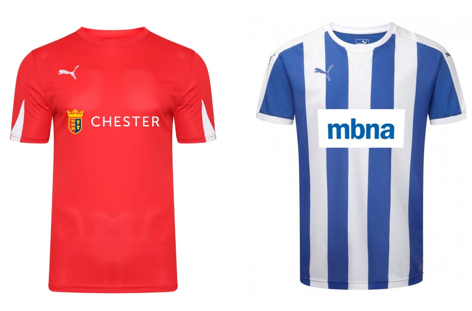 ALL STAR GAME | Chester Racecourse team up with MBNA to donate kit to charity match
Chester Racecourse is teaming up with partner MBNA to donate kit for the forthcoming fundraising match between a Chester FC Select XI and a team of celebrity All-Stars, led by Colin Murray.
The match, coordinated by Colin Murray, Michael Owen and Jeff Banks, will be played at the Swansway Chester Stadium on Thursday 15 February and will help facilitate a fundraising opportunity for the supporter-owned club.
As fellow sporting counterparts within the city of Chester, the racecourse saw an opportunity to get involved and contribute to the cause, in collaboration with affiliate partner of both Chester Racecourse and Chester FC, MBNA.
Both teams will wear Puma kits, with Chester FC's side wearing their traditional blue and white stripes and Murray's All-Stars a red kit in ode to his beloved Liverpool FC, which will be adorned with the logos of MBNA and Chester Racecourse.
After the final whistle, the kits will be signed by squad members including Michael Owen, Colin Murray and Jason McAteer and auctioned off to raise further funds for the club.
Speaking on behalf of Chester Racecourse, Chief Executive Richard Thomas said:
"We are delighted to be involved with this extremely worthy cause alongside our partners MBNA. Both Chester FC and the racecourse are part of the fabric of Chester and its local community. We recognised this fundraising event as an opportunity to support the club and its loyal supporters, whilst providing a gesture that we hope will go some way to raising extra funds for the club. We wish both teams best of luck ahead of the game and hope the event is a success."
Leah Mathews, Senior Sponsorships Manager at MBNA said:
"MBNA has supported grass roots football for many years now. Since 2010 we've been principal sponsor of the Chester FC First Team and have made donations to the club's Charitable Trust, which does such important work right across the city. We've always sought to help support the community in which we live and work, and so we're happy to team up with our local community partners, Chester Racecourse, to fund the players' kits."
Match organiser and Chester FC supporter Jeff Banks said:
"Chester FC is extremely grateful to MBNA and Chester Racecourse for their support. The response from the public in the past couple of weeks has been incredible and having the backing of two of the city's most respected businesses further demonstrates how much the football club means to Chester. We are looking forward to a brilliant evening on Thursday and hope to see a great crowd cheering on both teams."
Tickets for the fundraising event cost just £10 for adults and £5 for juniors and are available to buy via the Chester FC website and from the Ticket Office at the Swansway Chester Stadium, telephone 01244 371376.