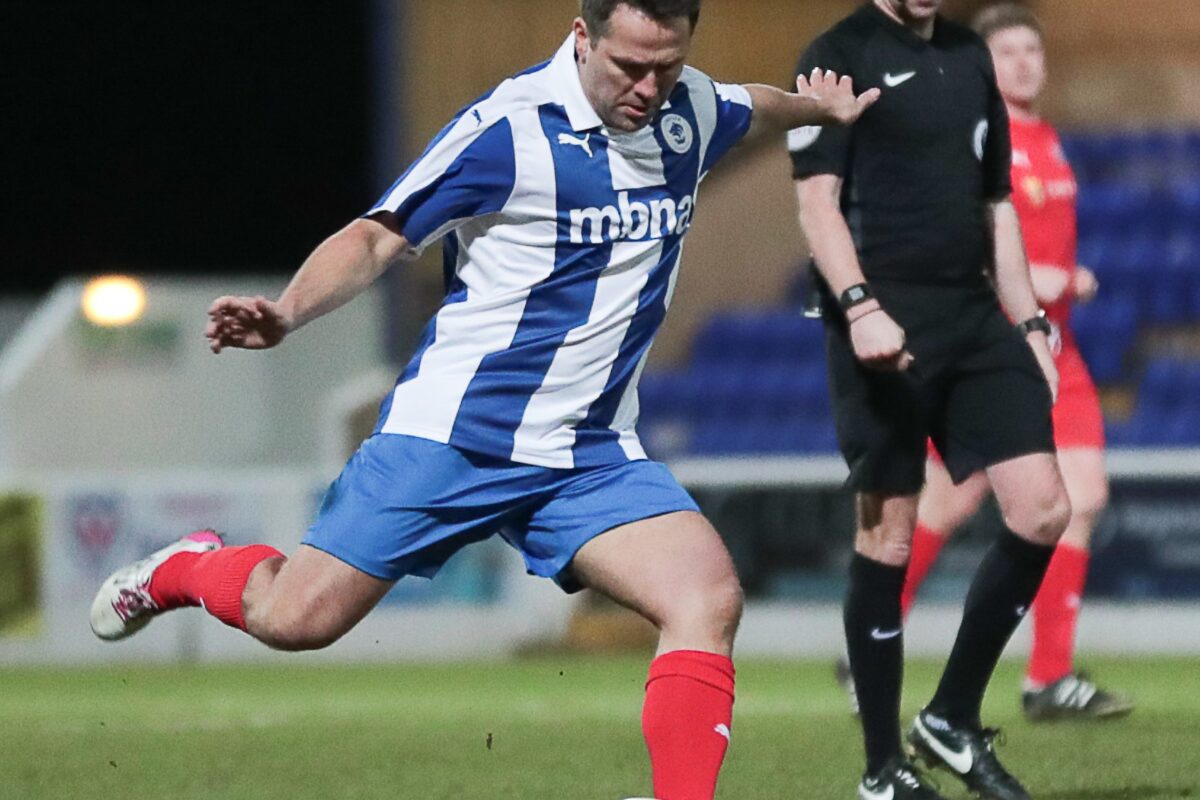 ALL STAR GAME | Chester Select XI 4-1 Colin Murray's All Stars
Last night, a Chester Select XI defeated Colin Murray's All-Stars on an evening which raised £25,000 helping to Back The Blues.
The target of £50,000 was smashed at the Swansway yesterday – as the current total now stands at a wonderful £75,000.
In front of a crowd of 2,080 – causing a kick off delay due to turnstile congestion – Terry Owen scored the first goal from the first kick off; which he did with his son Michael Owen.
The game was then reset – and the Select XI took the lead via a Matty McGinn pen after Chris Simm was fouled inside the box after just five minutes.
Neil Mellor's introduction for the All-Stars caused Chester's defence some problems – and then the side in red were awarded a penalty. Mellor took it, and blasted it way over the crossbar!
He did makes amends though – curling home brilliantly a couple of minutes before the break.
However, the Chester Select XI – managed by Kevin Ratcliffe – got their lead back moments later when Chris Simm finished after good work from Iain Howard.
The second half saw a tale of two keepers – as Wayne Brown for Chester and Maik Taylor for the All-Stars pulled off some wonderful saves to keep the score at 2-1.
Chester were able to bring on Michael Owen and the All-Stars brought on Ian Rush – and the latter almost levelled the game when he was played in over the top but a slip as he pulled the trigger allowed Brown to make a save.
Sam Pemberton and Ian Pemberton – who both bid £1,000 each to play in the game – were on the field as Sam (Pemberton Junior) struck the post three minutes before the end.
Matty McNeil then fired home in the 89th minute to wrap up the win for Chester – who were now joined in the dugout by Neil Young, Gary Jones and Michael Wilde.
There was enough time for a fourth – and a special moment – as Michael Owen slotted home in front of the Harry McNally Terrace moments before the whistle.
A massive thank you to everyone who attended and to all the players and staff who took part – it was truly a special night at the Swansway.
Chester Select XI: Judge, Stones, Linwood, Ruffer, McGinn, Booth, Reid, Carden, Howard, Simm, Lowe.  Subs: Brown, Sharps, Graves, Powell, Barnes, Mills, McNeil, Toronczak, Ian Pemberton, Connolly.
Colin Murray All-Stars: Taylor, Thompson, Griffin, Higginbotham, Groves, McAteer, McCourt, Bishop, Iwelumo, Michelle Owen, Michael Owen. Subs: Webber, Mellor, Partridge, Madders, Pike, Sam Pemberton, Morrison, Murray, Rush.
Scorers: McGinn (pen) 5, Simm 44, McNeil 89, Owen 90; Mellor 43.
Referee: Peter Gibbons