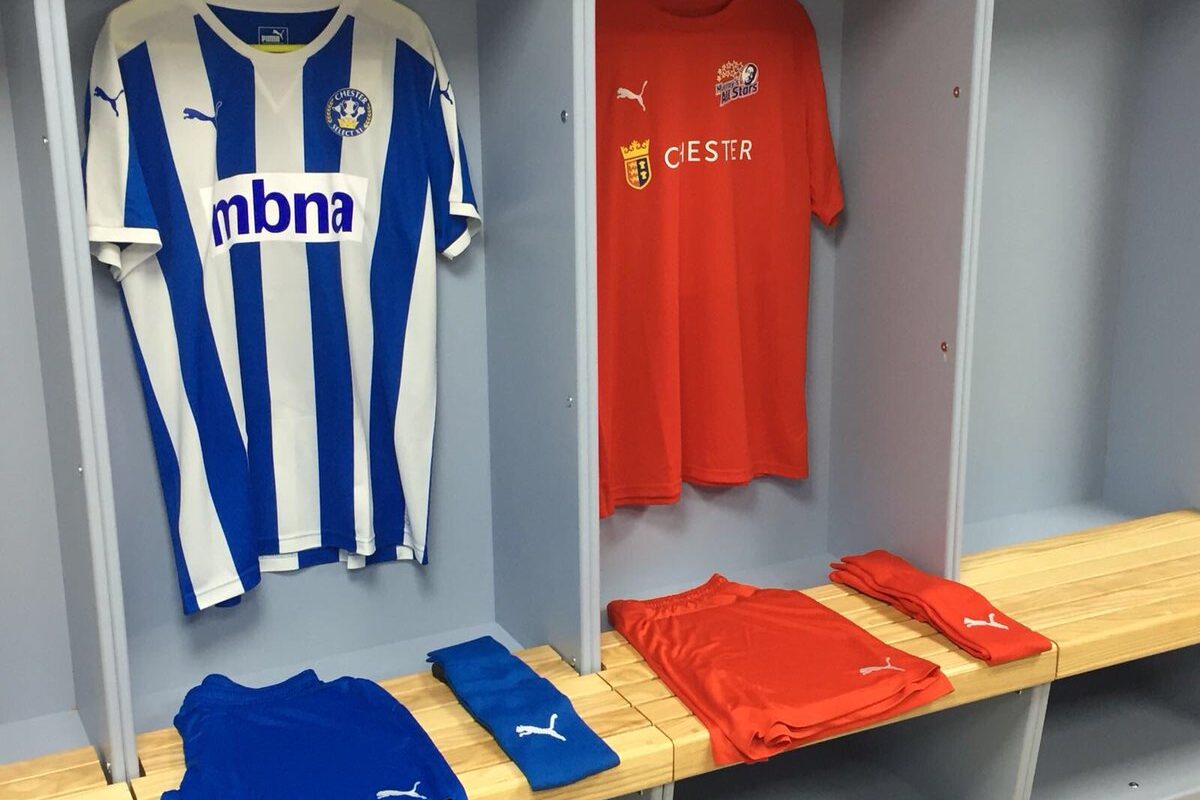 ALL STAR GAME | Today is the day!
Tonight sees a night of fun, historical moments and memories in store for all Chester FC fans, when over 40 players from the world of football and entertainment appear in a Chester FC Select side vs Colin Murray's All Stars.

The past 2 weeks have seen many players added to the squads in what will be a 'one of a kind' match ever seen at the Swansway Chester Stadium.
Former Chester greats such as Ryan Lowe, Shaun Reid, Football Conference championship winning skipper Paul Carden and goalkeeper Wayne Brown will all be appearing alongside Chester FC players from our reformation days when Neil Young led the team to a succession of league championships. They'll be  led by Kevin Ratcliffe, helped by Neil Young taking on Colin Murray's team which includes Chester-born superstar and former Liverpool, Real Madrid, Manchester United, and England striker Michael Owen, who will be joined by players such as former Liverpool winger Jason McAteer, ex Northern Ireland goalkeeper Maik Taylor and just confirmed last night, Liverpool's record goalscorer Ian Rush, who will be returning to his roots to be player manager for the All Stars. Full squads appear at the end of this article
So far over 1000 tickets have been sold for the game, but with each and every day seeing new players added to the list of participants, a busy crowd is expected with 'pay at the gate' on the night, in addition to the ticket sales which close at 4pm.
The night is of course a fundraising event, and the club are expected to announce on the night that proceeds from the game will see the club achieve beyond the £50,000 target set at the City Fans United membership meeting just three weeks ago.
There are many special moments to be had during the night, with players expected to be introduced to the crowd from 7.30pm onwards. There will also be a very special kick off to the game, with Michael Owen kicking off the match with his father, Terry, who of course played for the club in the great 1970's side that went all the way to the Semi Finals of the League Cup.
That's not the end of the father and son appearances though, as the two winning bidders from the fans auction that took place at the weekend, will see Chester fan Ian Pemberton appear with his son, Sam, also a Blues fan, in the line ups for both sides meaning they will face each other, with Ian describing the opportunity as 'a lifetime ambition' and following in his father's footsteps as he also appeared for the club in the 1950s.
There will also be raffle tickets available on the night too, with various prizes available, and also 5 lucky ticket holders will win the chance to take a penalty on the hallowed turf. Raffle tickets will be £2 per strip, or £5 for 3 strips. Winners will be announced immediately after the half time whistle. There may also be a great finale to the game too, so please don't leave before the end!
An 8 page edition of The Cestrian will also be available to buy for £1.50 on the night too, but please note we only have 1000 copies so please be quick in securing your match programme!
Admission tonight is pay at the gate as well as by tickets already purchased. Turnstiles for the Red Insure (East) Stand and Harry McNally Terrace will be open from 6.30pm. For anyone that has purchased tickets for the Swettenham Chemist Community Stand, please note that we would ask you kindly show your ticket at the Red Insure (East) Stand tonight.
Should numbers increase significantly, then the Swettenham Chemist Community Stand turnstiles will be opened up and fans will be redirected to those turnstiles should this scenario arise.
We are encouraging fans attending to get down to the ground in good time, as we know how busy both Bumpers Land and the Car Park can become and we want to avoid any disappointment felt on the night, as we want to make the whole evening one of enjoyment for everyone attending.
The Blues Bar will be open from 5pm and serving cottage pies once again, and we're hoping that Colin Murray will deliver a quick talk inside the Blues Bar prior to the game to get you all on his All Stars side!
The Legends Lounge will be open to to Legends Lounge season ticket holders, but they will need to purchase a match ticket and we ask if they would be open to making an additional donation as well.
We really hope you enjoy the night, and please wrap up well!!
Jeff, Colin & Michael
Full Squads:
Chester FC Select XI – Wayne Brown, Matty McGinn, Greg Stones, Carl Ruffer, Ian Sharps, Paul Linwood, Bradley Barnes, Paul Carden, Ryan Lowe, Chris Simm, Iain Howard, Adam Judge, Ben Mills, Michael Powell, Robbie Booth, Shaun Reid, Stuart Graves, Matty McNeil, Dan Toronczak, Ian Pemberton
Murray's All Stars – Maik Taylor, Andy Griffin, Danny Higginbotham, Sonny Pike, Justin Madders, Clinton Morrison, Colin Murray, Eddie Bishop, Ian Rush, Michael Owen, Perry Groves, Neil Mellor, Paddy McCourt, Richie Partridge, David Thompson, Michelle Owen, Danny Webber, Chris Iwelumo, Jason McAteer, Keith Gillespie, Sam Pemberton.