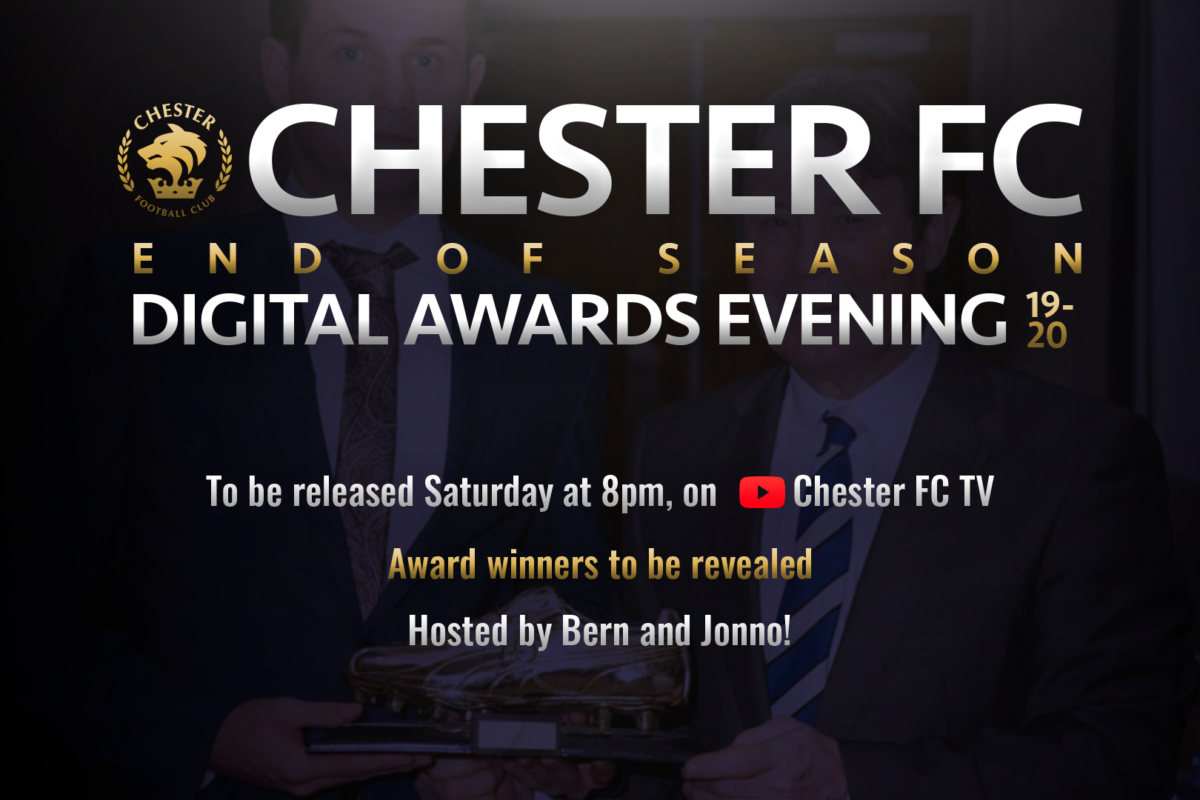 AWARDS | Digital Awards Evening to take place this Saturday!
Chester FC players will be present on YouTube this Saturday night for a very special 'lockdown' version of our End of Season Awards – hosted by Bern and Jonno!
Given the current situation relating to the Covid-19 crisis and subsequent restrictions nationally, the Club took the decision to postpone the scheduled end of season award ceremony which had been due to take place last Saturday following our game against Spennymoor.
However, we didn't want this premature conclusion of the National League North Season, and lockdown causing cancellation of the ceremony, to distract from some significant achievements from 2019/20 season, Therefore, we will be holding a virtual awards ceremony!
Taking place via Zoom, we will be sharing a recording of the First Team award ceremony via our YouTube channel on Saturday evening at 20:00 to give all our supporters opportunity to be part of these awards. Subscribe to Chester FC TV to get a first look on Saturday!
Hosted by our Managers Anthony Johnson and Bernard Morley, not only will we have the usual categories of awards you would expect from our awards ceremony, but also sharing some unusual awards such as sharing who is the quickest player based on GPS data and which player covered the most miles over the season.
PLAYER OF THE SEASON
City Fans United – voting is now open for you to vote for your CFU Player of the Season – which will be revealed during the ceremony! Simply email media@chesterfc.com with your three outstanding players this season (in order with number one as your winner) along with your CFU Membership Number to vote. Voting closes on Friday at 1pm – so make sure you don't miss out!
GOAL OF THE SEASON
We also have ten contenders for our annual Goal of the Season award, and the winner will also be revealed this weekend! This award is open to anyone and everyone, not just CFU members. Simply email media@chesterfc.com with your three top goals this season (in order with number one as your winner) to vote. Voting again closes on Friday at 1pm.
We hope you enjoy this event – and everyone continues to stay safe in these challenging times for all.