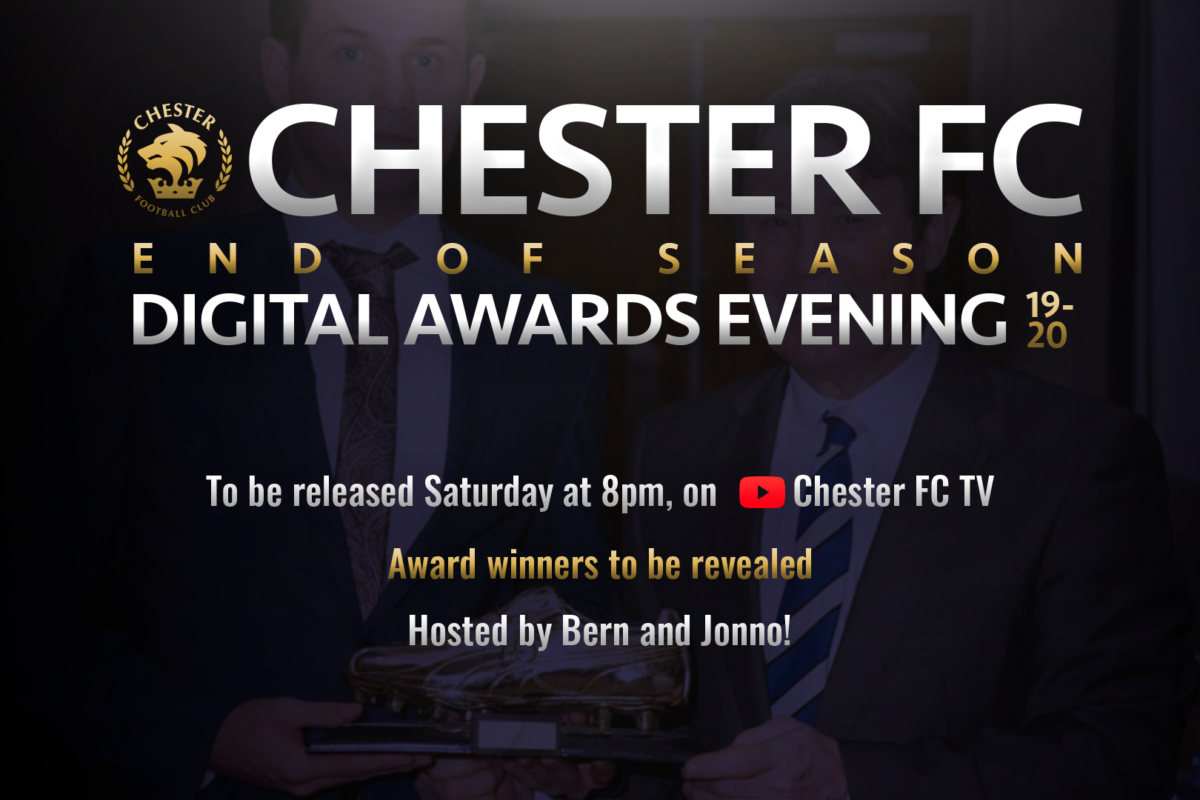 AWARDS | Ten awards winners from the #CFCDigitalAwards…
With the country in lockdown due to the Covid-19 pandemic, and our end of season awards cancelled, we set up our online version of the awards featuring our players on Zoom – hosted by CFU Chair Andy Morris, and Joint Managers Anthony Johnson and Bernard Morley!
'Jonno' kicked off the evening with a big welcome for all watching on Chester FC TV – as he revealed the winner of the first award. The first three were the results of data compiled by the players GPS vests through the season.
AWARD ONE: Top speed recorded by the GPS vests in either training or matches:
Brad Jackson 35.74 KM/H
Lloyd Marsh-Hughes 35.22 KM/H
Joel Taylor 34.81 KM/H
AWARD TWO: Highest average distance per minute as recorded by the GPS in training and matches
Simon Grand 75.4 Metres per Minute
Gary Stopforth 74.7 Metres per Minute
Kev Roberts 74.69 Metres per Minute
AWARD THREE: Total Distance recorded from all training sessions and games, as recorded by the GPS vests
Anthony Dudley 1138km
Brad Jackson 1031km
Gary Roberts 1006km
AWARD FOUR: Goal of the Season as voted for by supporters
GOAL G: Gary Roberts vs Southport (a)
GOAL I: Brad Jackson vs Darlington (h)
GOAL E: Brad Jackson vs Brackley (a)
AWARD FIVE: Most assists this season
Brad Jackson – 14
Joel Taylor – 9
Matty Hughes – 8
AWARD SIX: The Gary Talbot Golden Boot
Akwasi Asante – 19
Danny Elliott – 9
Anthony Dudley/George Waring – 6
AWARD SEVEN: Players' Player of the Season as voted for by the First Team Squad
Brad Jackson
Simon Grand
Joel Taylor
AWARD EIGHT: Managers' Player of the Season
Danny Livesey
Akwasi Asante
George Glendon
AWARD NINE: City Fans United Player of the Season as voted for by CFU members
Joel Taylor
Brad Jackson
Simon Grand
AWARD TEN: Special recognition award
Closer to 50 than 20, this player played every minute of every game this season and due to lockdown curtailing the season means that he finishes the season just four games short of making Chester the club for which he has most appearances.
Despite not picking up the main award and finishing third in the CFU Player of the Season, he made the majority of supporters top three selections through his leadership on and off the pitch, consistency every time he plays – and few will forget that last gasp winner against King's Lynn. The special recognition award goes to SIMON GRAND. 
CFU Chairman Andy Morris finished off the Awards by thanking the players, staff, supporters, volunteers and sponsors for their tremendous support throughout the 2019/2020 season.