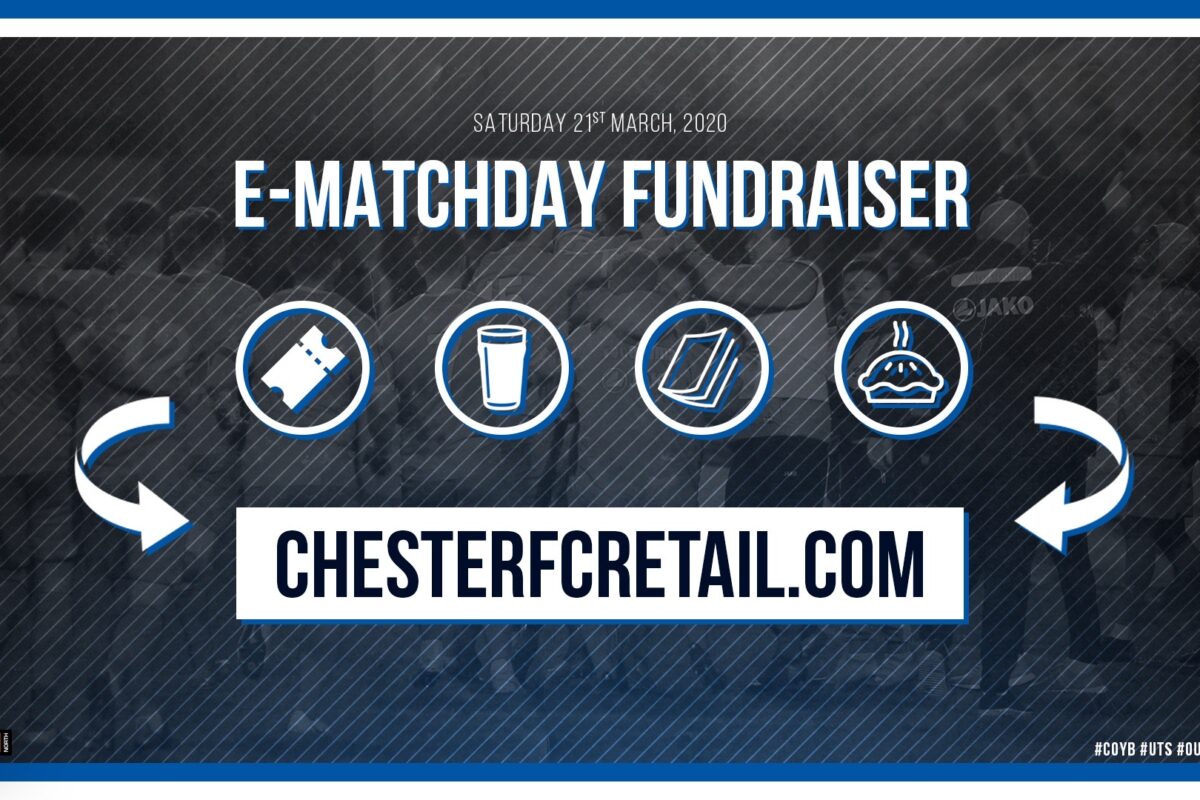 BACK THE BLUES | E-Matchday Fundraiser starts tomorrow!
Chester FC would once again like to thank fans for their continued support and donations in what is an extremely difficult time for everyone.
In light of the suggestions made by fans, Chester FC are delighted to announce that this Saturday we will be having a Chester FC E-Matchday online event that will simulate a home matchday, but with a difference – and all designed to continue to raise funds for the club.
We are inviting all fans to come and join us for the E-Matchday that will feature a live online quiz. The aim of the online event is to raise as much money as possible for help the club through the current climate.
There will be the opportunity to raise funds by purchases of virtual food and drink, The Cestrian, matchday admission, and the chance to win via Easter Raffle tickets – all items will be available on the Chester FC Club Shop (www.chesterfcretail.com) from 10am tomorrow morning.
There will also be The Chester FC Quiz to take part in as well as highlights of previous games to view!
Jeff Banks, Chester FC Director of Fan Engagement, hoped many would take part on Saturday: "The fans have been brilliant so far, and this is one of the advantages of being a fan owned club.
"We can take on a lot of the positive suggestions from the supporters and turn them into an event that hopefully all can enjoy whilst we have no live football to watch.
"It's a great chance to really help the club raise money too via plenty of virtual items in the club shop."
We have drafted an E-Matchday schedule as below from 10am on Saturday:
Virtual Car Park open (£2 to enter) from 10am
Virtual Matchday Admission (£10) from 10am
Virtual Legends Lounge Admission (£18.85) from 10am
Easter Raffle Tickets (£1) from 10am
Virtual Blues Bar open (free admission, virtual food & drinks prices available on the club shop) from 1.30pm
Virtual Kiosk Meal Deal (£3) from 2pm
Virtual 'The Cestrian' programme (£2.50) from 2pm
Kick Off Quiz (£1 to enter) which begins at 3pm
CFC Highlights (on Chester FC You Tube channel)
Virtual Half Time Pint (£3)
Virtual Post Match Pint (£3)
Stay tuned to our matchday live update thread on www.twitter.com/chesterfc to follow all the links on how to donate and take part!