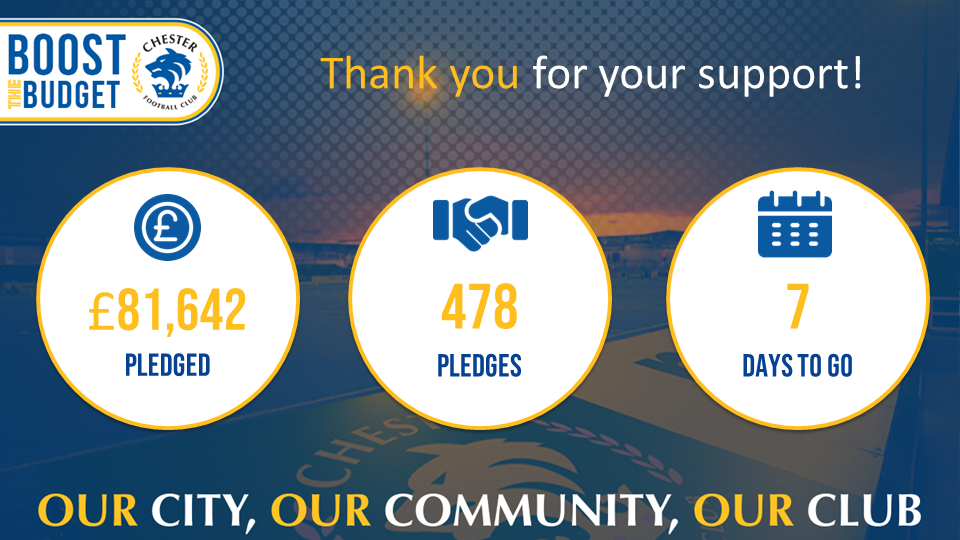 BOOST THE BUDGET | Edging closer to our new target of £85k!
At the beginning of June, we launched the Chester FC Boost the Budget scheme for 2022/23.
This season, we set an initial target of £75,000 for the fundraising drive – and our incredible supporters hit that goal in just two weeks. So we are now looking to go beyond our new goal of #Target85K!
Here is your latest update…
Thank you for your fantastic support!
Following feedback from supporters to enable whose who are paid at the end of the month, we have decided to extend the Boost the Budget deadline to next Thursday (7th July) for supporters to get their pledges in and help us go past our revised target of £85,000!
Make sure you spread the word as we look to push towards the Target. The more successful we are working together on BTB, the better chance Calum and the squad have for the upcoming campaign.
Don't forget, you are not just supporting the First Team directly, you also have the chance to claim some fantastic prizes and opportunities through our reward scheme.